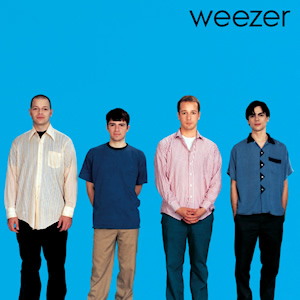 Twenty years ago this weekend, Weezer stormed into rock and roll consciousness with their potent, popular, and critically acclaimed self-titled debut, which has come to be known as simply the "Blue Album". Over these past two decades, critics and fans have been contorting to place the group's sound within a specific genre, with many coming up with blends that include 80s hair metal, 90s grunge, and punk with a "geek" element. No doubt, Weezer draws from these influences, but to my ears I hear more late sixties influence like the Velvet Underground and, especially, The Kinks in their structure combined with an early nineties inhibition which leaves it raw, unreserved and honest.
Formed in in Los Angeles in 1992, Weezer is led by principle songwriter and vocalist Rivers Cuomo, who had already composed some of the material on this album prior to the band's formation. ue their lack of a definitive genre, they were not initially well received by an L.A. club scene which was in the thrawls of a love affair with grunge rock. Undeterred, the band self-produced a demo known as "The Kitchen Tapes" to try to create some buzz, which they eventually received and were signed to a Geffen Records subsidery in mid 1993.
While the band pushed for self-producing their official debut, the label wanted an established producer. Former Cars frontman Ric Ocasek was eventually enlisted and helped guide band to find a "brighter" sound. For their part, the quartet prepared for the studio sessions by practicing vocal interplay and barbershop-styled songs, as is evidenced in the non-album track "My Evaline". Bassist Matt Sharp developed a falsetto-style backing vocal, which ultimately enhanced the material's sonic depth and mood. Once the group arrived at Electric Lady studios in New York, some of their inital tracks were cut for the better quality ones which came later. These include the songs "Lullaby for Wayne", "I Swear It's True", "Getting Up and Leaving", and "Mykel and Carli", which are all included in the deluxe edition of Weezer, released ten years after the original.

Weezer

by

Weezer
Released: May 10, 1994 (DGC)
Produced by: Ric Ocasek
Recorded: Electric Lady Studios, New York, August–September 1993
Track Listing
Group Musicians
My Name Is Jonas
No One Else
The World Has Turned and Left Me Here
Buddy Holly
Undone – The Sweater Song
Surf Wax America
Say It Ain't So
In the Garage
Holiday
Only in Dreams
Rivers Cuomo – Lead Vocals, Guitars, Keyboards, Harmonica
Brian Bell – Guitars, Vocals
Matt Sharp – Bass, Vocals
Patrick Wilson – Drums, Percussion, Vocals
The album got it's nickname from the simplistic album cover featuring the band members lined up in front of a plain, blue background. This cover is actually an example of early Photoshop, as guitarist Brian Bell's head was added to a pose by original guitarist Jason Cropper, who left the band during recoding of the album. Cropper's only songwriting credit is on the opening track, "My Name Is Jonas", which quickly alternates between the folk-influenced picked acoustic notes and the thumping electric chords all while drilling in certain riffs and themes such as; "the workers are going home". There is a slight harmonica lead late in the song before it comes full circle to the acoustic in the dissolve. The next two tracks are thematically linked with "No One Else" being about an obsessive relationship and "The World Has Turned and Left Me Here" about the aftermath when it's over. The latter song contains a blend of electric and acoustic riff during the intro and remains steady throughout, methodically and precisely delivering the message of isolation and delusion in the wake of heartbreak.
The most popular song on Weezer is Cuomo's "Buddy Holly", a short and sweet song with a plethera of pop culture references lyrically and plenty of sonic riffs on guitars and keyboards. Cuomo was originally against the song's inclusion on the album, saying it was "too cheesy", but Ocasek saw its potential and lobbied hard for it's inclusion. The result was a melody-driven tune which reached #2 on the mainstream rock chart after it was released on the 58th anniversary of Buddy Holly's birth.
At first "Undone – The Sweater Song" seems a bit frivilous with spoken word interludes between first verses, but ultimately the song is one of the most original and rewarding on the album. Despite the party ambience, this is a song about detachment with the vivid lyrical imagery of a sweater unraveling. Musically, it contains good guitar lead and an excellent and original outro, which employs feedback, keyboards, and piano in bringing the song to an end. Co-written by drummer Patrick Wilson, "Surf Wax America" is a good-time party song with a punk rhythm and Beach Boys-like imagery, until the mood turns dark and tragic;
"all along the undertow is strengthening its hold, I never though it would come to this, now I can never go home…"
"Say It Ain't So" is another top-notch song with funk and soul verses before the slow, grungy rock riff dominates for the chorus hook. The tune later seems to advance to a new level through the middle section with deeply personal lyrics and dualing lead guitars. Very popular among fans, "Say It Ain't So" is a signature Weezer tune.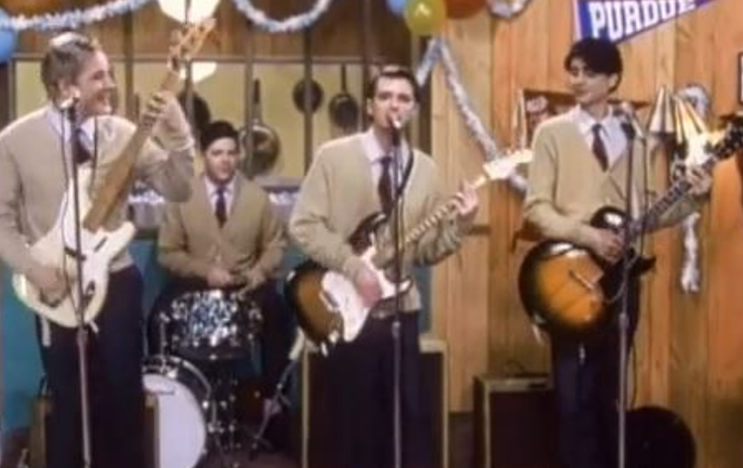 After a short acoustic and harmonica intro, "In the Garage" is quickly interuppted by a thick, droning electric riff. The lyrics seem to celebrate a nerd's man cave, which he uses as an asylum away from the real world. "Holiday" has a steady, driving rock rhythm throughout with thick layered guitar and vocal harmonies, which all flourish on this track despite it being one of the weaker on the album. The nearly eight-minute closer "Only in Dreams" is held down by Sharp's bass riff with some light and surreal guitar textures throughout. This song has the least amount movement of any but does finish the album aptly with a clear and indelible message.
Peaking at number sixteen on the album charts, Weezer has gone multi-platinum since its release. They followed up with another fine effort, Pinkerton in 1996, and have gone on the release several more successful albums through the past two decades.
~

Part of Classic Rock Review's celebration of 1994 albums.