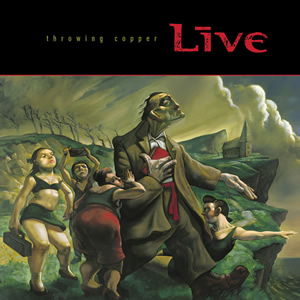 Throwing Copper is the second and most popular album by the Pennsylvania rock band Live. A signature album for the genre which would later be termed, "post grunge", the album includes several radio staples along with tracks that would become live favorites throughout the group's ensuing career. Throwing Copper contains a blend of heavy and moderate rock tracks, alternating between tight compositions and a freer form by the four-piece band, with many of the lyrics leaning towards the philosophical and the spiritual. The result of this is an indelible work which topped the album charts and has sold over eight million copies, while still sounding vibrant and fresh 20 years on.
The four members of Live had been together since middle school in 1980s, when guitarist Chad Taylor, bassist Patrick Dahlheimer, drummer Chad Gracey, and vocalist Ed Kowalczyk first got together to perform at a talent show and remained together through high school, playing new wave covers under various band names. Following the production of a self-released cassette of original songs in 1990 and a professionally produced EP in 1990, the group scored a contract with Radioactive Records. Jerry Harrison, keyboardist and guitarist of Talking Heads, produced the group's 1991 debut album Mental Jewelry, which was lyrically inspired by Eastern philosophy.
Harrison was again at the helm for this album, recorded in Minnesota during the summer of 1993. The group had significantly tightened their sound through extensive touring following their debut, and were able to forge more cohesive yet sophisticated songs, with Kowalczyk writing the lyrics and the other three composing the musical scores. The story-telling lyrics tend to be more tangential than recursive with music layered to create very interesting ambiance, led by Taylor's guitars.

Throwing Copper

by

Live
Released: April 19, 1994 (Radioactive)
Produced by: Jerry Harrison & Live
Recorded: Pachyderm Studio, Cannon Falls, Minnesota, July–September 1993
Track Listing
Group Musicians
The Dam At Otter Creek
Selling The Drama
I Alone
Iris
Lightning Crashes
Top
All Over You
Shit Towne
T.B.D.
Stage
Waitress
Pillar Of Davidson
White, Discussion
Horse
Ed Kowalczyk – Lead Vocals, Guitars
Chad Taylor – Guitars, Vocals
Patrick Dahlheimer – Bass
Chad Gracey – Drums, Percussion, Vocals
With an odd and distant album beginning, "The Dam at Otter Creek" meanders in a long swell and doesn't really kick in until about two-thirds through, at which point it becomes so frenzied that it is barely audible. This sound collage of intensity that gives the track an almost progressive feel, may have alienated the casual listener who first tossed this in a CD deck but its ultimate break does set up the next song perfectly. "Selling the Drama" is, by far, the best song on the album. Where the previous track is opaque and uncertain, this is clear and direct with sonic treats ranging from Taylor's electric riffs and acoustic strums to Gracey's sock-hop drum beats to Kowalczyk's melodic and pleasant vocals. However, it is Dahlheimer's incredibly inventive bass lines which give this balanced song the edge that provides it with infinite potency. "Selling the Drama" was the first of three singles from this album to reach #1 on Billboard's Modern Rock Tracks chart. "I Alone" didn't quite reach the top of that chart, peaking at #6 with its asymmetrical verse arrangements, which act as conduits for the contrast in dynamics between verse and chorus. The lyric to this song reach deep into the philosophical bag of tricks with lines such as;
"the greatest of teachers won't hesitate
to leave you there by yourself chained to fate…"
"Iris" is a fine and original song with a sort of "fire one" approach to the arrangement. Gracey provides shuffle drums throughout with many melodramatic dynamics decorating the track, such as the layered vocals later in the song. This is followed by another great contrast, the slow and methodical "Lightning Crashes", which became an instant classic and is the most popular song Live ever recorded. Taylor's flange-drenched riffing compliment's Kowalczyk's nearly alien vocals which explicitly tell of a scene of simultaneous life and death in a hospital. Although there isn't very much variation, save the interesting bridge with three rhythm guitars and bass line, the song was very well received in the mid 1990s, driving it just short of the Top Ten on the pop charts, in spite of not being officially released as a single.
The middle part of the album contains a couple of the more overtly pop songs on the album. "Top" is lesser known and unheralded, built much in the vein of the late 1980s pop/rock, as a rare track on this album which is straight-forward with little variance form standard formulas. "All Over You" is much more popular, perhaps a bit overplayed on radio, although it is pleasant enough due to its main rock riff. The best parts of this song are the instrumental and scat vocals during the bridge and outro parts. The group returns to the unconventional with "Shit Towne", a rock waltz during the repeated verses of observant lyrics. While these lyrics (and title) leave much to desire, the music and melody are very potent interesting throughout.
A distant bass cut with reverb-laced percussion highlights the intro to "T.B.D.", which stands for the "Tibetan Book of the Dead". This song returns to the Eastern philosophy of Mental Jewelry, with inspiration drawn from Aldous Huxley's writings. "Stage" is a proto-punk song with timely lyrics which seem to speak of the very recent demise of Kurt Cobain, while "Waitress" is almost frivolous while partly preachy, seeming like it was born out of an argument over tipping a waitress, a la the opening scene from Reservoir Dogs.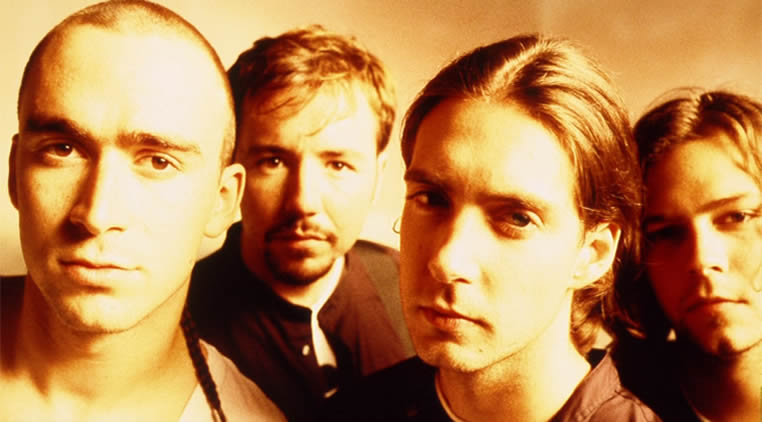 The album concludes with three solid tracks, starting with the dramatic "Pillar of Davidson", a nearly seven minute track that is driven by melodic vocals which compensate for the sparse music on the track. "White, Discussion" commences with an interesting and funky groove during the initial verses but  continually builds in intensity as it later breaks into something much harder and rawer, perhaps a bit over the top, before it closes with one of the longest feedback dissolves ever. Like many albums of the era, Throwing Copper finishes with a "hidden track", which has come to be known as "Horse". This track is pure country rock, complete with acoustic, pedal steel guitar, and Dahlheimer's bouncy funk bass, which leaves the album with a good rock vibe.
The success of Throwing Copper built great anticipation for the 1997 follow-up Secret Samadhi, which debuted at number one but failed to match the overall popularity and longevity of this album. Harrison returned to co-produce 1999's The Distance to Here, but that was even less popular. Ultimately, the original Live came to an acrimonious end when Kowalczyk was fired from the band in 2009 and a major lawsuit followed.
~

Part of Classic Rock Review's celebration of 1994 albums.