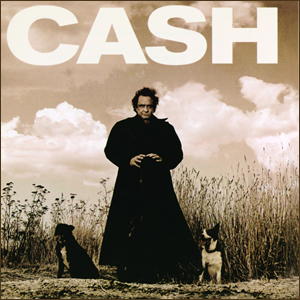 Released in Spring 1994, American Recordings was (incredibly) the 81st overall album by Johnny Cash and was the ignition point for the second great comeback of his long career. Like the first great comeback, which initiated with the live , At Folsum Prison in 1968, Cash made a radical pivot to spark this new musical chapter. This time, he stripped bare any external production and recorded songs "old school" with a simple acoustic guitar and vocal arrangement. With this core arrangement, Cash shines brightest and the listener is struck by how one man and one guitar can still fill the sonic universe at that moment with utter beauty and creativity.
After a successful stretch through the 1970s where he expanded beyond recording and into television and film, Johnny Cash became the Country Music Hall of Fame's youngest living inductee (at age 48) in 1980. However, the 1980s were a less than stellar decade for Cash where his multiple records failed to make any impact on the charts and Cash himself admitted that a lot of the "magic" was missing from the music and he was just going through the motions. Cash also relapsed into a painkiller addiction as he suffered with several health-related issues. Cash's relationship with the Nashville establishment and his label Columbia records were also strained during this era and in 1988, after three decades with the label, Columbia dropped Cash from his recording contract.
Enter producer Rick Rubin, who sought out Cash to work on a project for his brand new label American Recordings. Rubin recorded Cash in his living room, with Cash selecting from a long list of originals and covers that he had long desired to record. In fact, Cash stated that he had wanted to do an album in this fashion for "about 20 years", but the producers he was working with always wanted to forge his sound in this direction or that and Cash ended up frustrated the the general overproduction of his releases. The result was the beginning of another strong stretch of accolades and commercial success for Cash (who also found a whole new generation of audience), as well as a revival of the Americana genre which continues to this day.

American Recordings

by

Johnny Cash
Released: April 26, 1994 (American)
Produced by: Rick Rubin
Recorded: May 17, 1993–December 7, 1993
Track Listing
Primary Musician
Delia's Gone
Let the Train Blow the Whistle
The Beast in Me
Drive On
Why Me Lord
Thirteen
Oh, Bury Me Not (Introduction: A Cowboy's Prayer)
Bird On a Wire
Tennessee Stud
Down There by the Train
Redemption
Like a Soldier
The Man Who Couldn't Cry
Johnny Cash – Lead Vocals, Guitars
The songs on American Recordings can be categorized in one of three categories – cover songs, new originals, and revamped versions of older Johnny Cash songs. The opener "Delia's Gone" fits into the latter category, as a roots County/Western song that was originally recorded by Cash in 1962. It nicely fits his well-forged "man in black" outlaw image as a light and entertaining song on the surface that is really dark in the core. Another remake of earlier material on this album is "Oh, Bury Me Not", originally recorded by Cash in 1965 as a Western spiritual.
The newly recorded cover songs really spotlight Cash's talent and diversity as a performer. "The Beast in Me" was written by his ex-son-in-law Nick Lowe, as a song about internal rage, the unextinguished fire, which can be used for good or for ill if not kept in check. "Why Me Lord" is a country waltz by Kris Kristofferson that is a song of thanks and a prayer as well as one of regret and wasted opportunities. Cash met heavy metal artist Glenn Danzig in Rubin's living room and recorded his song "Thirteen" that very day. Of all the covers, Leonard Cohen's "Bird On a Wire" is the one which really doesn't work with Cash's style, while the Tom Waits track "Down There by the Train" is done masterfully as Cash steps out of his signature style and performs like a true folk artist. This latter song starts very mellow but quietly builds in intensity throughout as the lyrics speak of some of history's villains boarding a slow train to Hell.
Two of the covers on American Recordings were recorded live during a historic performance at the Viper Room in Los Angeles. Jimmy Driftwood's "Tennessee Stud" is moderate Americana, a perfect fit for Cash, and offers a direct passage to Cash's core beginnings in the 1950s. Composed by Loudon Wainwright, "The Man Who Couldn't Cry" closes the album almost like a spoof of the "traditional" country song with just about everything going wrong, but with the protagonist eventually getting to Heaven and getting it all back, along with slight tinge of revenge on all who did him wrong.
Still, the best songs on this album are the four new original compositions by Cash, which doubtlessly prove that 40 years into his career, Johnny Cash could still reach a whole new level of artistic genius. "Redemption" is a poetic and quasi-religious masterpiece that harkens back to the best of Bob Dylan's classic early work. While maintaining a a deep and ethereal vibe sonically, this track really strikes the soul lyrically;
"and the blood gave life to the branches of the tree and the blood was the price that set the captives free, and the numbers that came through the fire and flood, clung to the tree and were redeemed by the blood…"
"Like a Soldier" is another retrospective original and comes closest to being the "theme song for this album (and overall, multi-album "American Recordings" project). Cash's vocals are particularly excellent on this track, making it an instant classic. The two other originals are similar in tone and vibe, with "Let the Train Blow the Whistle" being a spiritual song of remembrance and "Drive On" examining the "turning away" from life's horrors and tragedies and continuing on your individual path.
American Recordings did not chart well after its release, failing to reach the Top 100 on the album charts, but it was recognized with a Grammy for Best Contemporary Folk Album of the Year and was a major critical success. Cash and Rubin successfully repeated this formula with five more "American" albums through the remainder Johnny Cash's life, with the final one being released posthumously in 2003.
~

Part of Classic Rock Review's celebration of 1994 albums.