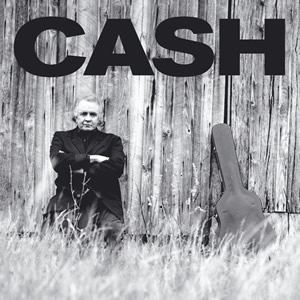 Building on the momentum of his 1994 comeback album, American Recordings, country/rock legend Johnny Cash decided to do a sequel in what would become a very successful late career series. However, where the first album was sparse, dark folk with just Cash and his acoustic guitar, American II: Unchained features much richer and brighter arrangements due in large part to the musical help of Tom Petty and (three of) The Heartbreakers.
While not a huge commercial hit, American Recordings had much critical acclaim and won a Grammy for Best Contemporary Folk Album. A revitalized Cash said that the reception and response was one of the highlights of his career, which at that point dated back forty years. Later in 1994, Cash recorded a solo cover of Bob Dylan's "Forever Young" and joined up with Brooks & Dunn for his own "Folsom Prison Blues" to contribute to the AIDS benefit album Red Hot + Country. Cash also revitatlized his acting career by appearing with his wife June Carter on a number of episodes of the television series Dr. Quinn, Medicine Woman.
Along with producer and label owner Rick Rubin, Cash decided to enlist contemporary rock musicians for this follow-up album. Fresh off the success of his solo record Wildflowers, Petty was enlisted along with fellow Heartbreakers, guitarist Mike Campbell, keyboardist Benmont Tench and bassist Howie Epstein, to be the core of the backing band. Other cameos on this album included Lindsay Buckingham and Mick Fleetwood from Fleetwood Mac and bassist Flea from Red Hot Chili Peppers. American II: Unchained is made mostly of cover songs with a few Cash originals sprinkled throughout the album.

American II: Unchained

by

Johnny Cash
Released: November 5, 1996 (American)
Produced by: Rick Rubin
Recorded: Sound City & Ocean Way Studios, Los Angeles and The Cowboy Arms And Recording Spa, Nashville, TN, 1995-1996
Track Listing
Primary Musicians
Rowboat
Sea of Heartbreak
Rusty Cage
The One Rose (That's Left in My Heart)
Country Boy
Memories Are Made of This
Spiritual
The Kneeling Drunkard's Plea
Southern Accents
Mean Eyed Cat
Meet Me in Heaven
I Never Picked Cotton
Unchained
I've Been Everywhere
Johnny Cash – Lead Vocals, Guitar
Tom Petty – Guitars, bass, Vocals
Mike Campbell – Guitars, Mandolin, Dobro
Benmont Tench – Piano, Keyboards
Marty Stuart – Guitars, Bass
Steve Ferroneh – Drums, Percussion
With a fantastic array of acoustic and electric guitars above a moderate classic country beat, the album begins with a cover of Beck's "Rowboat". Here, the guitars are delivered in various country and rock styles with Cash's simple and somber vocals making this an overall sonic treat. "Sea of Heartbreak" is a brighter and more upbeat cover with fine chorus harmonies by Petty. The song was originally a Country hit for Don Gibson and features acoustic guitar by Buckingham and percussion by Fleetwood. Cash's cover of "Rusty Cage" is the most striking and unique song on American II: Unchained. Originally written and recorded on Soundgarden's Badmotofinger, Cash's vocals follow the droning acoustic riff through the first two verses before breaking into an unabashed rock arrangement for the latter half of the song. This hip and timely track ultimately won a Grammy Award for Best Country Album.
Cash returns to form on the pure, classic country of "The One Rose (That's Left in My Heart)", which features a fine slide guitar lead by Campbell throughout. "Country Boy" and "Mean Eyed Cat" are two remakes of Sun Studio recordings from the late 1950s and each provide a nice slice of sonic nostalgia to add to the album's diversity. "Memories Are Made of This" is presented as a bright folk song with upbeat, brushed drums, later joined by fine piano and distant whistle organ by Tench in a very good recording. Next come a couple of spiritual songs, the first of which is simply called "Spiritual", a somber track which is a little drawn out and melodramatic. Written by several in-laws, The Carters, "The Kneeling Drunkard's Plea" is a more upbeat cry for redemption as told by a third party observer.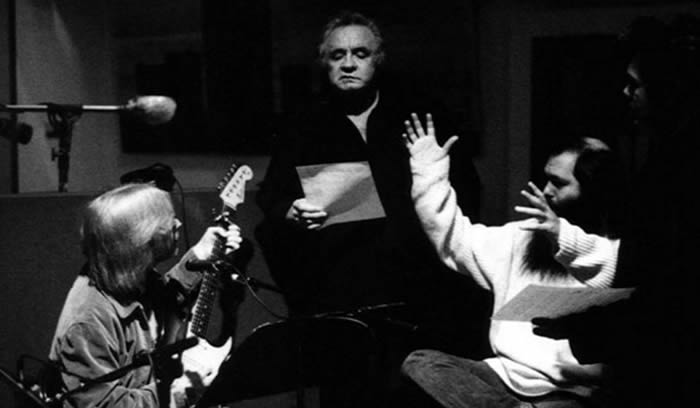 The later third of the album features more diverse songs. The inversion "Southern Accents" is presented as a soft acoustic ballad, where the Heartbreakers back Cash on their own song from their album of the same name a decade earlier. "Meet Me in Heaven" is a Cash original and presented brilliantly with a bright acoustic by Petty mixed along with Campbell's softly picked electric and Tench's piercing keys. Originally a hit by Roy Clark, "I Never Picked Cotton" is a fun Country classic which changes keys frequently during the two and a half minute duration and features some backing vocals by Petty. The title track "Unchained" is a soft acoustic ballad cover by Jude Johnstone and features some cool Chamberlin strings by Petty and Tench. Wrapping it all up is the fun jaunt "I've Been Everywhere", which completes the album with upbeat rockabilly music and impressive, breathless rap by Cash as he lists the cascade of locations in each of the four main verses.
Although it had much crossover appeal, American II: Unchained was a much bigger commercial success on the Country charts than the Pop Charts. This recipe for success continued with more albums in the "American" series by Cash and Ruben, extending into the early part of the next century.
~

Part of Classic Rock Review's celebration of 1996 albums.