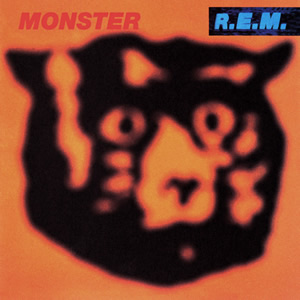 R.E.M. found great commercial success with their two early nineties releases, Out of Time and Automatic For the People. Still, the group made a concerted effort to rapidly evolve their sound on 1994's Monster, which is drenched with distorted guitars, high energy arrangements, and minimal overdubs. on this front, the album is distinct in the long and impressive R.E.M. collections and marks the point where they finally realized a full-fledged rock and roll record. Powered by Peter Buck's layered guitars and sonic proficiency along with more simple and direct compositions and melodies, Monster was the last high-water mark for the group.
The members of R.E.M. vacation in Acapulco, Mexico early in 1993 to map out a strategy for the next few years. At that point, the group had not toured at all during the decade and drummer Bill Berry was eager to tour and implored that the group produce a more "rock" oriented album for the tour to support. On the past two relatively slow-paced albums (which the band did not tour to support) the band had been using more acoustic instruments, pianos and mandolins, and often "switching" instruments to keep things interesting, but now that would put together something made for live, raw rock shows.
With about 45 songs originally written for the album, the group started pre production at Kingsway Studio in New Orleans to sort out the best material. Co-producer Scott Litt next brought the band to Crossover Soundstage in Atlanta where most of the album's basic tracks were recorded live. Production later moved to Criteria Studios in Miami Litt's home studio in Los Angeles, but was delayed due to health issues with lead vocalist and lyricist Michael Stipe and internal tensions which actually broke up the band for a few tense days in early 1994. However, the group reconciled and finished the album which was met with great commercial and critical success.

Monster

by

R.E.M.
Released: September 26, 1994 (Warner Brothers)
Produced by: Scott Litt & R.E.M.
Recorded: in New Orleans, Atlanta, Miami, & Los Angeles, April–May 1994
Track Listing
Group Musicians
What's the Frequency, Kenneth?
Crush with Eyeliner
King of Comedy
I Don't Sleep, I Dream
Star 69
Strange Currencies
Tongue
Bang and Blame
I Took Your Name
Let Me In
Circus Envy
You
Michael Stipe – Lead Vocals
Peter Buck – Guitars, Organ
Mike Mills – Bass, Keyboards, Vocals
Bill Berry – Drums, Percussion, Vocals
The original, non-CD release of the album was separated into the "Head" and "Tail" sides. The first side starts with the sonic saturation of the lead single "What's the Frequency, Kenneth?", where Buck's guitar presence through the whole track carries it to the heights along with slight effects and riffs enhancing the song. The song's title was was inspired by an incident in 1986, where news anchor Dan Rather was the victim of an assault by an assailant who, between beatings, would ask, "Kenneth, what is the frequency?". Inspired by the group New York Dolls, "Crush with Eyeliner" is total new-wave glam with quasi-shock lyrics and potent music throughout. "King of Comedy" takes another turn in genre, towards alternative rock complete with vocal effects and a steady drum beat which makes it somewhat  of a rave dance song.
The sizzle and snarling distortion of Buck's over-driven amps and cut by Berry;s rolling drumbeat on "I Don't Sleep, I Dream". Like the group's earliest material, Stipe's vocals, are buried deep in the mix and difficult to decipher due the greater presence of the musicians. "Star 69" is a direct garage rocker with rapid-fire vocals which became a minor radio hit, while "Strange Currencies" finished off the "head" side as a slight tribute to Stipe's friend River Phoenix, who had recently died of a drug overdose.
The "Tail" side starts with the soulful and unique "Tongue", which Stipe performs in falsetto throughout. While it is doubtless that Monster is guitarist Buck's finest hour the melodic bass of Mike Mills is also integral to many tracks along with his piano and organ textures, which are prevalent on "Tongue". The most traditional sounding R.E.M. song on the album, "Bang and Blame" is steady and hypnotizing and another a real showcase for Mills. Also potent are melodies of Stipe, who restrains the flourishes in favor of lyrical potency, and the fine, strategically placement of background vocals of Rain Phoenix.
The remainder of the album is less than spectacular with further songs dealing with the overall theme of identity problems in the face of growing fame. The highlights here include "Let Me In" where guitars fill the atmosphere throughout the song and "Circus Envy", which has extra buzzy guitars, pretty melodic hooks and methodical drums that don't quite match the underlying frenzy of the rest of the arrangement.
Upon its release, Monster debuted at number one on both sides of the Atlantic and R.E.M. set out in January 1995 on their first tour in six years. On the strength of this third consecutive blockbuster album, the group re-signed with Warner Bros. for what was rumored to be the largest recording contract in history to that point. However, fortunes soon turned with further member health problems, trouble with management, and eventual cooling of the band's popularity.
~

Part of Classic Rock Review's celebration of 1994 albums.