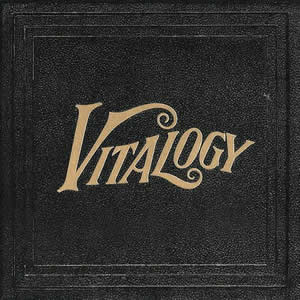 Released in late 1994, Vitalogy is the raw, aggressive, experimental and somewhat bizarre third album by Pearl Jam. The album was produced by Brendan O'Brien, who also worked on the group's 1993 album Vs. However, this recording has a much more stripped-down, lean, and slightly improvised sound, which received mixed reactions from critics and fans. Further, the album is very uneven, with some of the most potent material being sandwiched between complete filler or incomplete compositions. All that being said, Vitalogy is certainly original, diverse, and uncompromising and an essential cornerstone of the group's collection.
Most of the tracks were written and recorded while Pearl Jam toured to support Vs. during 1993 and 1994. Three main studios in cities at opposite corners of the U.S. were used during this time, with the finishing touches and mixing done at Heart's Bad Animals in Seattle. The album was originally titled "Life", but was changed when a new packaging scheme and concept were designed by lead vocalist and lyricist Eddie Vedder, who also contributed some guitar playing for the first time on a Pearl Jam record.
There were also increased tensions among the group members, which stemmed from substance abuse and personal feuds among band members and ultimately led to the group's firing of drummer Dave Abbruzzese once recording had completed. Lead guitarist Mike McCready, who entered rehab during the album's production, has noted the album's shortage of solos and the tunes being of a more rhythmic nature.

Vitalogy

by

Pearl Jam
Released: November 22, 1994 (Epic)
Produced by: Brendan O'Brien & Pearl Jam
Recorded: in Seattle, Atlanta, & New Orleans, November 1993–October 1994
Track Listing
Group Musicians
Last Exit
Spin the Black Circle
Not for You
Tremor Christ
Nothingman
Whipping
Pry, To
Corduroy
Bugs
Satan's Bed
Better Man
Aye Davanita
Immortality
Hey Foxymophandlemama, That's Me
Eddie Vedder – Lead Vocals, Guitar, Accordion
Mike McCready – Guitars, Vocals
Stone Gossard – Guitars, Vocals
Jeff Ament – Bass, Vocals
Dave Abbruzzese – Drums


Vitalogy starts with a couple of aggressive and high energy tunes. After a jazz improve-like intro, the opener "Last Exit" breaks into frenzy of upbeat drums, and includes a quirky backwards-masked guitar lead. "Spin the Black Circle" is another ripping number with an almost-punk guitar by Stone Gossard. Written as a tribute to vinyl records, the song was released as the lead single from the album. It peaked at number 11 on the Billboard Modern Rock Tracks chart and won the band its first Grammy Award, receiving the award for Best Hard Rock Performance.
"Not for You" is a bit calmer with a steady beat and, with the exception of Vedder's angst-ridden, strained and out-of-tune vocals, this may have passed as a straight up rock song from the 1980s. In fact, on this track McCready played a 12-string Rickenbacker given to him by Tom Petty. The most melodic song thus far on the album with interesting counter-riffs by the duo guitarists who co-wrote the music, "Tremor Christ" is a slow musical rotation of guitar chops and bass riffs by Jeff Ament. The song was recorded in one night in New Orleans and it managed to reach number 16 on both the Mainstream Rock chart, despite not officially being released as a single. Ament wrote the almost-Americana-like-waltz of "Nothingman", a searching and melancholy tune which offers a sonic break to the early part of the album.
The first couple of gratuitous fillers come next with Vedder's volatile and frenzied, four-chord rocker "Whipping" and what sounds like a studio jam of an aborted song called "Pry, To". Then comes the best overall track on the album, "Corduroy", which captures much of the same lightning as the better tracks on their debut album Ten. The song begins with McCready's tense guitar arpeggio and finishes with Ament's late song bass riff (which is very reminiscent of a similar section in Fleetwood Mac's "The Chain"). In between, is desperate yet melodic screed on the pressures of fame and the absurdity that the same brown corduroy jacket Vedder once bought for $12 was being sold for about 50 times that price, because it was suddenly "hip".
The album falls to its nadir with "Bugs", a nearly solo track by Vedder, where he spouts absurd lyrics over a simple two-chord accordion riff – a joke song which is much more annoying than entertaining. More prime album real estate is wasted on "Satan's Bed", although this is much more listenable than previous song and with a decent sixties-influenced riff by Gossard. The drums on "Satan's Bed" were performed by drum tech Jimmy Shoaf, as Abbruzzese was hospitalized with tonsillitis.
The highlight of the latter part of the album is "Better Man", a song Vedder wrote while in high school. After an interesting feedback-laden intro section, the song proper contains emotional and melodic vocals above picked chords with a slight organ played by O'Brien in the distance. This haunting intro takes up nearly half the song before it kicks in with the full band arrangement. The bridge/outro part is best part of song as "Better man" completes strongly as a minor masterpiece which reached the top of the Mainstream Rock chart. After another long fade-in to join a piece mid jam, the instrumental "Aye Davanita" has a slightly interesting groove. The acoustic and strummed electric driven "Immortality" is steady throughout but with not much movement, while the long, sound collage closer "Hey Foxymophandlemama, That's Me" is really a cheap knock-off of "Revolution #9" (which we're no fans of to begin with) and this monstrous filler tends to cheapen the album as a whole.
In its first week of exclusively vinyl release, Vitalogy sold 35,000 copies and was the first vinyl album to chart due to exclusively vinyl sales in nearly a decade. The album has gone on to be certified five times platinum and was nominated for two Grammys in 1996. With new drummer Jack Irons, Pearl Jam promoted the album with worldwide tours which were continually complicated by their ongoing boycott of Ticketmaster outlets.
~

Part of Classic Rock Review's celebration of 1994 albums.