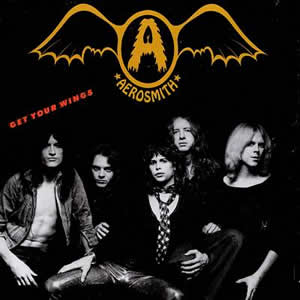 After their raw but potent debut in 1973, Aerosmith really started to forge their classic 1970s rock sound with their second album, Get Your Wings. This was due, in small part, to the arrival of producer Jack Douglas, who would go on to produce a total of seven albums with the group. Douglas helped Aerosmith translate their sound to the studio process of the 1970s and found a nice niche somewhere between blues and rock n' roll to help launch the group into the mainstream for the first time. In a way, Get Your Wings shows Aerosmith at the crossroads of both finding the rock sound that would proliferate in the 1980s while continuing with the raw, barroom-style tunes of their earliest days.
Aerosmith toured constantly from their earliest days of 1971, through the support for their 1973 debut Aerosmith. Later that same year, they finally took a break and headed into the New York studio to concentrate on this second album for about a solid month. Front man and lead vocalist Steven Tyler continued his compositional dominance by writing three songs solo and co-writing every other song with the exception of the album's single cover song.
Guitarists Joe Perry and Brad Whitford also continued their dual-axe attack, trading lead and rhythm duties and seamlessly switching between blues-rock and more standard fare hard rock. With this arrangement, many early critics of the band deemed them clones of the Rolling Stones, but that comparison was overtly simplistic as Aerosmith was surely blazing their own, bold trail even at this very early juncture in their career.

Get Your Wings

by

Aerosmith
Released: March 1, 1974 (Columbia)
Produced by: Ray Colcord and Jack Douglas
Recorded: The Record Plant, New York, December 1973-January 1974
Side One
Side Two
Same Old Song and Dance
Lord of the Thighs
Spaced
Woman of the World
S.O.S. (Too Bad)
Train Kept a' Rollin'
Seasons of Wither
Pandora's Box
Group Musicians
Steven Tyler – Lead Vocals, Piano, Guitar
Joe Perry – Guitars, Vocals
Brad Whitford – Guitars
Tom Hamilton – Bass
Joey Kramer – Drums, Percussion
The most popular song on album starts things off with "Same Old Song and Dance", built around Perry's crisp guitar riff. With some edgy lyrics, dueling guitars, interspersed horns, and a tenor sax lead by session man Michael Brecker, the song proved to be a minor hit in the short term and a concert staple for the long run. Tyler's "Lord of the Thighs" is built on an effective drum beat by Joey Kramer, who drives the intro which builds nicely with each instrument coming in turn. Tyler's vocals are especially deep and bluesy as the song goes through three definitive sections, ending with Perry's riff-infused outro with several effect-rich overdubs. The song was the last recorded for the album as Aerosmith needed one more song and locked themselves in the rehearsal room until they came up with this one.
Perhaps the most underwhelming song on the album, "Spaced" is a song that is entertaining nonetheless. With a subtle but eerie beginning to Tyler's vocals closely follow Perry's guitar riffing, the song is a lament to man-made mayhem. "Woman of the World" is a song which dates back to the mid sixties and Tyler's former band, The Strangeurs. Co-written by then-band-mate Don Solomon, the song's intro follows same basic pattern of "Lord of the Thighs", but soon finds its own way as a very entertaining and rewarding tune with cool melodies and potent riffing. The ending jam contains a harmonica solo by Tyler, sandwiched between leads by Perry and Whitford.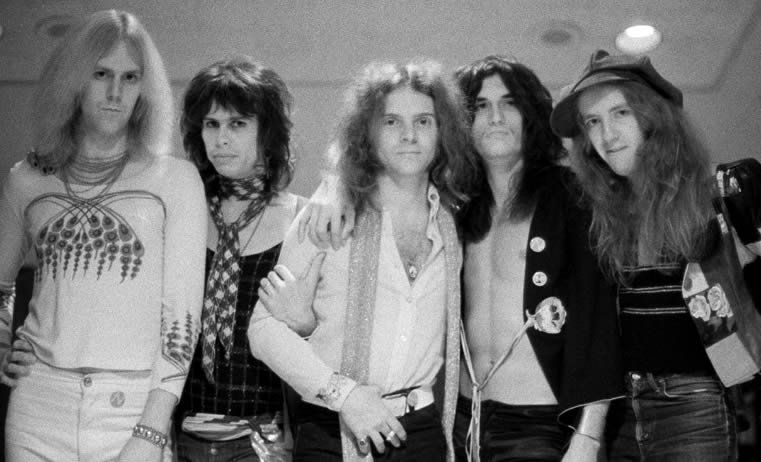 The second side of Get Your Wings kicks off with "S.O.S. (Too Bad)", which previews some of the more raw, sleeze songs Aerosmith would use on albums like Draw the Line. A hard rock song, with underlying riffs and topical textures, this short and energetic song fills the same space that punk rock would soon occupy. The album's only cover, "Train Kept A-Rollin'", actually caused a chasm between the band and producer Douglas. This unique album track fused two distinct versions at differing tempos and put them together back-to-back, with the second one incorporating some "live" elements. Because the band disapproved of the method, Douglas also brought in two session guitarists, each to play lead on respective halves of the song. The addition crowd noise at the end of the track was treated and synthesized to form the "wind" effects that led into the next song.
"Seasons of Wither" is one of the best Aerosmith songs ever and is Tyler's strongest recording effort. Beyond vocal duties, the singer also picks out the unique acoustic notes that give the tune such an eerie yet beautiful feel. Further, although Get Your Wings is a somewhat weak album for bassist Tom Hamilton, he truly shines on this song, nicely complimenting Tyler's unique acoustic riffs with moderate and measured notes that drive the song from phrase to phrase. "Seasons of Wither" paints pictures of a vivid scenery which is at once foreboding and romantic and ends with one of the most efficient guitar leads ever, very short with a single, sustained note taking up last few bars of the song. The album finishes strong with a rare compositional credit for drummer Joey Kramer. "Pandora's Box" is a pure rock n' soul which bookends the album finely with the return of brass section present in the opener "Same Old Song and Dance" and was heavily inspired by 1960s Motown and blue-eyed soul.
Get Your Wings only reached #74 on the album charts which, at the time, was a big disappointment for the band who had (rightly) felt that they had recorded something special. In time it has sold more than three million copies and proved to be the starting point for their greatest run of quality albums.
~

Part of Classic Rock Review's celebration of 1974 albums.