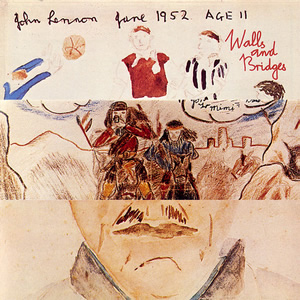 Walls and Bridges seems to be one album that often gets lost in the John Lennon collection. It is not as dramatic as Plastic Ono Band, nor is it as popular as Imagine, nor as sad and tragic as the circumstances surrounding Double Fantasy. Still, this fifth post-Beatles album by Lennon (which he self-produced) is unique in its production and arrangements with a decidedly "modern" sound which includes sharp guitars, well-rounded yet thumping bass, dry snare drum with deep delays, and plenty of horn arrangements throughout. This album also captures Lennon's mood during his 18 month "Lost Weekend", his only separation form Yoko Ono during the last 13 years of Lennon's life.
Lennon and Ono moved to New York in 1971 and escalated their anti-war message, which brought the Nixon administration and FBI to embark on a multi-year attempt at deportation. 1972's Some Time in New York City was an overtly political album, which was mainly a commercial and critical flop. Lennon's next album, Mind Games in 1973, was an effort to move back towards a more standard rock and roll arrangement and included Ken Ascher on keyboards and Jim Keltner on drums, both of whom would be brought back for Walls and Bridges.
After he and Ono decided to separate, Lennon moved to Los Angeles with May Pang, an assistant of Ono's. During this time, he was drinking and was involved with many alcohol-fueled public antics, which brought the former Beatle some negative publicity. In the midst of this chaos, it was growing ever harder to get any recordings done. So Lennon and Pang settled back in New York in the Spring of 1974 and started rehearsing new material with a group of core musicians, including Keltner, Jesse Ed Davis on guitar, and Klaus Voormann (who played on Lennon's first two solo albums) on bass. After moving to the studio and recording the basic tracks, Lennon took the helm during overdubbing, which gave the album it s distinct arrangements and sound.

Walls and Bridges

by

John Lennon
Released: September 26, 1974 (Apple)
Produced by: John Lennon
Recorded: Record Plant East, New York City, July–August 1974
Side One
Side Two
Going Down on Love
Whatever Gets You Thru the Night
Old Dirt Road
What You Got
Bless You
Scared
#9 Dream
Surprise, Surprise (Sweet Bird of Paradox)
Steel and Glass
Beef Jerky
Nobody Loves You
Ya Ya
Primary Musicians
John Lennon – Lead Vocals, Piano, Keyboards, Guitars, Percussion
Jesse Ed Davis – Guitars
Ken Ascher – Piano, Keyboards
Klaus Voormann – Bass
Jim Keltner – Drums
The opener "Going Down on Love" is marked by the percussion by Arthur Jenkins under the main blues riff and hook. This multi-section song with higher-register vocals contains the first horn ensemble which sets the tone for the album. This is followed by the only non-Beatles song by Lennon to top the charts, "Whatever Gets You thru the Night". Lennon's lead vocals are harmonized by Elton John, who also plays piano on the track and was so impressed with the final result that he made a bet with Lennon that it would reach #1 on the charts. When Lennon lost the bet, he agreed to perform a few songs at an Elton John concert on what would turn out to be Lennon's last major public performance of his life.
Lennon also collaborated with Harry Nilsson on "Old Dirt Road". This song contains a country flavored piano and strummed acoustic, harkening back to "Jealous Guy" from Imagine, as a slow and steady ballad with a bit of Beatles bounce in the pre-chorus. On "What You Got", Lennon gives a wild vocal performance in a funk-infused track with piano, strong horns, and very animated drums by Keltner. "Bless You" is a soul-inspired ballad with heavy electric piano, slowly strummed acoustic, and a moody sax solo. Lennon's vocals are very melody driven and song is perfect for soft-rock, easy listening in 1974 and he called this track the "best piece of work on the album". Side one of Walls and Bridges wraps with "Scared", which contains dramatic, wolf howling sound effects before breaking into a direct, bass and piano driven beat which reminds one of the Plastic Ono Band album in its raw emotion and candidness.
"#9 Dream" is one of the most indelible Lennon songs ever recorded. The slide guitar by Davis, which seems to mimic fellow Beatle George Harrison, is accompanied by strummed acoustic, deep strings, and very ethereal vocals. There are sudden but non-abrasive changes in the arrangement and a chorus of background vocals including some whispers by May Pang. Lennon claims the entire song, including the chorus hook; "Ah! böwakawa poussé, poussé" (which has no specific meaning), came to him in a dream. "Surprise, Surprise (Sweet Bird of Paradox)" is the second song harmonized by Elton John through lead verses. There is a lot packed into this short song, with multiple melodies and moods. "Steel and Glass" is a dark folk song, with dramatic picked acoustic guitars in minor chords beneath strong and poignant vocals in opening verses before it breaks into richer arrangement for subsequent choruses and verses.
The mostly instrumental "Beef Jerky" starts with guitar feedback effects before morphing into an arrangement with a more "modern sound". "Nobody Loves You (When You're Down and Out)" is a sad acoustic song about fair-weather friends. Lyrically, it contains the potent line; "I've been across to the other, I've shown you everything, I've got nothing to hide…" while musically the strings seem to mimic those in "Mind Games" from the previous album and the bluesy guitar lead above slow horn ensemble is one of the finest moments on the album. The album closes with "Ya Ya", a short and upbeat cover which features Julian Lennon on drums and was included as a surprise for John's 11-year-old son with the credit; "Starring Julian Lennon on drums and Dad on piano and vocals".
Walls and Bridges rose quickly up the charts and reached #1 in the US less than a week after its release. In 1975, Lennon released an album of cover songs called Rock n' Roll. He also reunited with Yoko Ono and commenced a five year retirement from music when the arrival of the couple's son, Sean, later in that year.
~

Part of Classic Rock Review's celebration of 1974 albums.