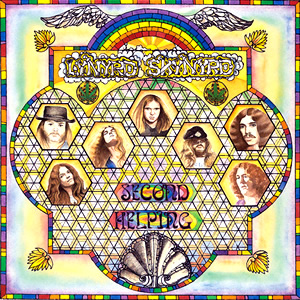 After their acclaimed, classic 1973 debut album, Lynyrd Skynyrd returned with the equally impressive Second Helping, where they continued to forge the emerging genre of Southern-fried rock. Like the first album, this record was produced by Al Kooper, who followed the same basic formula but with a little more leanings toward the geographic roots music which influenced the young band. For this album, the group grew to seven members as original bassist Leon Wilkeson returned to the lineup and Ed King moved from bass to become the third guitarist, giving the group a nearly unprecedented mixture and chorus of rock textures.
Kooper got his start in the music business as a fourteen-year-old guitarist for The Royal Teens in 1958. As a low level session man seven years later, he improvised the famous organ riff that marked that classic song. Kooper later started many groups, including Blood, Sweat, & Tears, and eventually started the Sounds of the South label in affiliation with MCA. In 1972, Kooper signed Lynyrd Skynyrd after catching a club gig in Atlanta and personally took the reins in producing their first few albums, starting in 1973.
Led by the direct, storytelling lyrics of composer and front man Ronnie Van Zant, the group entered the studio in early 1974 determined to avoid the "sophomore slump" after their stellar debut. Musically, the tracks were composed by King along with original guitarists Allen Collins and Gary Rossington, who each used remarkable restraint in avoiding competition for the limited space in the mostly standard-length tracks on this eight song LP.

Second Helping

by

Lynyrd Skynyrd
Released: April 15, 1974 (MCA)
Produced by: Al Kooper
Recorded: Record Plant Studios, Los Angeles, January 1974
Side One
Side Two
Sweet Home Alabama
I Need You
Don't Ask Me No Questions
Workin' for MCA
The Ballad of Curtis Loew
Swamp Music
The Needle and the Spoon
Call Me the Breeze
Group Musicians
Ronnie Van Zant – Vocals
Allen Collins – Guitars
Ed King – Guitars, Bass
Gary Rossington – Guitars
Billy Powell – Piano, Keyboards
Leon Wilkeson – Bass
Bob Burns – Drums
The album kicks off with "Sweet Home Alabama", a simple song has become indelible over its 40 years of existence. Unlike everything else on the album, this track was recorded in Georgia in late 1973 with just King, Wilkeson, and drummer Bob Burns laying down the basic backing track (with full band overdubs to follow later). The famous opening riff was one of the first King developed after switching from bass to guitar. With a great locked-in bass line, fantastic dual guitars, and plenty of other sonic candy, Van Zant's vocals tell stories of contemporary and historical importance, including both tributes and scorns. One of the more famous comes at the beginning of the second verse with a literal calling out of Neil Young in response to his songs "Alabama" and "Southern Man", which Van Zant (a close friend of Young's) felt unfairly indicted a whole culture and region.
The moody "I Need You" is like a continuation of the "Tuesday's Gone" and "Simple Man" tracks from the 1973 debut album. This long and slow blues ballad contains screaming and whining guitar leads by the trio of guitarists. "Don't Ask Me No Questions" is direct rocker with a crisp, blended guitar riff, composed by Rossington. Kooper added some horns for effect on this popular track with a great and direct hook that is easily catchy. The original first side winds down with "Workin' for MCA", which seems at once to be a tribute and indictment of the group's record label. This jam-based rocker literally tells story of group's signing two years earlier and features a great electric piano lead by Billy Powell, followed by trade-off leads by each of the three guitarists.
The original second side of Second Helping starts with one of the best tracks on the album, "The Ballad of Curtis Loew". This touching tribute to an unsung blues man contains calm and moody country guitars by Collins and, although the song gradually builds with more rock-oriented arrangement, it maintains its pure vibe all the way along until the slowing slide guitar in the outro. While the song is based on a composite of people, it paints a vivid picture of Van Zants' original neighborhood in Jacksonville, Florida and the inspiration to play music. "Swamp Music" is pure Southern blues, with an upbeat, underlying rhythm, This song never really deviates from its basic structure and contains good, short jams with vocals mocking the guitar licks. "The Needle and the Spoon" may be the weakest song on the album, as it sounds like a shallow knock-off of "Sweet Home Alabama" in riff, rhythm, and melody but probably could have developed into something better if it had been given the time to grow. The only cover on the album is J.J. Cale's "Call Me the Breeze", which worked out to be a really good fit for Lynard Skynard. Powerful double riffs, the return of the horns, an upbeat rhythm by Wilkeson and Burns, blues-based jamming by all three guitarists, and a honky-tonk piano Powell all shine on this upbeat album closer.
Second Helping reached #12 on the Billboard album charts and was certified Gold within a few months of its release, eventually reaching Platinum status. This turned out to be the high-water mark of Lynyrd Skynyrd's commercial success. Subsequent years were marked with lineup shifts and personal tragedy, making these few years of the band's original existence all the more precious and important.
~

Part of Classic Rock Review's celebration of 1974 albums.