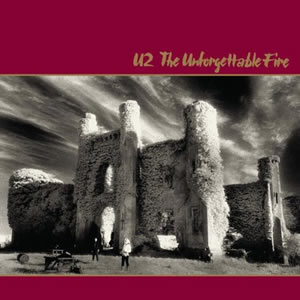 U2 decided to take a bit of a turn following their initial mainstream success. They brought in producers Brian Eno and Daniel Lanois to forge the ambient sound of The Unforgettable Fire. Much of the album was recorded in a castle in the group's native Ireland, with the live acoustic of the various rooms lending much to the unique final sound. Led by the layered and effects-laden guitar of The Edge and the introspective and philosophical poetic lyrics of Bono, this album brought the group to a higher artistic level, while still carrying enough pop/rock punch to make this a mainstream success and solidify U2's new found standing as the eighties top rock group.
Steve Lillywhite had produced U2's initial three albums, culminating with the UK chart topper, War, in 1983. However, both the producer and the band agreed that they did not want to create the "son of War" on the next album and amicably parted ways. The Edge was a longtime fan of Eno's "weird works", but Eno was also initially reluctant to work with the band and suggested Lanois, his engineer, instead. However, Bono's vision for the band won Eno over and both Eno and Lanois agreed to produce the record.
In May 1984 the band moved into Slane Castle where they wrote and recorded much of the material. Bassist Adam Clayton said they were "looking for something that was a bit more serious, more arty", and the castle offered much inspiration on that front. The group took the album's title from an art exhibit about the bombing of Hiroshima that they saw while on tour in Japan.

The Unforgettable Fire

by

U2
Released: October 1, 1984 (Island)
Produced by: Brian Eno & Daniel Lanois
Recorded: Slane Castle & Windmill Lane Studios, Ireland, May–August 1984
Side One
Side Two
A Sort of Homecoming
Pride (In the Name of Love)
Wire
The Unforgettable Fire
Promenade
4th of July
Bad
Indian Summer Sky
Elvis Presley and America
MLK
Group Musicians
Bono – Lead Vocals
The Edge – Guitars, Keyboards, Vocals
Adam Clayton – Bass
Larry Mullen Jr – Drums
The rolling drums of Larry Mullen Jr introduce the album opener "A Sort of Homecoming". The rhythm is soon crowded out by a bucket of treated guitar phrases, all of which seem pretty cool by themselves but kind of saturate the atmosphere as produced on this album. This recording of the fine song suffers in comparison to the later, superior and simpler live version on the 1985 EP, Wide Awake in America, where the vocals and rhythm are much better defined and the song's true beauty shines through.
"Pride (In the Name of Love)" is the most brilliant early career track by U2. Here is the quintessential U2 sound displayed at its height with the steady and shuffling rhythm section of Mullen and Clayton, the alternating arpeggios, chord strums and textures of The Edge, and Bono's vocals soaring above all else. The first of two songs written about Martin Luther King, Jr, it was released as the album's lead single in September 1984 and became a popular radio hit.
"Wire" could easily be a pre-cursor to the later, dance-oriented Manchester sound, as the opening spastic guitar is joined by even more frenzied rhythms, including some strong funk elements. Clayton puts down some slap bass and Bono's vocals are near screams at times, harkening back to U2's post punk roots. "The Unforgettable Fire" is an upbeat, but deep and most philosophical track on side one. This title song has at once a pop feel along with something darker and more foreboding. It was released as the album's second and final single and includes a string arrangement by Irish musician Noel Kelehan. "Promenade" is a short and incomplete song, seemingly built as a studio experiment in capturing sound.
The second side begins with the Eno-influenced atmospheric instrumental piece "4th of July" before launching into "Bad", the highlight of side two. This song continually builds as it goes, with Bono's voice getting ever more animated and Mullen and Clayton getting more intense, while The Edge stays pretty consistent throughout. It began with an improvised guitar riff during a jam session at Slane Castle, with Bono adding lyrics about heroin addicts in Dublin.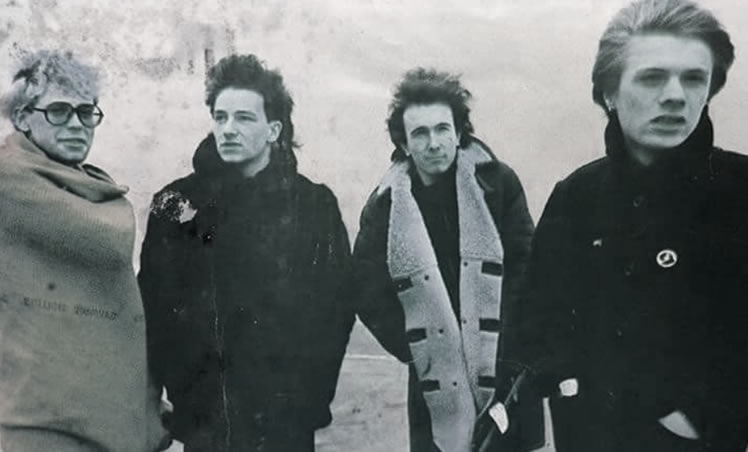 "Indian Summer Sky" is another fine, upbeat track with multiple sections of vocal and musical motifs. "Elvis Presley and America" is a unique but odd and questionable acoustic, with long, improvised lyrics. This song was almost entirely a spur of the moment creation with rhythm borrowed from an altered backing track of "A Sort of Homecoming". The closer "MLK" is all synth and vocals, but with a brilliant melody and lyrics that serve as a lullaby to honor Martin Luther King, Jr. Unlike much of the other experimental tracks, this brief closer gives the album a real classic feel to end the album on a high note.
The Unforgettable Fire was re-packaged in 1985 along with a VHS documentary of the making-of the album. and a remastered 25th Anniversary edition was in 2009 with several bonus tracks. U2 launched a worldwide The Unforgettable Fire Tour, further increasing the band's massive popularity.
~

Part of Classic Rock Review's celebration of 1984 albums.