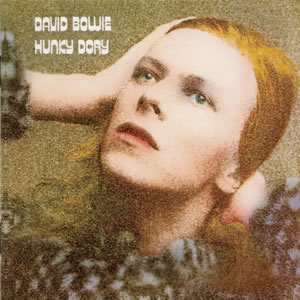 Classic Rock Review has launched a new feature called "What Did We Miss?" to revisit some albums that we overlooked the first time through our voyage into the classic rock years. We start with 1971, the very first year we covered when we launched in 2011, and a truly amazing year for music. And so it was that we overlooked a truly great release from 1971, David Bowie's fourth studio album, Hunky Dory. This was a landmark album for Bowie in many ways, as a transition between his folksy origins and his movement into what would become his signature sound for years to come. Thankfully some wrongs CAN be undone and in this is a big one.
Looking at this album with a larger lens, one can clearly see that this album is not only the opening of a new phase for Bowie but a loving goodbye to the sixties and those artists who inspired him. In fact, this album is filled with artistic, societal and pop culture references. Bowie refers to The Pretty Things, Bob Dylan, and Andy Warhol in the song titles and, in turn, a later band (The Kooks) and television show (Life On Mars) took their names from song titles on Hunky Dory. There are also historical references through the lyrics that mention Aleister Crowley, Winston Churchill, Heinrich Himmler, Juan Pujol, and the society Golden Dawn.
But the real magic on this album lies in the music and melodies. The first side of Hunky Dory may be as good a side of musical excellence that you'll find anywhere and, throughout the album, none of the songs go exactly where your ear expects them to go, as they throw in subtle or sometimes blatant changes. Co-produced by Bowie and Ken Scott, the album is a departure from Bowie's previous 1970 album, The Man Who Sold the World, which had a more solid rock sound. This album prominently features Rick Wakeman on piano, who comes to the forefront of the arrangement of most songs.

Hunky Dory

by

David Bowie
Released: December 17, 1971 (RCA)
Produced by: Ken Scott & David Bowie
Recorded: Trident Studios, London, June–August 1971
Side One
Side Two
Changes
Oh! You Pretty Things
Eight Line Poem
Life On Mars?
Kooks
Quicksand
Fill Your Heart
Andy Warhol
Song for Bob Dylan
Queen Bitch
The Bewlay Brothers
Primary Musicians
David Bowie – Lead Vocals, Guitar, Piano, Saxophone
Mick Ronson – Guitars, Mellotron, Vocals
Rick Wakeman – Piano
Trevor Bolder – Bass, Trumpet
Mick Woodmansey – Drums
The album opens with "Changes", which makes excellent use of layering Bowie's unique voice on top of an entertaining pop rock and bluesy jazz mix. The lyrics of "Changes" evoke a sense of the upheaval of the past decade as well as the present state of Bowie himself as he would jump through multiple persona over the next few years. This is the most played radio song from the album and developed into the quintessential Bowie song of the era. "Oh! You Pretty Things" is a much softer piano-driven song through first verses but breaks into a rousing chorus halfway through as other instruments join the piano as Bowie's vocals get more impassioned. The lyrics speak of discontent with humanity and technology in the Cold War setting,
"Homo Sapiens have outgrown their use…"
"Eight Line Poem" is a short track with Wakeman's surreal piano topped by the bluesy guitar of Mick Ronson. The animated and emotional vocals recite Bowie's "eight line poem" and feel like they'd fit perfectly in a small beat poet performance area. "Life On Mars?" is the real masterpiece of the album. Bowie's emotional vocals lead Wakeman's quietly beautiful piano into a full band, jazz-infused jam before Ronson's guitar comes in with a quick riff leading back to the piano accompanied by the drums. Wild flute sounds add depth to the song. "It's the Freakiest Show" and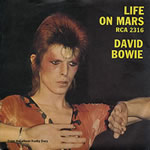 "Is there life on Mars?" are just a few of the poetic lines to which every person must add their own meaning, as this is the musical equivalent of the modernism movement in literature. The song has an orchestral sounding ending like some great show has just come to its climax, after which the piano gets the final say as it quietly fades out.
With the addition of bass player Trevor Bolder, all the members of the band that would become known as the "Spiders from Mars" were in place. On "Kooks", this band shows their versatility as the pleasant traditional-sounding English pop song contains apt acoustic guitar, bass, piano, and melodically dances on the drum beats of Mick Woodmansey. It has a certain sort of grooviness to it as horns and violins enter into the mix. The words "A Trumpet you can blow" lead to the sound of a trumpet. The song was written for Bowie's newborn son, Duncan Jones, with the "kooks" being Bowie and his wife Angie. "Quicksand" concludes the fantastic first side as a steady, dark folk, featuring double-tracked acoustic guitars and a string arrangement by Ronson. This song's sad but beautiful melodies are accented by an ever-increasing intensity in the backing music and lyrics referring to occult magicians like "I'm closer to the dawn immersed in Crowley's Uniform". The theatrical inspirations come through on this song and if this album was a character's journey, this would be the moment when the character hits rock bottom.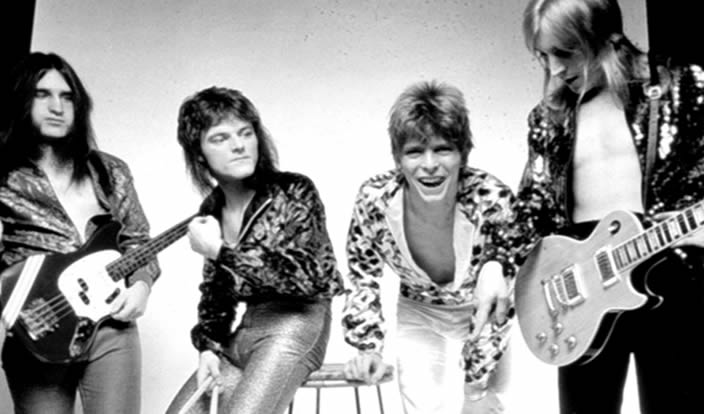 The album's only cover song is the upbeat and philosophical jazz dance of "Fill Your Heart". This old-time, sing-songy tune with piano, saxophone, driving bass, and especially pitched vocals by Bowie. There is a bit of a psychedelic bridge into the next track, "Andy Warhol", using spacey synths and a vocal collage. When the song fully kicks in, it has a Spanish acoustic drive throughout with some creative percussive sounds by Woodmansey.
"A Song for Bob Dylan" is interesting because it refers to Dylan as a separate mythical character apart from Robert Zimmerman (Bob Dylan's actual name). It's an interesting reflection of him as his legend certainly grew beyond his control in the sixties leading to his famous slaughter of his folk only persona at the Newport Folk Festival. It would be hard to believe that Dylan's own experimentation with changing persona didn't directly influence Bowie's future work. As Bowie states in the song,
"Now, hear this Robert Zimmerman, I wrote a song for you about a strange young man named Dylan, with a voice like sand and glue
Some words of truthful vengeance that can pin us to the floor…"
The album winds down with a couple of more unexpected twists. "Queen Bitch" is highly influenced by the Velvet Underground, but with their overall effect brought to the next level. This song sounds like it could have been fresh and new six or seven years later and may well be a precursor to "Rebel Rebel" on 1974's Diamond Dogs, as both seem like anthems of strong women you'd dub punks in the best way. While this song features overt textures of acoustic and electric guitar, the song is real showcase for Bolder on bass. "The Bewlay Brothers" sounds like a quiet acoustic post party song when it starts but it gets louder as it goes. You can almost picture Bowie walking down a quiet street after a wild night before singing it. The multiple voices that suddenly break in are oddly disconcerting near the end of the song, as this masterpiece of an album concludes as oddly as possible.
Hunky Dory was not an immediate hit upon its release but it reach the Top 5 following the commercial breakthrough of Ziggy Stardust in 1972. "Life on Mars?" was released as a single the year after that, reaching #3 in the UK. Wakeman was not around to directly enjoy this success, as he had moved on to join the band Yes and make an immediate impact on their album Fragile. In short, Hunky Dory is a sublime listen and it feels like the true start of David Bowie's super-stardom. It is a must listen for music fans of all kind.
~

Part of Classic Rock Review's celebration of 1971 albums.