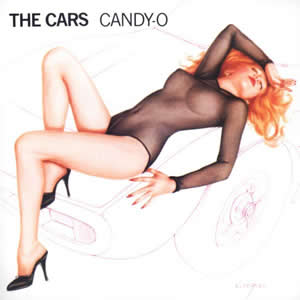 Following up on a massively successful debut album is a daunting task. A group may want to build on their most successful musical elements while still leaving room to explore new directions. The members of The Cars found themselves in such a place in 1979 as they followed up their fantastic self-titled debut with their sophomore effort, Candy-O. Led by composer, guitarist and vocalist Ric Ocasek, the band blended their rock rhythms with topical new wave styles to make an album that alternates between radio and art rock. The resulting album is a sustainable second record that stands above the shadows to be in the conversation with The Cars' best early work.
Although there was an excess of material after the production of , The Cars, in 1978, most of the songs on Candy-O were freshly composed specifically for this second album. While Ocasek was undoubtedly the leader of the musical direction, much of the true performance talent rested with the other four band members, starting with the lead instrumentalists, Elliot Easton on guitars and Greg Hawkes on keyboards.
Like the debut album, Candy-O was produced by Roy Thomas Baker and peaked at #3 on the Billboard album charts during its initial run, briefly re-entering the charts five years later in 1984. The album is also visually notable for the classic "pin-up girl" cover, painted by artist Alberto Vargas of a model coincidentally named Candy Moore.

Candy-O

by

The Cars
Released: June 13, 1979 (Harvest)
Produced by: Roy Thomas Baker
Recorded: Cherokee Studios, Los Angeles, 1979
Side One
Side Two
Let's Go
Since I Held You
It's All I Can Do
Double Life
Shoo Be Doo
Candy-O
Night Spots
You Can't Hold on Too Long
Lust for Kicks
Got a Lot on My Head
Dangerous Type
Group Musicians
Ric Ocasek – Lead Vocals, Guitars  |  Benjamin Orr – Lead Vocals, Bass
Elliot Easton – Guitars, Vocals  |  Greg Hawkes – Keyboards, Saxophone, Percussion, Vocals
David Robinson – Drums, Percussion
The album starts strong with the upbeat and catchy "Let's Go", sung by bassist Benjamin Orr, who shares lead vocal duties with Ocasek throughout the album. With a wild synth riff, percussive effects, and a cool pre-chorus with rolling drums by David Robinson, "Let's Go" serves as the perfect extension of the first album's vibe and entertaining quality. As a result, the single peaked at #14, making it the highest charting song by The Cars to that point. "Since I Held You" is a more guitar-based rock song, even a bit bluesy in its intro. While this song does not have as much movement as the one that precedes or follows it, it does have a steady vibe with great guitar riffs.
"It's All I Can Do" is based on a rotating riff, built with electric piano and bass. The chorus soars into a fine mixture of square synths and catchy vocals hooks, followed by a short but entertaining lead guitar section by Easton. However, the true genius of the song is the interplay between Orr's vocals and Hawkes subtle keyboard textures. "Double Life" is built on a lazy riff, a chanting melody, and building sonic textures until it climaxes with a raw and potent guitar lead. At the end, the song breaks down into this psychedelic synth of "Shoo Be Doo", which is really just stereo filler without much real substance. The order quickly breaks from the chaos with the synth and dance-oriented title song. "Candy-O" has some rock elements through the interlude riff and drum parts but, in the end, is really a canvas for synth fonts and soon became a classic rock radio staple.
On the second side opener, "Night Spots", the group advances a bit into the eighties in style, showing how influential The Cars actually were in their day. This syncopated arpeggio track was the only song left over from the debut that was included on Candy-O. "You Can't Hold On Too Long" is the only song on the album not written solely by Ocasek, but a true band collaboration. This is a pure new wave rock with a refreshing return to guitar riffs musically, along with good drumming, a mixture of rhythms and a bluesy guitar lead in the coda. At first, "Lust for Kicks" sounds like another section of a multi-part song, but with a stripped back arrangement led by Hawkes' bouncy, high organ patterns. "Got a Lot On My Head" is the weakest song on the album (with the possible exception of "Shoo Be Doo"), as a frantic but weakly composed track. The album recovers to finish strong with the steady rocker "Dangerous Type". Once again, the pop craftsmanship is masterful by Ocasek and the rest of the band brings their musical "A" game. The song and album ends with a nice coda and long fade to make the listener want for more.
Following the success of Candy-O, The Cars faced a bit of disappointment with third studio album, Panorama in 1980. However, the band would recover strongly and find more great success with a string of hit albums and songs through the middle of the decade before the their breakup in early 1988.
~

Part of Classic Rock Review's celebration of 1979 albums.