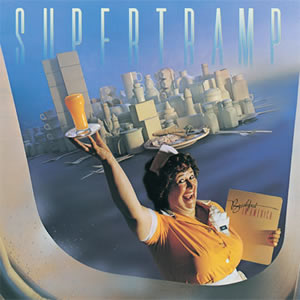 Breakfast In America is, at once, an artistic statement and a pure pop record. This sixth overall album by Supertramp was composed and recorded after the British group relocated to Los Angeles. Much like their three previous albums, the songs on Breakfast In America were split between founding members Rick Davies and Roger Hodgson, who have contrasting musical and vocal styles but have a knack for blending these styles into interesting and cohesive albums. Here, the chemistry and talent reaches an apex and the result is Supertramp's best selling, most critically acclaimed and highest charting album, as well as Classic Rock Review's Album of the Year for 1979.
While Supertramp started as a purely progressive rock act in 1970, their mid seventies albums started to inch towards more pop/rock song craft. Released in early 1977, Even In the Quietest Moments, which contained the group's first worldwide Top 40 hit "Give a Little Bit". After that album's release, the band decided to permanently relocate to America's west coast and each member found fresh influence in the prolific pop music culture which was booming in late seventies Los Angeles.
Prior to the extended recording sessions, the group recorded a couple of demo sessions to sort out the best material. Originally, Davies and Hogdson were planning on doing a concept album, which would examine their conflicting personalities and world views called "Hello Stranger". However, the group eventually decided on abandoning this concept and focusing more on the songs they considered more fun to perform. In this light, the album's title was changed to reflect the bouncy, upbeat song introduced by Hodgson. Along with producer Peter Henderson, the group forged a fantastic sound for the album by focusing more on capture and performance than mixing and mastering techniques. This process took months and was only completed when the December 1978 deadline arrived.

Breakfast in America

by

Supertramp
Released: March 29, 1979 (A&M)
Produced by: Peter Henderson & Supertramp
Recorded: The Village Recorder, Los Angeles, May–December 1978
Side One
Side Two
Gone Hollywood
The Logical Song
Goodbye Stranger
Breakfast In America
Oh Darling
Take the Long Way Home
Lord Is It Mine
Just Another Nervous Wreck
Casual Conversations
Child of Vision
Group Musicians
Rick Davies – Keyboards, Harmonica, Vocals
Roger Hodgson – Guitars, Keyboards, Vocals
John Helliwell – Woodwinds, Reeds, Keyboards, Vocals
Dougie Thompson – Bass
Bob Siebenberg – Drums
Breakfast in America is bookended by two dramatic and theatrical extended tracks which give a sense of the group's earlier work. "Gone Hollywood" starts with long fade of carnival-like piano before strongly breaking in as a duet of Davies and Hodgson harmonized vocals. After two short verses, a long middle section starts with a subtle but haunting saxophone lead by John Helliwell before Davies takes over lead vocals and tension slowly builds with rhythmic accents of the consistent piano arpeggio. After a climatic Hodson-led section, the song returns to a final verse and concludes with an optimistic musical outro.
"The Logical Song" is a brilliant song lyrically, melodically, and especially musically by Hodgson. The album's first single, the song reached the Top 10 is several countries and became the group's most successful hit. The song is highlighted by the later progressions, including the brighter piano notes under Helliwell's first sax lead and the outro led by the bass riff of Dougie Thompson under the second sax solo. Lyrically, Hodgson critiques the structured education system and society's unbalanced focus on true knowledge. The dynamics of the Wurlitzer piano are on full display during "Goodbye Stranger", Davies' ode to rock groupies. Beyond anything else, this song has exceptionally great sonic aesthetics with some cool guitar textures by Hodgson, including a cool rock outro with a refined guitar lead.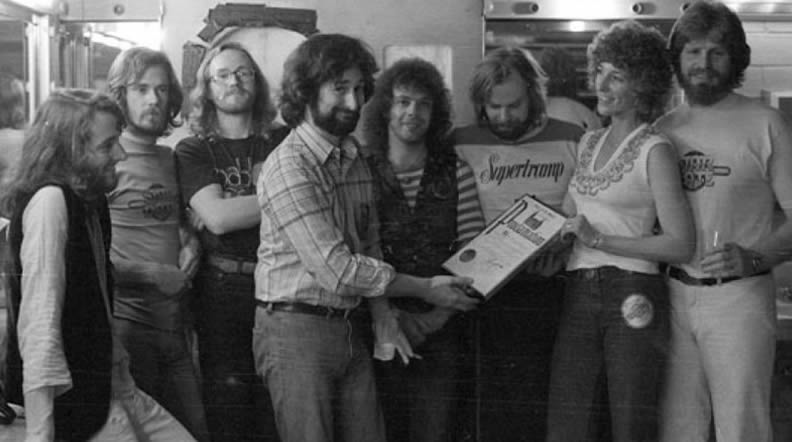 The album's title song was written by Hodgson while still a teen in the late sixties. "Breakfast in America" is almost frivolous in subject matter, but quite powerful musically with an interesting, English band march beneath the contemporary rock vocals. The song was a hit in the UK but failed to chart in the States. The side one close "Oh Darling" is an unheralded romantic ballad where Davies uses expert chord progressions and diminishment to perfectly set the beautifully melancholy mood. Hodgson makes his own significant contributions, starting textured electric guitar riffs and acoustic accents to compliment the Wurli piano and vocals perfectly, and climaxing with the closing vocal duet that builds to a crescendo before nicely fading out.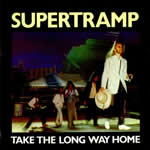 The second side starts with the album's most philosophical track. The lyrics of "Take the Long Way Home" may be about "stepping out" or growing old or re-examining your life or a combination of these. Hodgson again finds a fine melody to accompany the piano progressions, which dominate the verses and choruses and are accented perfectly by Thomson's bass. During the bridge, there is an exciting tradeoff between the tenor saxophone and Davies's bluesy harmonica and during the haunting final descent the song slowly marches away into an echoed darkness, completing the overall effect. "Lord Is It Mine" follows as a sweet and sad piano ballad by Hodgson, who uses his highest falsetto voice to carry the tune with minimal arrangement above the guiding piano. Later, there is a nice clarinet lead by Helliman leading to a climatic final section. Lyrically, the track contains nice little motifs such as,
"You know I get so weary from the battles in this life and there's many times it seems that you're the only hope in sight…"
Next come a couple of tracks by Davies. "Just Another Nervous Wreck" is a building pop/rock song about the struggle of the everyman. It starts with an animated electric piano and vocals and builds with many traditional rock elements including a fine harmonized guitar lead and chorus vocals, before the strong, climatic outro with Davies's vocals becoming ever more desperate and strained. "Casual Conversations" takes the opposite approach to the previous track, as a short, jazzy, mellow tune. Cool piano carries this along, with not much movement elsewhere, just a guide cymbal beat by drummer Bob Siebenberg. "Child of Vision" closes things out as a seven-plus minute track with an epic feel. Employing some newer musical styles and elements, the track is Helliwell's only partial songwriting credit on the album and it ends with a long piano solo with a improvised feel. This ending, unfortunately, seems mainly there to take up some time and "run out the clock", which makes for a less than satisfying conclusion to this otherwise flawless album.
Breakfast in America won two Grammy Awards in 1980, and topped the album charts in several countries, including France where it became the biggest-selling English language album of all time. The group followed the album with a 120-date world tour which broke concert attendance records in Europe and Canada. In 1980, the band released the double live album Paris, another huge success worldwide. The group did not follow up Breakfast in America with another studio release until Famous Last Words was released in late 1982, nearly four years later. Although that album was a commercial success, the subsequent tour led to Hodgson's departure from the group, breaking up the classic lineup of Supertramp.
~

Part of Classic Rock Review's celebration of 1979 albums.