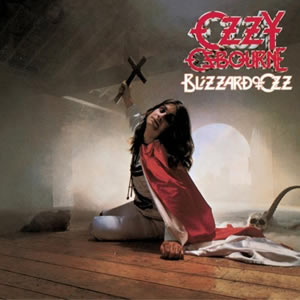 Few rock and roll comebacks are as bizarre, but complete, as that of Ozzy Osbourne in 1980. Just a year after being fired from Black Sabbath, the superstar rock group that he founded and fronted since the late 1960s, emerging with the his fantastic debut solo album, Blizzard of Ozz. The immediate success of this album was due in part to the emergence of guitarist Randy Rhoads who burst onto the rock scene with an aggressive and fresh approach to playing rock guitar with some classical elements.
Actually, this didn't start as a true solo project for Osbourne. The Blizzard of Ozz was a "side band" the vocalist formed in 1978, while still a member of Black Sabbath. Osbourne abandoned the project to focus on recording Sabbath's Never Say Die!, his final album with that band before being replaced by Ronnie James Dio. Osbourne, Rhoads and bassist Bob Daisley rehearsed at a live-in rehearsal facility along with a friend of Osbourne's on drums. After auditioning several drummers, Lee Kerslake, formerly of Uriah Heep, was brought on as the group's drummer just prior to recording this album.
The quartet entered the studio still billed as "The Blizzard of Ozz", with the agreement that the album would be credited to the band with Osbourne's name in smaller print. After failing to find a satisfactory producer, all four members took on production duties themselves. The approach used was similar to that on Van Halen's debut album, with Rhoads' guitars front and center as a complement to Osbourne's familiar vocals. Most of the group members were surprised when originally seeing the album cover with "Ozzy Osbourne" in bigger print and "The" removed from the title Blizzard of Ozz, which would ripple into further issues among the musicians in years to come.

Blizzard of Ozz

by

Ozzy Osbourne
Released: September 20, 1980 (Jet)
Produced by: Ozzy Osbourne, Randy Rhoads, Bob Daisley & Lee Kerslake
Recorded: Ridge Farm Studios, Rusper, England, March−April 1980
Side One
Side Two
I Don't Know
Crazy Train
Goodbye to Romance
Dee
Suicide Solution
Mr. Crowley
No Bone Movies
Revelation (Mother Earth)
(The Night)
Primary Musicians
Ozzy Osbourne – Lead Vocals
Randy Rhoads – Guitars
Don Airey – Keyboards
Bob Daisley – Bass, Vocals
Lee Kerslake – Drums, Percussion
A long, sustained, anticipation-building, spacey gong sound swells in before being sliced cleanly by Rhoads rapid, deadened machine gun riff on the opener "I Don't Know". After two verses of this heavy bliss comes the surprising, flange-heavy middle bridge section which exits into a strong launch of Rhoads' first lead of the album. The song has a mini epic feel during the multi-part bridge before the intro and verse section return for a final verse before the sudden and clever ending. "Crazy Train" contains one of the most famous intros in rock history as the thumping rhythms of Daisley and Kerslake are cut by Osbourne's vocal effects before Rhoads steals the show with his indelible riff. The entire track is an exercise in the best of accessible hard rock – slightly doomy lyrics delivered clearly and melodically above air-instrument-worthy crunches and fills. Rhoads' lead is short but rapid and potent with the lyrical content reflecting the ongoing Cold War and the ever-present fear of annihilation. Released as the album's lead single, "Crazy Train" failed to reach the Top 40 but has long since become a rock radio staple and classic from the era.
A change-up that shows there's much more to this album compositionally, "Goodbye to Romance" was the first track written for the album as a sort of ode to Osbourne's departure from Black Sabbath. The beat is almost impossibly slow but there is enough variety in Rhoads multi-tracked textures and Daisley's bouncy bass line through the first verses and choruses. The song really reaches a new level starting with Rhoads' guitar lead, which seems to set a template for a decade plus of power ballads to follow. The song's final verse takes an alternate approach both melodically and in intensity, before a calm synth leads the song through the outro. After three, five-minute-something tracks filled with passion and emotion, comes a slight respite in the classical acoustic solo of "Dee", Rhoads' short tribute to his mother. "Suicide Solution" is the closest this lineup comes to classic Black Sabbath in its pure darkness and doominess, complete with a long effects-laden section which caused much controversy in subsequent years. The song's outro contains some slight Hammond organ and sixties-style psychedelic guitar effects, which make it an interesting listen.
The album's second side is a bit more experimental. Inspired by a book about 19th century occultist Aleister Crowley which Osbourne found in the studio, "Mr. Crowley" starts with deep synth section played by Don Airey. The verse breaks in with a strong hard rock phrase which falls somewhere on the scale between Led Zeppelin and Foreigner and, although impressive, Rhoads' lead seems more like a technical exercise than an affirmative dispatch. The guitarist does make up for this later in the song with a fantastic, harmonized counter-riff that really elevates the track overall to the classic level. "No Bone Movies" is much more frivolous in its approach. A true band jam, this is the only song credited to all four core members of "The Blizzard of Oz" and the most interesting element is the bright, bluesy guitars, which sound like nothing else on the album. Almost a comic relief piece, lyrically the song is about constant self-vows to abandon pornography;
"Silver screen, such a disgrace, I couldn't look her straight in the face, a blue addiction I live in disgust, degradation, eaten by lust…"
"Revelation (Mother Earth)" is the most intense and, perhaps, overall best song on the album. The track contains a chorus of heavy and delicate guitars by Rhoads along with a healthy dose of keyboards, synths and percussive effects. Osbourne also does a masterful job vocally, expertly portraying the apocalyptic desperation of the lyrics. However, the best part of this track is the extended instrumental section, which is led into by a heavy metal guitar and bass riff, passes through a fine classical piano and synth section by Daisey, and then returns to Rhoads' riffing and one final, heavy outro with multi-tracked guitars and a complexity to the jam as fine as anything Deep Purple had ever done. After the depth of the previous track, "Steal Away (The Night)" concludes the album as a fun party song which gives everyone the opportunity to let loose musically. Here, Daisley and Kerslake really step to the forefront, which reminds everyone that Blizzard of Oz is really a band effort.
The album was a huge commercial success and is Osbourne's top selling record, having sold over 6 million copies worldwide. However, there was some controversy as Daisley and Kerslake sued Osbourne (and eventually won) for unpaid royalties. In response, Osbourne re-released Blizzard of Oz with newly recorded bass and drum tracks in 2002. But fans grew to loathe this new release and the original version was reinstated as official in 2011.
~
Part of Classic Rock Review's celebration of 1980 albums.