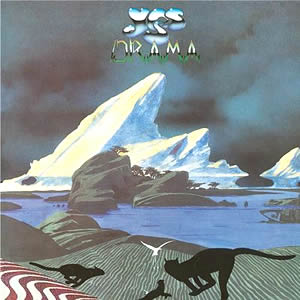 Yes entered the 1980s with a new lineup and a renewed compositional approach. 1980's Drama, is the band's tenth studio album but the first not to feature Jon Anderson as the front man, as Anderson and keyboardist Rick Wakeman left the group during rehearsals for this album. Soon, two members of the new wave group The Buggles, lyricist/vocalist Trevor Horn and keyboardist Geoff Downes were brought in to replace Anderson and Wakeman. While this naturally added some "modern" elements to Yes's sound, the group simultaneously reverted back to their trademark early seventies approach, which overall made for an interesting and potent fusion.
During the mid to late seventies, Yes slowly morphed from a dedicated progressive rock band to offering more succinct fusion rock. Along the way, internal conflicts on the direction of the band erupted into shifts in the lineup. In 1973 drummer Alan White replaced longtime drummer Bull Bruford and, following the release of the controversial double LP Tales from Topographic Oceans, Wakeman left the band for the first time. 1974's Relayer saw Yes move in a jazz fusion-influenced direction and was a Top 5 hit on both sides of the Atlantic. The group's 1976 North American tour saw the band at the height of their popularity, playing sold-out stadiums with audiences as large as 100,000. Wakeman rejoined the group for their late 1970s albums Going For the One (another success) and Tormato (a commercial failure).
In late 1979, the band convened with producer Roy Thomas Baker to discuss their next album. A chasm grew over the musical approach between Anderson and Wakeman on one side and the rest of the group who wanted to return to a heavier sound. By March 1980, White, guitarist Steve Howe, and bassist Chris Squire began recording demos of instrumental material because Anderson and Wakeman were so disinterested in their approach. Horn and Downes Happened to be working in the same recording complex and, after Squire heard a demo of one of their new tracks, they were enlisted to joine this reconfigured version of Yes and recorded Drama.

Drama

by

Yes
Released: August 18, 1980 (Atlantic)
Produced by: Trevor Horn and Yes
Recorded: April–June 1980
Side One
Side Two
Machine Messiah
White Car
Does It Really Happen?
Into the Lens
Run Through the Light
Tempus Fugit
Primary Musicians
Trevor Horn – Lead Vocals, Bass
Steve Howe – Guitars, Mandolin, Vocals
Geoff Downes – Keyboards, Vocals
Chris Squire – Bass, Piano, Vocals
Alan White – Drums, Percussion, Vocals
Although filled with extended tracks, this album moves by quickly and is as solid and complete as their tremendous early seventies efforts The Yes Album and Fragile. Also, while all five members of this newly formed band and Eddie Offord are credited with production, the majority of the workload was handled by Horn alone. The opener "Machine Messiah" rolls in with an animated yet doomy heavy prog-rock progression and heavily distorted guitar riffs. After about a minute and half, it breaks into an acoustic and bass driven verse section, which sounds much more like traditional Yes for two verses. This extended track later launches into upbeat and eclectic musical sections with several short leads by Howe, one of which is introduced by Downes and Squire trading synth and bass licks.
"White Car" is an odd interlude, orginally started as a Buggles song, with choppy synths mixed with some traditional orchestra instruments. This minute and a half long track is unidirectional with single verse and chorus. "Does It Really Happen?" starts with a cool, funky bass riff by Squire which is built around by the rest of group. In essence, the song acts as a bridge between the seventies and eighties versions of Yes, with deep Hammond-style-organ chops mixed in with the overall clean funk and some tempo variations during entertaining verses. Ending side one, the song contains some philosophical lyrics;
"Time is the measure before its begun, slips away like running water…"
The most popular song on Drama is, "Into the Lens", which started as a track intended for the second Buggles album called "I Am a Camera". Squire's bass rudiments in the intro are gradually joined by keys and guitars for a richer arrangement and experience. Vocally, this song is the first where Horn really distinguishes his style apart from that of Anderson's and the track moves at a unique pace which is at once rushed and deliberative, really straddling the line between prog and pop like few songs before it. Ultimately, this track found its way back to The Buggles, who released it as "I Am a Camera" in late 1981 and nearly got a Top 40 hit.
Well treated by engineer Hugh Padgham, "Run Through the Light" starts with a slight, distant mandolin by Howe and vocals by Horn with deep reverb. Little by little, the instruments enter in the distance, never really coming completely to the foreground, making for an interesting sonic effect, especially with the multiple synth and guitar licks splattered throughout. The album ends with a high-end, traditional jam. "Tempus Fugit" starts with Downes' choppy organ riff before launching into a complex patter by Squire's flanged-out bass and complemented by a Howe's reggae/ska guitar chop through the verses. Rapid, harmonized vocals lead to the ultimate lyrical hook of, "Yes", reminding all that this makeshift super-group still carries the mantle of the classic band.
After touring together to support, Drama, this short-lived lineup began to disintegrate as members began to leave for various reasons. Ultimately, Howe and Downes were the last two left but opted to form a new group called, Asia, rather than continue to use the name, "Yes". Ironically due to their commitment to their successful new band, these two were the only ones not included when Yes reformed in 1983 and recorded their commercially successful, 90125, albeit Horn's participation was as producer after Anderson returned on lead vocals.
~
Part of Classic Rock Review's celebration of 1980 albums.