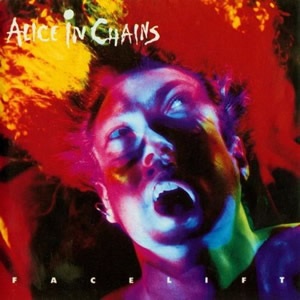 Alice In Chains released an impressive debut album in 1990 with Facelift. Some have given this record the distinction of being the first "grunge" record to be certified platinum, although we may stipulate that this album is not strictly "grunge". The group has a strong heavy metal pedigree, which shines through the otherwise methodical and moody tunes. In all, Facelift is full of tracks which are heavy, melodic and dark and it (unintentionally) became the wellspring for musical trends to come.
The group originated when vocalist (and then drummer) Layne Staley met guitarist Jerry Cantrell at a Seattle rehearsal studio in the mid eighties. The two struggling musicians instantly bonded and worked on several musical projects together before Alice In Chains fully formed. In 1988, the group recorded a demo which eventually made its way to Columbia Records' A&R department and representative Nick Terzo, who set up an appointment with label president Don Ienner. Based on The Treehouse Tapes, Ienner signed Alice in Chains to that label in 1989.
After the release and success of an EP earlier in 1990, the label fast tracked the production of the debut album with producer Dave Jerden. Mainly recorded at London Bridge Studio, Cantrell felt that the album's moody aura was a direct result of the feel of Seattle. Meanwhile, drummer Sean Kinney claims he recorded the album with a broken hand because he didn't want to miss the group's "first big break."

Facelift

by

Alice In Chains
Released: August 21, 1990 (Columbia)
Produced by: Dave Jerden
Recorded: London Bridge Studio, Seattle & Capitol Recording Studio, Hollywood, December 1989-April 1990
Track Listing
Group Musicians
We Die Young
Man In the Box
Sea of Sorrow
Bleed the Freak
I Can't Remember
Love, Hate, Love
It Ain't Like That
Sunshine
Put You Down
Confusion
I Know Somethin ('Bout You)
Real Thing
Layne Staley – Lead Vocals
Jerry Cantrell – Guitars, Vocals
Mike Starr – Bass, Vocals
Sean Kinney – Drums, Percussion, Piano



The opening track "We Die Young" comes in as a standard hard rock song with a just a bit of vocal and lyrical edge. Cantrell wrote the song when he observed on a bus some "9 or 10 year-olds with beepers to deal drugs". This track, which originated on the group's earlier studio EP, clocks in at just two and a half minutes and ends just as aprubtly as it begins.
The true gem of Facelift comes early on with "Man In the Box". The track employs simple but masterful sonic expressions and a steady drive which could uniformly cut through Staley's lead vocals. Cantrell uses a talk box effect with bassist Mike Starr holding down the bottom end of the grinding riff. Released as a single in 1991, this became the signature song of the band's early career and was nominated for a Grammy Award for Best Hard Rock Performance in 1992.

Kinney's choppy piano complements Cantrell's slide guitar notes during the deceptive beginning of the beat and rhythm driven "Sea of Sorrow". The song peaked at number 27 on the Mainstream Rock Tracks and was a moderate radio hit. "Bleed the Freak" is the first somewhat weak track on the album, with the vocals a bit whiny, while "I Can't Remember" extends the preceding track but with a darker, more foreboding feel. The body of this latter song uses timing for maximum effect, even if the song never really accelerates from its slow and deliberate pace.
The heart of the album contains some of the more diverse tracks. The extremely slow "Love, Hate, Love" features some competing riffs that somehow end at the same place during the sparse but effective verses, while the choruses are even more impressive due to Staley's soaring vocal melody as he wails through lyrics of standard love fair. Cantrell offers some Wah-Wah effects on "It Ain't Like That", which has strong elements of traditional eighties heavy metal, but with the dark overtones that tilt it towards grunge. A bright chorus of guitars make the verse section of "Sunshine" unlike anything else on the album, although this track's chorus is a little more straight-forward hard rock, with Cantrell singing some smooth backing vocals behind Staley's raspy throat. "Put You Down" is good-time hard rock musically, in a style reminiscent of our review of Damn Yankees.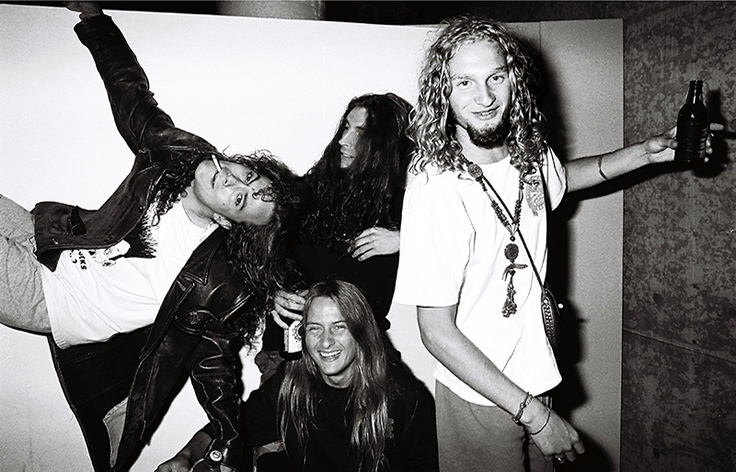 The final three tracks are all excellent and work to close the album very strongly. The slow, moody, stream-of-consciousness that starts off "Confusion" is complemented by an odd chord progression that adds to the overall effect. Co-written by Starr, who adds enough low-end bass punch, this song builds nicely in intensity through the chorus and is one of the few tracks to have a proper lead guitar and it is bluesy and effective for this fine song. "I Know Somethin (Bout You)" has a very funky intro by Cantrell and Starr. Masterfully odd timings throughout make this one of the more entertaining tracks along with the complex vocal patterns during the chorus hooks, which help build the song to a climax before its abrupt ending. "Real Thing" is a bit of  traditional blues mixed with straight-forward heavy rock. Like tracks earlier on the album, the sonic textures carry the day on this closer which works to elevate the album to the classic level.
Facelift barely missed the Top 40 on the album charts and was far from an instant success, selling less than 40,000 copies in its first six months. But there is still little doubt that, with this album, Alice In Chains was a blazing a trail for the deluge of change that was about to come to the music scene.
~

Part of Classic Rock Review's celebration of 1990 albums.