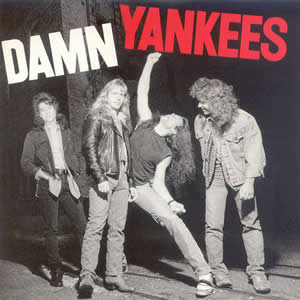 Before its swift exit from the mainstream rock scene in 1991, "hair metal" had its last hurrah during the year 1990. Perhaps the apex of this final phase was the self-titled debut album by the super group, Damn Yankees, which brought together three musicians from different rock outfits, each of whom had tremendous success in the years and decades previous to Damn Yankees. The result was a double platinum commercial success which spawned several radio and charting hits.
Vocalist and guitarist Ted Nugent had been performing live since 1958 and found some mainstream success with his band, the Amboy Dukes, in the late sixties and early seventies. However, when Nugent launched his solo career the mid seventies, he found his greatest success with three multi-platinum albums in consecutive years 1975, 1976, 1977. During that same era, bassist and vocalist Jack Blades formed the funk band Rubicon, which had a few minor hits before breaking up in 1979. The following year, Blades formed a band called "Ranger", which morphed into "The Rangers" and ultimately, Night Ranger. The group had tremendous success through the 80's, selling millions of albums and charting several hit singles. Tommy Shaw joined the established Chicago group, Styx, in late 1975 as second guitarist and co-lead vocalist. Over the next eight years, the group had tremendous success, including the standout albums, The Grand Illusion, in 1977 and, Paradise Theatre, in 1981. However, Shaw grew increasingly dissatisfied with the direction of the group's music towards pop ballads and theatrical role playing, so he left Styx to pursue a solo career which yielded three albums in the late eighties.
Damn Yankees was formed in 1989, with drummer Michael Cartellone (who had played in the final stages of Shaw's solo band) rounding out the quartet. Some of the material on this album was brought in by individual members, but most was composed collaboratively in the studio. Producer Ron Nevison also brought in multiple session musician to enrich the music and allow the three vocalists to concentrate on melodies and harmonies.

Damn Yankees

by

Damn Yankees
Released: February 22, 1990 (Warner Bros.)
Produced by: Ron Nevison
Recorded: A&M Studios, Hollywood, CA & Can-Am Studios, Tarzana, CA, 1989-90
Track Listing
Group Musicians
Coming of Age
Bad Reputation
Runaway
High Enough
Damn Yankees
Come Again
Mystified
Rock City
Tell Me How You Want It
Piledriver
Tommy Shaw – Guitars, Vocals
Ted Nugent – Guitars, Vocals
Jack Blades – Bass, Vocals
Michael Cartellone – Drums


The album starts with the hit, "Coming of Age", which sets the pace for the slick, polished, hard rock sound of the album. Blades brought this popular song with him into Damn Yankees, which features catchy, chanting vocal motifs, accented by accent by Nugent's choppy riffs, which all worked to make this perfect for pop and rock radio alike. "Bad Reputation" follows in the same vein as a pure riff-driven raunch, unambiguous lyrically and not too far from that musically – steady beat throughout – nice bridge with complex vocal patterns before song returns with Nugent's blistering lead. After some cool deadened guitar notes in the intro, "Runaway" launches into a full-fledged pop rocker. Led by Shaw's lead vocals, the song contains nice complements throughout, including some sparse but tactical keyboards by session man Steve Freeman.
The album's best track is also its most popular. "High Enough" is a ballad which starts and ends with a string ensemble put together by Nevison with strummed acoustic during initial verse. Shaw's high harmonies perfectly complement Blades' lead vocals on this track filled with harmonic bliss, both vocally and musically. Further, there is enough arrangement variation to make this Top 5 hit a true classic from the album.
Damn Yankees's title song has an Aerosmith-like feel in its riffing, but a much different vibe once the vocals come in. The mid section of this track is dominated by Nugent, with several wild effects through the guitar lead and lead vocals over the bridge. "Come Again" is a folk ballad by Shaw which reflects some of the arena ballads by Styx. Beginning with a picked acoustic during the verse, this song continuously builds in a moody but melodic track that is contrasted by Nugent's frenzied guitar riffs. "Mystified" starts with some great blues elements, including some slide guitar over initial porch-stomp verses. The song soon turns into a more standard rock drive, but maintains the great blues harmonics during Nugent's soaring lead, making this the last real highlight of the album.
The remaining three tracks are not the strongest. "Rock City" a bit of frivolous number, only really there for the mind-numbed partier, making it one of the weaker numbers on the album. Led by the strong but standard drumming of Cartellone and the fine vocal harmonies, "Tell Me How You Want It", is a track which has all the elements of a hit song in 1990, but never reached that plateau. Nugent's "Piledriver",  is almost a direct rip-off of Van Halen's "Hot for Teacher" in its sonic approach. That's not to say that Nugent's guitar is not impressive – it is – but the comic breakdown in the middle of this blistering lead is a bit over the top. Nonetheless, it is an entertaining way to wrap up the album.
Damn Yankees reached the Top 20 on the Billboard album charts and remained a hit well into 1991. The group went on a successful world tour and returned with a 1992 follow-up album Don't Tread, which was a minor hit on its own. In 1994, Nugent left the group, with Shaw & Blades releasing a single album as a duet before ending the short run of Damn Yankees.
~

Part of Classic Rock Review's celebration of 1990 albums.