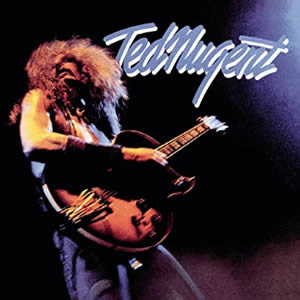 After nearly a decade leading the Amboy Dukes, Ted Nugent embarked on a solo career and released his self-titled debut album in 1975. With a newly formed group that featured the most recent rhythm section of the Amboy Dukes, Nugent developed an impressive set of steady hard rock tunes which are at once accessible, cutting edge and a fine showcase for Nugent's guitar leads. The album was a minor hit on both sides of the Atlantic and reached multi-platinum sales status in the United States.
A native of Michigan, Nugent formed the Amboy Dukes while still in high school in 1964. The group released their self-titled debut album in 1967 and found minor success with the follow-up Journey to the Center of the Mind and the single of the same name. The group shifted through many lineup changes through the early 1970s, with several more album releases and constant touring, but with no real commercial breakthrough. Finally, Nugent decided to disband the group and he took a three-month hiatus to the Colorado wilderness to renew his energy. When he returned to civilization, Nugent decided to join a new band and enlisted vocalist/guitarist Derek St. Holmes to front the group.
After securing a deal with Epic Records, Nugent and co. entered the studio with producers Tom Werman and Lew Futterman. The primary goal was to develop a definitive rock and roll album, and recorded the albumin a spontaneous and uninhibited fashion to capture the energy of the moment.

Ted Nugent

by

Ted Nugent
Released: September, 1975 (Epic)
Produced by: Tom Werman & Lew Futterman
Recorded: The Sound Pit, Atlanta, GA, 1975
Side One
Side Two
Stranglehold
Stormtroopin'
Hey Baby
Just What the Doctor Ordered
Snakeskin Cowboys
Motor City Madhouse
Where Have You Been All My Life
You Make Me Feel Right at Home
Queen of the Forest
Group Musicians
Derek St. Holmes – Lead Vocals, Guitar
Ted Nugent – Guitars, Percussion, Vocals
Rob Grange – Bass
Cliff Davies – Drums, Percussion, Vocals
The album begins with the deliberate but powerful anthem, "Stranglehold". This extended (eight-plus minutes) and indelible track, which was released as the album's lead single, is a real guitar showcase for Nugent while also displaying the talent of other group members, from the majestic lead vocals by St. Holmes to Grange's distinct flange bass to the backwards cymbals and Bolero rhythms by Davies. "Stormtroopin'" is of a more traditional rock length and features great crisp production and a later percussion section to set up backing for Nugent's next guitar lead showcase. "Hey Baby" was a solo composition by St. Holmes and it became the second single from the album. This bluesy rocker has a bit of Skynard-like Southern rock vibe with some organ provided by guest Steve McRay.
Next up is "Just What the Doctor Ordered", built on variations of Nugent's riff arpeggio throughout along with rhythmic rudiments and drum rolls executed by Davies. "Snakeskin Cowboys" is a very solid rocker that starts with a deliberative guitar and bass riff before fully kicking in. A frantic tune to match its name, "Motor City Madhouse" features lead vocals by Nugent, double bass drums and a backing chorus for title hook.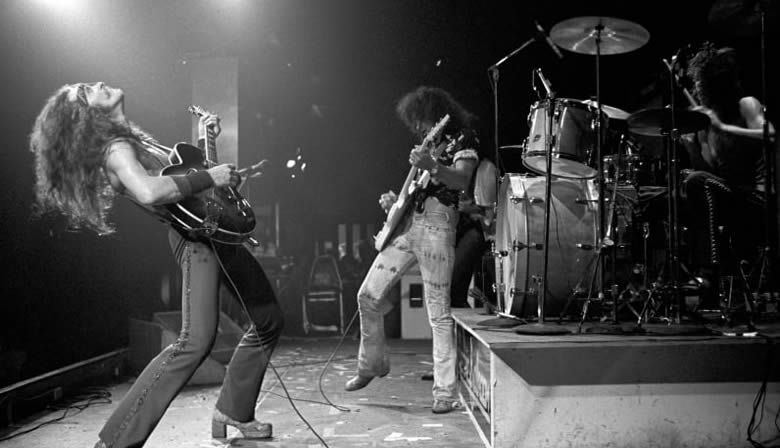 The latter part of Ted Nugent features some musical diversity. "Where Have You Been All My Life" is an upbeat blues rocker with a fine riff and distinct, scratchy rock vocals by St. Holmes. "You Make Me Feel Right at Home" starts with a brief drum intro before breaking into a jazzy tune, complete with lead vocals and vibraphone by Davies. The closing track, "Queen of the Forest" returns to the hard rock blueprint with plenty of rhythmic rudiments to complete the LP.
With the momentum from this debut, Nugent and the group took off with further success through the late 1970s, starting with the subsequent hit albums Free-for-All (1976), Cat Scratch Fever (1977) and the multi-platinum live album Double Live Gonzo! (1978).
~

Part of Classic Rock Review's celebration of 1975 albums.