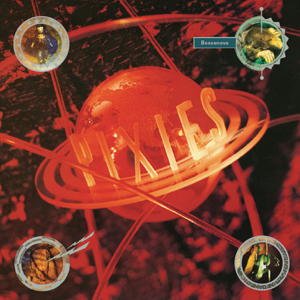 One who appreciates an album which flows in a seamless order from track to track will not be happy with Bosanova, a collection of short tracks that change radically from one track to the next. The third studio album by Pixies, the album's original material was written by frontman Black Francis. The sound includes elements of punk, new wave, Brit pop, surf rock and 60s pyschedelia. Although the album only reached #70 in the US, it fared much better in the UK, reaching the Top 5 on their charts.
The group formed in Amherst, Massachusetts in 1984 when Francis began jamming with guitarist Joey Santiago. In early 1986, bassist Kim Deal and drummer David Lovering joined to round out the quartet which chose their name from randomly arriving at "pixies" in the dictionary. In 1988, the band recorded and released their critically acclaimed first full-length album, Surfer Rosa. Producer Gil Norton produced their second full album, Doolittle, which employed a much cleaner sound than the debut but found similar critical acclaim.
In early 1990, the band members relocated to Los Angeles to write an record the album. With little time to rehearse along with a few some studio issues, some of the material may have been underdeveloped. While Francis admitting to writing lyrics on napkins just "five minutes" before he sang on some of the tracks, he has also stated that this is his favorite Pixies album.

Bossanova

by

Pixies
Released: August 13, 1990 (Elecktra)
Produced by: Gil Norton
Recorded: Hollywood, Berlin, & London, 1990
Track Listing
Primary Musicians
Cecilia Ann
Rock Music
Velouria
Allison
Is She Weird
Ana
All Over the World
Dig for Fire
Down to the Well
Happening
Blown Away
Hang Wire
Stormy Weather
Havalina
Black Francis
Lead Vocals, Guitars
Joey Santaigo
Guitarss
Kim Deal
Bass, Vocals
David Lovering
Drums, Percussion


The surf-infused "Cecilia Ann", written by Frosty Horton and Steve Hoffman, is a cool instrumental with heavy distorted guitars by Santaigo. This is followed by "Rock Music", a literal screed with more than its share of distortion and feedback effects in its less-than-two-minute duration. In contrast, the vocals are smooth and the music is subtle on "Velouria". The song also features s subtle theremin by guest Robert F. Brunner. "Velouria" was the first single by Pixies to reach the UK Top 40.
"Allison" is an extremely short, almost pop song which seems like the start of a something that was abandoned when one's attention span was diverted. "Is She Weird" is built on Deal's driving bass and bright guitar riffs in the verses, while "Ana" is a spacey ballad with fine guitars over the odd chord structures and breathy vocals, all compressed into 129 seconds. The longest track on the album, "All Over the World" has a real new wave feel with the drums of Lovering right up front, along with harmonized vocals in the verses. This track is one of the few with a proper mid section, and it is laced with distant, spoken vocals behind the dueling guitar chops which lead to the outro of the track.
"Dig for Fire" is another interesting track with choppy but entertaining phrases and Talking Heads-like lead vocals. This song is almost danceable in comparison to other tracks and it peaked at #11 on the Modern Rock Tracks chart. After the emo drone of "Down to the Well", the eclectic track "The Happening" starts as a dance track built with punk toppings but takes a quick and drastic turn during the first chorus and never really returns to its roots. "Blown Away" is a spacey, sixties type rock with upbeat rhythms and distant vocals and guitars, while "Hang Wire" returns to the new wave and gives the album its title;
Every morning and everyday, I'll bossanova with ya…"
"Stormy Weather" is measured and sing-songing with Santiago's bluesy guitars cutting through> The entirety of lyrics is one repeated line, offered in different variations much like the Beatles' "You Know My Name, Look Up My Number". Rounding out the album, "Havalina" is a fine sonic piece with bright guitar chords and duo vocals in the distance by Francis and Deal.
A year after Bossanova, the band released their final album before Francis abruptly announced that Pixies was finished as a band (with no explanation) in early 1993.
~

Part of Classic Rock Review's celebration of 1990 albums.