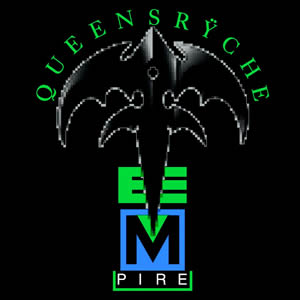 The progressive metal band Queensrÿche reached their commercial peak in 1990 with the release of their double-length LP, Empire. This fourth overall album by the quintet from Washington state, reached triple-platinum in sales, spawned several radio hits, and received a Grammy nomination. The group, which is known for sound re-invention and experimentation, may have taken their boldest step yet by stripping away much of their heavy metal elements in order to concentrate heavier on songcraft.
Queensrÿche was founded in the late 1970s by guitarists Michael Wilton and Chris DeGarmo, who were later joined by bassist Eddie Jackson and drummer Scott Rockenfield in 1980. A year later, the group recorded a demo tape with the assistance of vocalist Geoff Tate, who was a member of a rival band in the Seattle area. After two years of circulating the demo tape, it was finally released as a self-titled EP in 1983, leading to the group's signing with EMI shortly after. In 1984, the group travelled to London to record their first full-length album, The Warning, which was released in September of that year. Rage For Order followed in 1986, leading to Operation: Mindcrime, a narrative concept album that reaped much critical success upon its release in 1988. This, combined with relentless touring, set the band up for their breakthrough success.
For Empire, the group brought in producer Peter Collins, most famous for working with Rush on a couple of their mid-eighties albums. Together, the band and producer worked to split the difference between popular hard rock and progressive-flavored metal. Although only eleven tracks, nine of these are in excess of five minutes in duration, pushing the overall length to double-album length on vinyl.

Empire

by

Queensrÿche
Released: August 20, 1990 (EMI)
Produced by: Peter Collins
Recorded: Vancouver Studios, Vancouver, & Triad Studios, Redmond, WA, Spring 1990
Track Listing
Primary Musicians
Best I Can
The Thin Line
Jet City Woman
Della Brown
Another Rainy Night (Without You)
Empire
Resistance
Silent Lucidity
Hand On Heart
One and Only
Anybody Listening?
Geoff Tate
Lead Vocals, Keyboards
Chris DeGarmo
Guitars, Keyboards
Michael Wilton
Guitars
Eddie Jackson
Bass, Vocals
Scott Rockenfield
Drums, Percussion


Written by DeGarmo, "Best I Can", launches the album with a dramatic synth intro and spoken vocals until these give way to a choppy synth piano with choir-like vocals in the intro to the first verse. The lyrics examine overcoming odds while suffering a physical handicap. "The Thin Line" is a riff-driven rocker with heavy bass presence by Jackson during the verses, and impressive guitar leads later on. A driving track with accessible riffs and hooks, "Jet City Woman" talks about coming home to family after a long road trip. Written by Tate for his flight attendant wife, this straight-ahead hard rocker was released as a single and reached the Top 40 in the UK.
Empire's original second side is where the album starts to get interesting. "Della Brown" is built on the funky bass rudiments with choppy drum beats, reserved guitar motifs and a fine lead melody. While it never leaves its pace or temperament through its seven minute duration, it does employ many long lead and effects sections. This is followed by three tracks which showcase Wilton's writing and playing. "Another Rainy Night (Without You)" starts with harmonized guitars and settles into a standard, steady rock track, which reached #7 on the Mainstream Rock charts. The title song starts with some answering machine effects and breaks into a groove which is heavier than the preceding tracks. "Empire" is about drug trafficking and the bridge section is complete with a telephone-like voice reading statistics of law enforcement spending versus other expenditures. "Resistance" is heavier yet, at least through the intro. Here, Tate provides high register vocals and the track is also a bit of a showcase for Rockenfield.
The album's most popular track is also its finest. "Silent Lucidity" starts with DeGarmo's picked acoustic accompanied by Tate's fine, reserved vocals. Very mellow with rich production throughout, the song really takes off with the tension-building lead guitar, complete with spoken vocal effects, making the whole thing sad and beautiful at once. The biggest hit for the band, "Silent Lucidity" peaked at #9 on the Billboard singles chart and topped the Album Rock Tracks chart.
"Hand On Heart" features duo guitars and bass along with an interesting arrangement which surrounds the basic rock format, while "One and Only" is a choppy rocker that has a bit of a Journey-vibe to it. Rounding out the album is "Anybody Listening?", a dark-tinged track that is slow and methodical for maximum dramatic effect. The arrangement weaves in and out of prog rock and metallic ballad modes and includes a slight, fretless bass, which adds a nice effect to close everything out.
Empire peaked at number 7 in the US and sparked a massive headline tour for Queensrÿche. While the group had continued success through the early nineties, they would not peak at this level again.
~

Part of Classic Rock Review's celebration of 1990 albums.