Buy Extreme II: Pornograffitti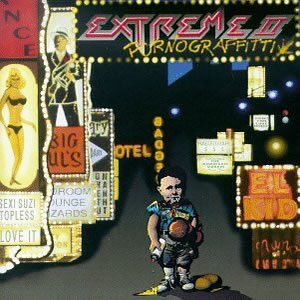 The rock quartet Extreme reached their popular climax with Extreme II: Pornograffitti. Sub-titled "A Funked Up Fairy Tale", the album is a quasi-concept album with loosely-related songs that explore themes of sex and vice with lyrics primarily written by lead vocalist Gary Cherone. Musically, the album is dominated by the guitar textures and techniques of co-composer Nuno Bettencourt. The double-platinum selling result was an album which peaked at #10 on the Billboard album charts.
Extreme was formed in suburban Boston in 1985 by Cherone and drummer Paul Geary. Bettencourt and bassist Pat Badger were in rival bands and the four met after an altercation among the groups backstage at a multi-band local concert. Starting in 1986, the band gradually developed a strong local following and, during this time, Cherone and Bettencourt composed several original songs. They were signed to A&M Records in 1988 and recorded and released their self-titled debut album in 1989.
For their second album, veteran rock producer Michael Wagener was brought in. A mixture of funk, pop and hair metal sounds, the group's hard sound was heavily influenced by Sammy Hagar-era Van Halen. However, the group is not done any great favors by the production style, which buries some of the finer elements of the playing in favor of the mind-numb beats and top-end "shearness". Also, the band tries to take some kind of social stand or social commentary, which often comes off as adolescent, shallow or both. Ironically, it was two of the tracks which bucked these sonic and lyrical trends that became the band's most successful.

Extreme II: Pornograffitti

by

Extreme
Released: August 7, 1990 (A&M)
Produced by: Michael Wagener & Nuno Bettencourt
Recorded: Scream Studios, Studio City, CA, 1990
Track Listing
Primary Musicians
Decadence Dance
Li'l Jack Horny
When I'm President
Get the Funk Out
More Than Words
Money (In God We Trust)
It 's a Monster
Pornograffitti
When I First Kissed You
Suzi (Wants Her All Day What?)
He-Man Woman Hater
Song for Love
Hole Hearted
Gary Cherone
Lead Vocals
Nuno Bettencourt
Guitars, Piano, Keyboards, Vocals
Pat Badger
Bass, Vocals
Paul Geary
Drums, Percussion


The album begins with "Decadence Dance", which gives the listener a good sampling of what's to follow both musically and thematically. Released as a single, the opener was a minor success in the UK, peaking at #36. "Li'l Jack Horny" features intro guitar harmonics for melodic effect by Bettencourt before he changes direction with a strong, bluesy riff. A fine track overall with good melody of lyrics that use nursery rhymes and fables, the song borrowed its title from the six member "Li'l Jack Horn Section", who performs on this track and "Get the Funk Out". The latter track is driven by the bass pattern of Badger and features Pat Travers on co-lead vocals.
"More Than Words" is a fine finger-picked ballad where Cherone and Bettencourt are free to fully display their talents at the fullest. For how over-produced most of the rest of the album is, the sparse arrangement here is a brilliant break in the action, and worked well to make this a quasi-classic. Lyrically, the song examines the diminished meaning of phrase "I love you", as actions speak louder. The song became a #1 smash on the Billboard charts in the US. The subsequent single, "Hole Hearted", another acoustic track, was also successful, rising to No. 4 on the same popular music chart.
Extreme II: Pornograffitti has some weak moments through the middle of the album. "Money (in God We Trust)" starts with a slight dialogue about the tooth fairy before the upbeat core tries to be anthemic and preachy at the same time. Not very original or interesting and, in fact, the hook borrows heavily from AC/DC's "What Do You Do for Money Honey". Likewise, "It's a Monster" 4:28 – really covers no new ground at all and, while the title track "Pornograffitti" begins with some blistering guitar riffs by Bettencourt and eventually settles into a rudiment-fused groove with steady beat, it really amounts to more Van Halen-style cloning.
The second break from form, "When I First Kissed You", is jazzy piano ballad, completely sans guitar. Here, Badger appears to be using a stand-up, double bass which adds to the song's feel of authenticity as well along with the fine orchestral strings over the bridge. "Suzi (Wants Her All Day What?)" is another hard rock narrative, while "He-Man Woman Hater" includes an excellent guitar intro that borrows from "Flight of the Bumblebee" with Bettencourt's guitar accompanied by rapid, percussive tapping by Geary. Dweezil Zappa makes a cameo with the cartoonish voice of the title character. This is followed by "Song for Love", a slow ballad with a dark feel throughout.
The album concludes with its finest track, "Hole Hearted", which lifts the mood tremendously following the droning previous track. A stomp built on the ringing 12-string acoustic of Bettencourt, this track also has some of the finest melodies by Cherone, accompanied during the pre-chorus and chorus. The song is pure pop majesty and never needs to embellish on its simple arrangement to exude its pure rock energy. The fourth and final single from the album, "Hole Hearted" reached #4 on the US charts.
For his proficient playing on Extreme II: Pornograffitti, Bettencourt was named "Most Valuable Player" of 1991 by Guitar World magazine. The band followed up with the album III Sides to Every Story in 1992, but it failed to sell nearly as well. More than two decades later, Extreme performed Pornograffiti in its entirety on their 2014 tour.
~

Part of Classic Rock Review's celebration of 1990 albums.