Buy Black Sabbath
Buy Paranoid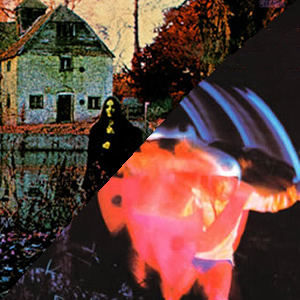 Over the course of a year, Black Sabbath morphed from a pop blues band to a dark practitioner of occult music to a respectable hard rock band which helped forge the emerging genre of heavy metal. Over the course of that year, the group recorded and released two albums, Black Sabbath and Paranoid, and caused a minor tectonic shift in the rock world. To listen to these albums back-to-back is to hear the incredible development in compositional depth and performance cohesion by the four musicians.
In 1968, bassist Geezer Butler and vocalist Ozzy Osbourne were in a band called Rare Breed when they were invited to form a blues rock group by guitarist Tony Iommi and drummer Bill Ward. The new group eventually settled on the name Earth and received positive feedback which led to the recording of some demos. This momentum was briefly halted when Iommi joined Jethro Tull for a very short time. When the group reunited in 1969, they discovered that another British band was using the name Earth and decided to change their name to that of a dark song being developed by Butler. This name change also fostered a decision to focus songwriting on similar material. In the Autumn 1969, the group was signed to Philips Records and entered the studio with producer Rodger Bain.
Black Sabbath was recorded live in the studio with very few overdubs added. Due to the loss of a few fingertips, Iommi detuned his guitar for easier playing, which had the added "doomy" effect which worked well with the overall theme of this debut album. Further, the raw sound (sometimes referred to as "sonic ugliness") worked to give it a sense of raw legitimacy not often heard on recordings in 1970.
Just four months after the release of their debut, recording sessions for Paranoid commenced. Even with this short duration, most of the songs had been worked out in concert during time reserved for improvisational jams. Thematically, this second album was a concerted effort to counter the "flower in your hair" hippie pop which was proliferating in mainstream music. Unlike the first album, which focused on the occult and fantasy, this album tackled real life issues in a brutal and direct way.

Black Sabbath

by

Black Sabbath
Released: February 13, 1970 (Vertigo)
Produced by: Rodger Bain
Recorded: Regent Sound Studios, London, October 1969
Side One
Side Two
Black Sabbath
The Wizard
Behind the Wall of Sleep
N.I.B.
Evil Woman
Sleeping Village
Warning

Paranoid

by

Black Sabbath
Released: September 18, 1970 (Vertigo)
Produced by: Rodger Bain
Recorded: Regent Sound and Island Studios, London, June 1970
Side One
Side Two
War Pigs
Paranoid
Planet Caravan
Iron Man
Electric Funeral
Hand of Doom
Rat Salad
Fairies Wear Boots
Band Musicians (Both Albums)
Ozzy Osbourne – Lead Vocals, Harmonica
Tony Iommi – Guitars, Flute
Geezer Butler – Bass
Bill Ward – Drums, Percussion
Impossibly slow and doomy, like a tolling bell the song which gives the band and debut album its name contains a repetitive riff by Butler and Iommi while Osbourne's vocals are delivered like a medieval chant. Three quarters of the way through, it finally abandons the repetitive riff and picks up speed for a decent rock outro. "The Wizard" is a much more interesting track, starting with a bluesy harmonica intro by Osbourne (why didn't he play that instrument more often?) When the song kicks in, it flowers into a great rock jam with drummer Bill Ward providing some motion to the rudimentary riffs of Iommi and Ward. Overall, the best earliest track by the band, "The Wizard" was inspired by the character of Gandalf from the writings of J.R.R. Tolkein.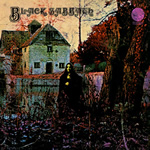 "Behind the Wall of Sleep" refers to the H.P. Lovecraft short story of the same name. Another fine, riff-driven rocker, Butler breaks from the standard riffs to provide some slight fills in between the call-and-response scheme. On the North American version of this album, this was part of an extended medley with the opening and interlude music titled "Wasp". Butler's flange-treated bass solo gives way to the powerful main riff of "N.I.B." Osbourne adds some harmony beyond the basic mimicking of the riff line especially during the descending chorus section, which also includes an impressive tambourine by Ward. Lyrically, the song is told from the point of view of Lucifer, ending the first side like it began, in darkness.
The second side of Black Sabbath moves more towards the group's blues-rock origin. "Evil Woman" was a cover of a song by the band Crow which was pushed by Black Sabbath's management who wanted something "commercial sounding" on the album. The song was the group's first single but was excluded from the North American version of the album which instead included the track "Wicked World", a hyper jam with a slightly psychedelic middle section which breaks down to a true guitar "solo" by Iommi.
The dark acoustic of "Sleeping Village" features a strange jaw harp-like sound in the background before the song proper breaks into a standard, hard rock track with a long, multi-section jam, leading into the closing track "Warning". This final track is a cover of a song by Aynsley Dunbar Retaliation and starts with a buzzy bass, joined by deliberate drums and consistent bluesy guitar flourishes through each of the early verses. After a point when it breaks and switches gear, the rest of this extended track is used as a showcase for Iommi's guitar skills, using many textures and techniques.
On Paranoid, Butler stepped up to become the group's chief lyricist. The opening track, "War Pigs" was initially entitled "Walpurgis", but morphed into a dramatic anti-war song. Osbourne's vocals are much more melodic during the memorable verses, while the music subtly weaves from the two-chord, main riff to a much more complex jam where Iommi takes over with many excellent guitar textures through late song jam. The album's actual title track, "Paranoid" is a simple but very effective track built on a few simple guitar riffs and an incredible rhythmic drive. These all complimenting Osbourne's majestic, echo-laden vocals. The double-tracked, fuzzy lead guitar is really the only variation in repetitive song, which reached number 4 on the UK Singles Chart, making it the group's highest charting single before or since.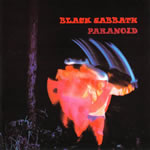 "Electric Funeral" contains a sound as doomy as its title suggests, with lyrics about an "atomic tide". Like many Sabbath songs, it works the main theme for a while before changing things up about halfway through where Osbourne's voice is especially horse for the latter part of this track. "Planet Caravan" has an alternative musical arrangement with jazzy strummed guitars, moderately steady bass, hand percussion, and some piano provided by engineer Tom Allom. Osbourne's Pink-Floyd-like vocals were fed through a Leslie speaker for vibrato effect, with the song concluding with a long, excellent jazzy guitar lead by Iommi.
"Now the time is here for Iron Man to spread fear, vengeance from the grave, kills the people he once saved…"
The quintessential Black Sabbath song, "Iron Man" is indelible from start to finish. The kick drum intro is joined by droned guitar notes and a mechanical intro voice before the main section propels a slow and doomy rock while the chorus is more complex and melodic. The song breaks into two faster paced jam sections, the first one shorter with a fine return to the final verse. The latter jam is a full-fledged outro rock section, which may have been an inspiration for later epic songs such as "Stairway To Heaven" and "Freebird", built on fantastic rhythms by Ward and a very apt lead guitar Iommi.
Even though all of the more popular tracks are on Paranoid's first side, the album may actually be strongest down the stretch. A slow bass phrase accompanied by subtle but complex drum pattern starts "Hand of Doom" before the guitar crashes in with a strong rock section. After two rounds of this pattern, the song enters a mid-section, changing this up nicely with rapid notes, funky bass, and animated drums complementing an original melody by Osbourne. The instrumental "Rat Salad" is almost Hendrix-like with its mixture of slight effects and pure, unabashed guitar-led jamming at the beginning. However, the second half of the song is dominated by an impressive drum solo by Ward, which would often stretch 45 minutes in concert. "Fairies Wear Boots" has a good, moderate opening jam with further drum flourishes. The song proper is like a doomy blues song, three chord with emotive vocals on top, but very heavy overall. The track nicely transitions back to first section, this time very smoothly and skillfully. This closing track has the only lyrics written by Osbourne, who recounted an altercation with skinheads while he and Butler were on acid. The fading outro leaves the listener wanting more.
Despite not receiving good initial reviews, both Black Sabbath and Paranoid reached the Top 10 on the UK pop charts, with the latter being the only Black Sabbath album to top the Albums chart. Over time, both these albums have grown in status with many citing these as the absolute inception of Heavy Metal and Stoner Rock.
~

Part of Classic Rock Review's celebration of 1970 albums.