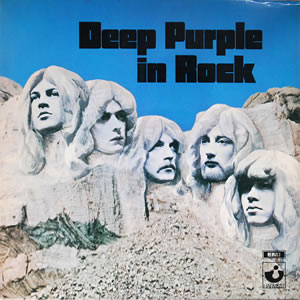 The famous Mark II lineup of Deep Purple launched their first pure rock album in a big way in 1970 with Deep Purple In Rock. This output was filled with dynamic and energetic songs which gave plenty of space for musical and vocal virtuosity while still sustaining the root rock and blues elements to attract the hard rock base the group built with their late sixties outputs. The result was their breakthrough album in Europe and the launch of the band's short reign as hard rock superstars.
While the Mark I version of Deep Purple had some success in the US, their three albums had failed to break through in their home country of England. Lead vocalist Rod Evans and bassist Nick Simper were replaced in June 1969 by Ian Gillan and Roger Glover respectively. This new lineup's first actual recording was the live Concerto for Group and Orchestra, a classical work composed by keyboardist Jon Lord and performed by the band along with the Royal Philharmonic Orchestra.
Recording for the self-produced Deep Purple In Rock began in late 1969. Preceding the album's release was the single "Hallelujah", which failed to chart. "Black Night" was a second single which was released at the time of the album's release (although not included on the album). This fared better and peaked at #2 on the UK charts, making it the first real hit for this version of the group.

In Rock

by

Deep Purple
Released: June 3, 1970 (Warner Bros.)
Produced by: Deep Purple
Recorded: IBC, De Lane Lea & Abbey Road Studios, London, October 1969–April 1970
Side One
Side Two
Speed King
Bloodsucker
Child In Time
Flight of the Rat
Into the Fire
Living Wrck
Hard Lovin' Man
Group Musicians
Ian Gillan – Lead Vocals
Ritchie Blackmore – Guitars
Jon Lord – Organ, Keyboards
Roger Glover – Bass
Ian Paice – Drums, Percussion
Lord's opening church-like organ masks the rock frenzy which suddenly launches into an unabashed pre-punk rock rant of "Speed King". The song does come down for a building lead section where keyboardist Lord and guitarist Ritchie Blackmore trade lead licks before joining together in the riff that brings the track back up at the end. While the song is not a cover, Gillan borrowed several lines from popular oldies such as "Good Golly Miss Molly", "Tutti Frutti" and "The Battle of New Orleans". "Bloodsucker" is a more moderate rocker and a bit less impressive than the opener, while still containing many areas for musical improv leads.
"Child in Time" is a true masterpiece throughout the entirety of its ten minutes of rock theatrics. From Lord's jazzy organ intro to the building, séance like verses and vocal wails by Gillan, to the incredible middle jam section with a bluesy guitar lead by Blackmore. Lord adapted the track from a song called "Bombay Calling" by a group called It's a Beautiful Day, which Deep Purple made completely its own with their impressive rock instrumentation. But the real focal point is Gillan's voice, as his wails are orgasmic early and almost painful in the final stanza.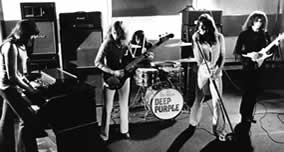 While the most famous songs reside on side one, the true heart of this album is on side two. This all starts with the incredible "Flight of the Rat", featuring fantastic guitar riffing in a pure rock frenzy, especially Lord and Blackmore during the middle jam section where they each have extended leads while Glover consistently holds it all together. A choppy, funked-out section follows the long section with everything stopping for two full seconds before starting over with a fourth verse. And as if that all wasn't enough, it all concludes with a drum solo by Ian Paice, making this track a real band showcase.
"Into the Fire" has a doomy, King Crimson inspired intro and slow rocking through the slightly bluesy verses. Blackmore performs a slow, phased guitar solo on this track. "Living Wreck" starts with an excellent drum beat by Paice and sneaks a peek of a future Deep Purple sound as demonstrated on their 1971 album Fireball. The cat like, organ effect between verses can be a bit abrasive, but this is quickly forgotten by the fine musical interludes of the bridge. Of course, this dramatic and theatrical album must end in dramatic and theatrical fashion. "Hard Lovin' Man" starts with a building jam based on Glover's bass riff and, after a few standard rock verses, Lord's piercing organ solo is almost beyond the sonic bounds and builds an uneasy tension as the rest of the band rocks behind.
Following the release of Deep Purple In Rock, the group went on an extended world tour, which established the group as one of the top hard rock acts in the world and set them up for much further success with later albums.
~

Part of Classic Rock Review's celebration of 1970 albums.