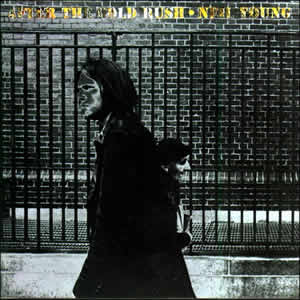 For his third studio album, Neil Young embraced the Country/rock fusion style for which he would  become best known. After the Gold Rush is a moderate to slow paced album, which may require a certain type of mood to enjoy, But once tuned in, the music is an infusion of genres a nice variety of electric and acoustic guitars along with steady rhythms and just enough intense edge to make it artistically viable. Every track is good, all showing some value with very little filler, making the album solid as a whole.
Young first found mainstream success with the group Buffalo Springfield, a band which had a successful but very short existence. For that group's 1967 second album, Young wrote and recorded three solo tracks apart from the rest of the group which , in essence, was the beginning of his solo career. Young's 1968 self-titled debut received mixed reactions and reviews, while his next release Everyone Knows This Is Nowhere was the first to feature his backing band, Crazy Horse. Released in 1969, this second album was a raw and energetic rock record which was recorded in just two weeks and found some mainstream success. Later that year, Young became the fourth member of Crosby, Stills, Nash, & Young and recorded the early 1970 Déjà Vu with the group.
Much of After the Gold Rush was recorded in Young's basement studio in California. Young set out to find a middle ground between the Crazy Horse and Crosby, Stills, Nash sound and even enlisted CSNY bassist Greg Reeves and drummer Ralph Molina of Crazy Horse. The album got its title from an unpublished screenplay by Dean Stockwell-Herb Berman, for which Young wanted to write the soundtrack. However, the film was never produced and the actual script has been lost to time.

After the Gold Rush

by

Neil Young
Released: September 19, 1970 (Reprise)
Produced by: Neil Young, David Briggs, & Kendall Pacios
Recorded: Sunset Sound, Sound City, & Redwood Studios, California, December 1969–June 1970
Side One
Side Two
Tell Me Why
After the Gold Rush
Only Love Can Break Your Heart
Southern Man
Till the Morning Comes
Oh, Lonesome Me
Don't Let It Bring You Down
Birds
When You Dance I Can Really Love
I Believe in You
Cripple Creek Ferry
Primary Musicians
Neil Young – Lead Vocals, Guitars, Piano, Harmonica
Nils Lofgren – Guitars, Keyboards, Vocals
Greg Reeves – Bass
Ralph Molina – Drums, Vocals
The acoustic track with plenty of hammer-ons along with bright strumming guitar action drives the opening track "Tell Me Why", which also includes some sparse but nice harmonies. This song was originally performed by Crosby, Stills, Nash & Young during their tours earlier in 1970. The indelible title track is a classic ballad, simple and measured with the sparse arrangement of a distant piano and near lead vocals, with session man Bill Peterson adding a pleasant flugelhorn lead. The lyrics to "After the Gold Rush" are at once disparate and yet very poetic in a song that reflects contemporary life.
Peaking at #33, "Only Love Can Break Your Heart" was the only real radio hit on the album, as it returns to the Country sound with strong pop elements. This Tin-Pan-Alley like song has a wistful melody and a waltz-like beat with a simple arrangement. In contrast, "Southern Man" contains a solid rock groove featuring Young on electric guitar and then-18-year-old Nils Lofgren on piano. There are harmonized vocals during hook, solo vocals during the verses and an extended jam in the middle. The lyrics vividly describe the racism towards blacks in the American South, with a sweeping accusation which sparked a direct response by Lynyrd Skynyrd on their later hit "Sweet Home Alabama".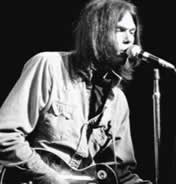 After the abruptly cut "Till the Morning Comes" completes side one, the second side starts with the album's only cover track, Don Gibson's classic Country song, "Oh, Lonesome Me". While remaining moderately slow paced, "Don't Let It Bring You Down" contains strong variations in mood, adding its own diverse slice of uniqueness. This original track contains excellent melody and a bit of a dark tenor, which elevates the simple Country beats to a much higher level which was expanded upon on Young's 1972 album Harvest.
Dating back to the days of Buffalo Springfield, "Birds" is a slow piano ballad, a bit sappy but with great harmonies during the choruses. Then comes "When You Dance I Can Really Love", a very Byrds-esque jangly rocker, which seems to work a bit too hard to try and be a relevant rock song, falling just a bit short. "I Believe in You" is one final, sweet Country ballad with complex harmonies and plenty of mellow sonic treats dispersed throughout the straight-forward, traditional love/heartache song. The album concludes with "Cripple Creek Ferry", a way-too-short song which is nonetheless deep and effective.
After the Gold Rush peaked at number eight on the American Pop Albums chart and spawned an acoustic solo tour by Young. A solo act would remain his status for the better part of a decade as CSNY split up and Crazy Horse signed their own independent record deal as a group.
~

Part of Classic Rock Review's celebration of 1970 albums.