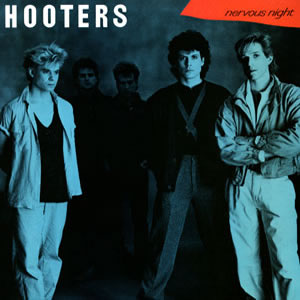 The Hooters big label debut was, by far, their most successful album in America. Nervous Night sold over two million copies, achieving multi-platinum status, and spawned multiple Top 40 hits. The album features an eclectic mix of music that uses both traditional acoustic instrumentation and synth/keyboard heavy motifs with slick production. Together, this combination made for a sound that appealed to the pop audiences of the mid 1980's while still maintaining quality musicianship and interesting arrangements.
Philadelphia musicians Eric Bazilian and Rob Hyman had a decade-long musical association before they formed The Hooters in 1980. The group's name comes from the nickname for the melodica, one of several ethnic instruments that the band plays in addition to traditional rock instrumentation. After gaining a local following in nightclubs and on Philadelphia radio, the group opened for The Who's farewell tour concert shows at JFK Stadium in 1982. The following year the group independently produced their debut album, Amore, which sold over 100,000 copies through independent channels. Bazilian and Hyman then wrote, arranged and perform on Cyndi Lauper's debut, She's So Unusual, which was co-produced by long-time friend, Rick Chertoff, the producer of Nervous Night.
Guitarist John Lilley, drummer David Uosikkinen and newcomer bassist Andy King joined Bazilian and Hyman in the studio to record the album. While employing richer production techniques, the songs on Nervous Night remain true to the roots established on Amore, blending reggae and ska with traditional folk.

Nervous Night

by

The Hooters
Released: April 26, 1985 (Columbia)
Produced by: Rick Chertoff
Recorded: Studio 4, Philadelphia & Record Plant, New York, 1984-1985
Side One
Side Two
And We Danced
Day by Day
All You Zombies
Don't Take My Car Out Tonight
Nervous Night
Hanging on a Heartbeat
Where Do the Children Go
South Ferry Road
She Comes in Colors
Blood from a Stone
Group Musicians
Eric Bazilian – Guitars, Mandolin, Saxophone, Vocals
Rob Hyman – Keyboards, Melodica, Vocals
John Lilley – Guitars
Andy King – Bass, Vocals
David Uosikkinen – Drums
The album launches with "And We Danced", which starts with an opening mandolin and melodica section before launching into a rocker with an irresistible beat and lyrics reminiscing about simpler times and memories of having fun with friends. The first major hit by the band, "And We Danced" reached #3 on the Mainstream Rock charts. Bazilian's mandolin is also prevalent on "Day by Day", a song co-written with Chertoff two years earlier. This track features some strong synth/keyboards by Hyman and a vibe that hits the ground running and doesn't stop.
One of the most indelible songs by The Hooters, "All You Zombies" is a remake of a song originally released on Amore. This newer version contains dark and mystical atmospherics blended with a heavy reggae beat, which all seems appropriate for the "zombie" theme. Not literally about zombies, the lyrics contrast the differences between blind belief and having faith. The melodica returns on "Don't Take My Car Out Tonight" along with sharp tones and sudden staccato beats. This track may have been inspired by the car wreck by former bassist Rob Miller, an incident which cause him to be replaced by King. Side one ends with the title track, "Nervous Night", a quirky song that could either be about a strange dream or a glimpse into the mind of a mad person. This track also contains a great saxophone by Bazilian.
"Hanging on a Heartbeat" is another track originally released on Amore, featuring an excellent rock riff that repeats throughout the song and easy, repetitive lyrics that work with the tempo. "Where Do the Children Go" is a beautiful but sad ballad about teen suicide, featuring Patty Smyth on backing vocals. This mandolin, driven track was the third and final Top 40 hit from the album.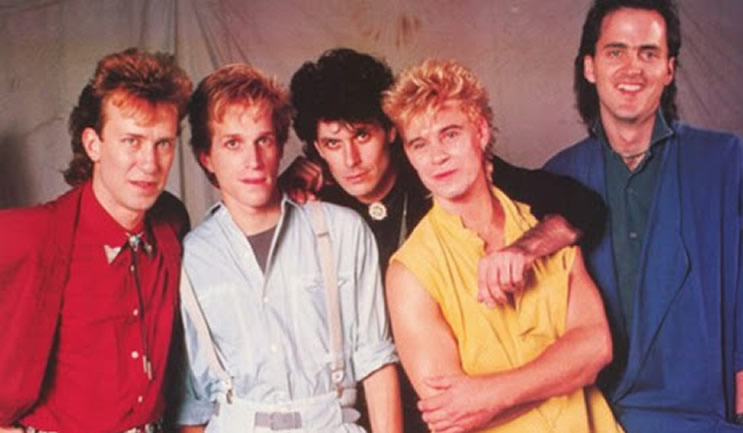 The album wraps up with three lesser know tracks. "South Ferry Road" is co-written by Hyman, Bazilian, and Chertoff about memories from their younger days, while "She Comes in Colors" is an interesting rendition of a song originally recorded by the band Love's, but with a completely different feel and tempo than the original. The closer, "Blood From a Stone" ,is the final retread from Amore with a similar arrangement but a bit of jazzed-up production.
Nervous Night reached number 12 on the album charts in the US and was assisted by The Hooters' being the opening band at the Philadelphia Live Aid benefit concert, which was broadcast to an international television audience just a few months after the album's release.
~

Part of Classic Rock Review's celebration of 1985 albums.