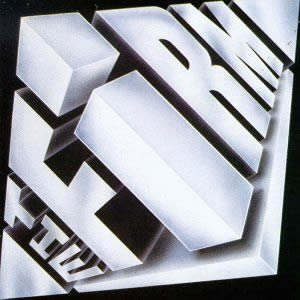 There was much anticipation ahead of the release of The Firm's debut album. This "super group", anchored by former Swan Song label mates Jimmy Page of Led Zeppelin and Paul Rodgers of Bad Company, sparked a curiosity on whether these guys, who each hadn't delivered any new music in several years, still had the individual magic as well as what kind of material they would produce collectively. Although the album (along with The Firm's short career) has been considered a commercial failure by some, thirty years after its release it is clear that The Firm is a unique musical statement which seamless blends classic rock elements from earlier days with just a touch of eighties sonic innovation. These elements and the unique and excellent musicianship of the four group members ultimately makes this one of the best overall albums of the decade and our Classic Rock Review Album of the Year for 1985.
Following the death of John Bonham and dissolution of Led Zeppelin in 1980, Page worked on a series of small and short-term projects as well as the defunct super group, XYZ. In 1983, Page played a series of charity concerts with an ensemble that included Rodgers, who was then working on his first post-Bad-Company solo album. Following the tour, Rodgers and Page began to jam together and decided to write and record new material. They enlisted bassist Tony Franklin, who Page had worked with when touring with Roy Harper in 1984, and drummer Chris Slade, a former member of Manfred Mann's Earth Band.
The new group self-produced the album in England. The songs composed for The Firm are simple, there is nothing earth breaking in structure or arrangement and no heavy lyrical messages. However the musical performance and production methods are done expertly, with the simplest elements brought to their full harmonic and melodic fruition with just a tad of synths and extra bits of ear candy throughout.

The Firm

by

The Firm
Released: February 11, 1985 (Atlantic)
Produced by: Jimmy Page & Paul Rodgers
Recorded: Sol Studios, Cookham, Berkshire, England, 1984
Side One
Side Two
Closer
Make Or Break
Someone To Love
Together
Radioactive
You've Lost That Lovin' Feeling
Money Can't Buy
Satisfaction Guaranteed
Midnight Moonlight
Group Musicians
Paul Rodgers – Lead Vocals, Guitars
Jimmy Page – Guitars
Tony Franklin – Bass, Keyboards
Chris Slade – Drums, Percussion
The opening track, "Closer" nicely blends Page's Zeppelin-type, oddly timed rudimental riffs with Rodgers smooth and soulful rock melody. However, what is immediately of note is the strength of the group's rhythm section, especially the potent fretless bass of Franklin. As an added bonus, this track also incorporates a brass section which gives the song an extra punch that adds to its overall unique vibe. "Make or Break" starts with Rodgers' droning and hypnotic slow guitar slosh through the slow, new wave flavored verses. As the song progresses, Page and Franklin join in to add to the building intensity of the music with the real payoff comeing during the outro, where Page's overdubbed, slightly psychedelic slide guitars and Slade's frantic drumming give the track a bit of a "Dazed and Confused" heavy vibe while Rodgers' intense vocals work to a crescendo before the song finally collapses.
"Someone To Love" is another track where Franklin's bass really stands out, adding a definitive punch to the sloshy riffs by Page, which themselves are in stark contrast to Slade's measured and steady drum beat. On the vocal front, Rodgers has a spot on melody, making the most of the simple lyrics in a strong and soulful declaration. Page returns to his folk roots with the intro of simple acoustic ballad, "Together". The acoustic backing is accented by electric pedal-effect guitars in the foreground and later on Page adds a mellow but melodic electric lead. During the bridge sections, the song really elevates with Rodgers' melodic vocals being mimicked by Franklin's bass, all working together to make this an absolute forgotten gem which has so much more substance than the typical "power ballad". Listening to this album 30 years later, it is hard to believe that "Radioactive" was the only real "hit" from the album, reaching the Top 30 on the pop charts. Now, that's not to say that this isn't a fine track – it is – and very original to boot. This is especially due to Page's odd, squeaky guitar interludes, which turn this standard and steady rock song into a unique, new wave mechanical piece.
The second side begins with, perhaps, the only real mistake on this album, a cover of the Righteous Brothers classic "You've Lost That Lovin' Feeling". That being said, this is a unique rendition to a popular standard with Rodgers showing his exquisite crooning chops and Franklin standing out with his buzzy bass bends along with a fine chorus of backing singers. However, that leaves Page and Slade basically at the level of wedding backing band, methodically playing the chords and hitting the beats. "Money Can't Buy" is the most Bad Company-like song on the album with its dark folk elements and even Page seeming to mimic Mick Ralphs in style. During the bridge sections, the song employs a strong rock riff section while the rest has a nice blend of acoustic, multiple electric, synths, and rhythms, especially during the middle lead section.
The legendary Jimmy Page saved his finest work for the final two tracks of the album. "Satisfaction Guaranteed" is a steady track which gives Page plenty of room for sonic mastery, including the use of some bowed guitar starting in the second verse. This song also features the finest lead on the album, with the heavy, bluesy guitar returning during the long outro. Rogers' vocals draw you in and the rhythms are simple but potent throughout, driven by Slade's drumming, which finds the space in between the various measured riffs. The closing track, "Midnight Moonlight", takes the listener back to another time, ten years gone. It got its birth as an unfinished piece entitled, "Swansong", which was left over from Zeppelin's Physical Graffiti sessions in 1974. With Rogers collaborating, this deliberative and patient song goes through several slow and delicate acoustic sections, like a soft and surreal journey, held together by frequent returns to the main theme and ever-surprising new melodies and instrumental arrangements. There is a section for about a minute in the middle where Page is completely solo, playing a variety of acoustic motifs in differing styles before the full band roars back with a full backing chorus before the track builds through a long crescendo at the end.
The Firm peaked at #17 in the US and #15 in the UK, which was rather lukewarm given its quality and group membership. The Firm would record a follow-up album, Mean Business in 1986, before the group dissolved and the musicians went their separate ways. Slade went on to become AC/DC's drummer while Franklin did a lot of work with television and movie soundtracks. Ultimately, both Page and Rodgers reunited with the former bandmates from the 1970s, albeit both for a limited time.
~

Part of Classic Rock Review's celebration of 1985 albums.