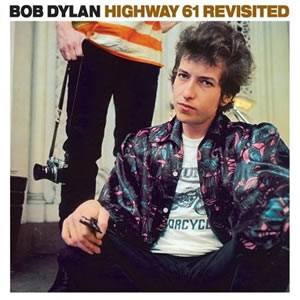 Some albums are borne of the ether. Some are born of the earth. A rare few refine both into a crystallized masterpiece. Out of Bob Dylan's entire discography, Highway 61 Revisited stands as the brightest example of his work. It takes concepts he had experimented with previously and solidifies them into liquid gold. The contradiction in words was intentional there because Highway 61 Revisited is nothing if not fluid. While honoring his past this album also points a big bright burning finger towards works that had yet to come like Blonde On Blonde, Desire and Blood On the Tracks. Highway 61 Revisited is Bob Dylan in a nutshell, a nutshell that is inside out and bleeding right into our collective brains.
The album began its climb to creation the day Bob Dylan was born in Minnesota near the actual U.S. Highway 61, which stretched from the Canadian border north of his hometown, south through Memphis, the Mississippi Delta, and all the way to New Orleans. In his mind the highway connected a young Dylan to blues legends like Muddy Waters and Elvis Presley. The blues serve as the foundation for Highway 61 Revisited. Dylan's own angst at the time of the album's recording served as the structure. He had recently "gone electric" at the Newport Folk Festival on July 25, 1965 and come back from a disappointing tour of England. He was looking to do something different and he had an axe to grind with the people who wanted him to stay in his folk box. When he finally got some musicians together to record this sixth studio album it came together like it was being guided by divine hands.
Produced by Bob Johnston, it only took two brief sessions and 9 days for the album to be completed. Amazing aspects of it, like the organ riff on "Like a Rolling Stone", were improvised on the spot. Al Kooper, the musician who improvised the riff, just happened to be visiting one day and managed to play his way right into rock and roll history. While Dylan's lyrics on the album reflect his frustrations at the time, he puts a fantastic twist on them by throwing in elements of surrealism. He evokes dreams by filling his songs with characters from history and fiction. The resulting album is infinitely more complex than anything put together in 9 days has any right to be. Every listen allows the ear to hear something new and the mind to interpret the lyrics differently. Fifty years after its original release it still stands as a perfect example of musical complexity.

Highway 61 Revisted

by

Bob Dylan
Released: August 30, 1965 (Columbia)
Produced by: Bob Johnston & Tom Wilson
Recorded: Columbia Studio A, New York, June–August 1965
Side One
Side Two
Like a Rolling Stone
Tombstone Blues
It Takes a Lot to Laugh, It Takes a Train to Cry
From a Buick 6
Ballad of a Thin Man
Queen Jane Approximately
Highway 61 Revisited
Just Like Tom Thumb's Blues
Desolation Row
Primary Musicians
Bob Dylan – Lead Vocals, Guitar, Piano, Harmonica
Mike Bloomfield – Guitars
Charlie McCoy – Guitars
Al Kooper – Organ
Harvey Brooks – Bass
Bobby Gregg – Drums
Each song on this album is an enigma that you could write thousands of words about and still be no closer to truly understanding or explaining it, so I'll leave that to someone else. The album kicks off with Dylan's first huge hit, "Like a Rolling Stone", which reached #2 on the US charts. The song is partially autobiographical and probably one of the best opening tracks ever and serendipitously got its signature hook when Kooper, a 21-year protégé of producer Tom Wilson, snuck in on organ and made the best of his opportunity. "Tombstone Blues" speeds up an already electric start. Like the title song, "Highway 61 Revisited" and "Desolation Row" we get Dylan's use of famous names in his songs to create a parable that feels timeless and utterly surreal. The guitar on "Tombstone Blues" is one of the finest on any Dylan album. "It Takes a Lot to Laugh, It takes a Train to Cry" is a more classical blues ballad and brings in the harmonica for full effect. It's a rare song that doesn't overdo the instrument and makes it feel like an organic part of the sauntering rhythm and the piano has an almost ragtime quality.
"From a Buick 6" is probably the weakest song on the album since the lyrics aren't as wild as everything else but the music is still incredible throughout. This could be one of the strongest songs on an album that wasn't so packed with great songs. "Ballad of a Thin Man" sports scathing lyrics poking fun at everyone that isn't in on Dylan's jokes. This album is Dylan exorcising all his anger and frustration at everyone that didn't get him or wanted him to be their dancing monkey, "Ballad of a Thin Man" is the keystone of the album and those sentiments. "Queen Jane Approximately" is just as scathing as "Mr. Jones" but sounds a lot friendlier due to Dylan's lighter vocal tone. It doesn't sound quite as menacing but it's still talking about someone who isn't aware of how stupid they really are. The song is believed to refer to Dylan's fellow folk singer and ex-girlfriend, Joan Baez, but only he knows if that is truth. It is totally applicable to say this song applies to any of the people involved in the folk movement that Dylan was trying to leave. It's also one of the most underrated songs on the album.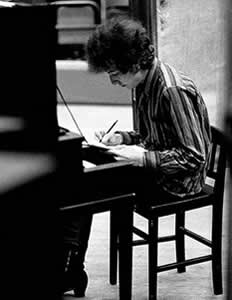 Dylan's opening line of the title track, "Highway 61 Revisited", connects the route to history by pairing it with the biblical story of Abraham, while starting with a wailing police siren. "Just Like Tom Thumbs Blues" is a hangover song from the opening lines which discuss being lost in Juarez, Mexico. The song also discusses how the destructive nature of all those things we think we want so much that leave us changed for the worse. "Desolation Row" is the final track and a juggernaut. It's an 11 minute epic that manages to keep your ear interested because you want to see what's around the next bend of lyrics. It's got a great southwestern acoustic guitar that sounds like Dylan is singing the song in a dimly lit tavern somewhere. If "Like A Rolling Stone" is a perfect opener this is the show stopping finale that bookends the greatest of all Dylan albums.
Throughout Highway 61 Revisited the lyrics seem to be totally relatable and completely mysterious at the same time. This is one of the album's greatest strengths. The lyrics' meaning can never be fully unraveled, which means they can always mean whatever you think they do. Each time Dylan talks about the album he gives a different explanation for the driving motivations behind the album, the songs and the verses, keeping the mystery of the album alive and open to whatever interpretation your mind desires. Great art is always open to interpretation and that's one of the big keys to Highway 61 Revisited. Whereas much of Dylan's previous work was locked in a particular time, this album is completely timeless. Most importantly of all though, the music is just plain great. It's more complex than anything he had done previously and more rewarding to listen to as a result. It's a great album but if you want to debate me on that point, just remember to send your emails from Desolation Row.
~
Part of Classic Rock Review's celebration of the 50th anniversary of 1965 albums.