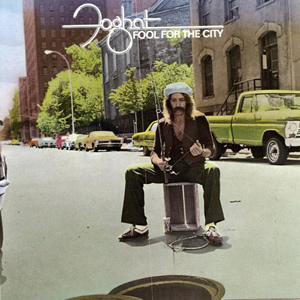 Foghat may have set the template for the sound and tone of mainstream, 1980s "hair" rock five years before that decade even began. Fool for the City, the fifth overall release by the British quartet, was the apex of the group's success and includes their most potent and indelible contributions to the classic rock radio pantheon. While there are no Earth-shattering rock innovations here, there is a solid (and pleasantly surprising) uniformity of quality tunes spread throughout this seven track album.
Foghat was formed in London in 1970 by guitarist/vocalist "Lonesome" Dave Peverett with drummer Roger Earl, and the band took their name from a childhood game invented by Peverett and his brother. Later that year, former Black Cat Bones guitarist Rod Price joined on and the group soon recorded and released their self-titled 1972 debut album. This effort scored some immediate success with the radio popularity of a hard rock version of Willie Dixon's "I Just Want to Make Love to You". Over the next two years, the group recorded and released three additional studio albums which followed the same basic pattern of mostly original material combined with a few reinterpretations of blues-based covers. However, none of these records reached the same level of success as the debut, causing original bassist Tony Stevens to leave the band due to the endless touring and recording schedule.
Producer Nick Jameson, who produced the group's 1974 album, Rock and Roll Outlaws, as well as, Fool For the City, became a member of the group on bass and keyboards during the recording of this album. The album cover features Earl sitting on a box in the middle of a New York City street, "fishing" down an open manhole, an activity which led to his arrest shortly after the shot was taken.

Fool For the City

by

Foghat
Released: September 15, 1975 (Bearsville)
Produced by: Nick Jameson
Recorded: Suntreader Studios, Sharon, Vermont, 1974
Side One
Side Two
Fool For the City
My Babe
Slow Ride
Terraplane Blues
Save Your Loving (For Me)
Drive Me Home
Take It or Leave It
Group Musicians
Dave Peverett – Lead Vocals, Guitars
Rod Price – Guitars, Vocals
Nick Jameson – Bass, Keyboards, Vocals
Roger Earl – Drums, Percussion
Peverett's opening title song sets up the album perfectly as an upbeat hard rocker with a very catchy hook. Released as a single, "Fool For the City" barely missed making the Top 40 on the Pop charts. "My Babe" is a cover of an early career single by The Righteous Brothers, written by Bobby Hatfield and Bill Medley. While sandwiched between two much more popular tracks, this rendition may well be the most outstanding track on the album's first side, starting with a crisp, blues/rock riff by Price before the harmonized hook arrives backed by nothing but the clap-along drum beat. When the song's full arrangement kicks in, it is infectious and upbeat throughout with additional bluesy, distorted slide guitar licks along with effective rudiments in the rhythm.
The group's most popular and sustaining track ever, "Slow Ride" was a Top 20 pop hit in 1975. It starts with a reserved beat by Earl, soon accompanied by Peverett's main riff and then more sonic décor added in turn. Although over eight minutes in length, this song is very light on lyrical heft, instead fully relying on the rhythms, riffs, and chanted melodies to carry the day. "Slow Ride" is also a real showcase for Jameson, especially during the internal verses and the funky, bass-driven bridge section.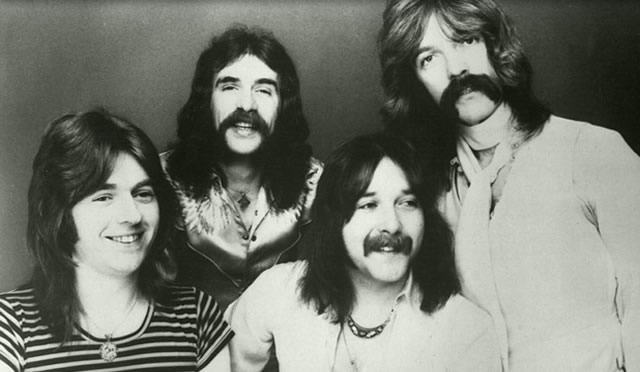 The album's original second side starts with a cover of Robert Johnson's "Terraplane Blues", which features an acoustic intro that is pretty faithful to original but, after that, the group kicks in full boar with a wild rock arrangement featuring an ever-present slide guitar by Price. This works to make the track almost as respectable as Zeppelin's "Traveling Riverside Blues" in the category of true "modern" renditions of Johnson's music. "Save Your Loving (For Me)" is built on an upbeat bass groove topped by a dual guitar riff which closing mimics the vocal melody line, at least during the verses, while "Drive Me Home" is a fast-paced, Stonesy style rock n' blues with a nice inclusion of boogie piano in the tradition of Ian Stewart. The album closer is the only track that deviates from the established heavy rock style, as a cool funk/soul fused song led by Jameson' electric piano and a reserved guitar presence. "Take It or Leave It" goes through some nice variations in tone while never reaching the blistering rock level of the previous six tracks, showing some serious compositional and musical talent by the group.
Fool for the City, reached platinum level sales status and remains Foghat's most popular album. Jameson's short stint with the band lasted barely over a year but the group did find further success with their 1977 live album before their popularity slowly dissipated in the early 1980s.
~

Part of Classic Rock Review's celebration of 1975 albums.