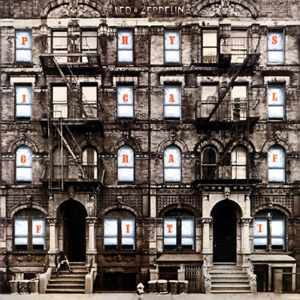 Today we cover an album that epitomizes everything that is great about classic rock. Through their dozen years as a band, Led Zeppelin released eight studio albums, all of which were excellent to differing degrees. But Physical Graffiti is the best for two reasons. First is simple math, as it is their sole double studio album, hence twice the normal rock n roll bliss. More importantly is the sheer diversity of this album, which combines newly composed material with outtakes from the group's three previous studio albums and in the process captures an incredible array of styles, production and compositional methods. All of this, plus the simple fact that the individual performances are brimming with innovative and outstanding musicianship, helped to make Physical Graffiti an easy choice as Classic Rock Review's Album of the Year for 1975.
In their first three years as a band, Led Zeppelin recorded and released four albums with sequential numerical titles. Over the course of these albums, the material branched out from heavy blues to acoustic folk and many subtle sub-genres in between. Released in 1973, Houses of the Holy ,was built more in the studio than any of its predecessors, taking advantage of technological advances and use of overdubs to forge the sound. To follow-up, the group went to Headley Grange in East Hampshire, England in late 1973. They had previously recorded, Led Zeppelin IV ,with Ronnie Lane's Mobile Studio at this location but these later sessions were soon abandoned as the new material was underdeveloped and bassist John Paul Jones had fallen ill. Instead, the sessions were turned over to the new group Bad Company, who had recently signed to Led Zeppelin's new label Swan Song and used the location to record their 1974 eponymous debut album.
The group reconvened at Headley Grange in January 1974 and were much more fruitful, recording eight new tracks over the next several weeks. The running time of these tracks extended beyond the length of a conventional album (at the time, vinyl albums were typically around 45 minutes), so the group decided to extend it out to a double length LP by including several unreleased songs from previous Led Zeppelin albums. This extended the project quite a bit as additional overdubs were required to establish sonic consistency, so final mixing did not take place until October 1974. The album's title was coined by guitarist and producer Jimmy Page, who wanted to convey how much "physical energy" had gone into producing this album. The title also sparked the idea for its unique, Grammy nominated album packaging, with a die-cut sleeve through which various images can be alternated into the windows of a New York City brownstone tenement.

Physical Graffiti

by

Led Zeppelin
Released: February 25, 1975 (Swan Song)
Produced by: Jimmy Page
Recorded: Various Locations in the UK and US, July 1970-February 1974
Side One
Side Two
Custard Pie
The Rover
In My Time of Dying
Houses of the Holy
Trampled Underfoot
Kashmir
Side Three
Side Four
In the Light
Bron-Yr-Aur
Down By the Seaside
Ten Years Gone
Night Flight
The Wanton Song
Boogie With Stu
Black Country Woman
Sick Again
Group Musicians
Robert Plant – Lead Vocals, Harmonica, Guitar
Jimmy Page – Guitars, Mandolin
John Paul Jones – Bass, Piano, Keyboards, Mandolin
John Bonham – Drums, Percussion
The album opens unabashedly with "Custard Pie", which takes the simplest crisp guitar riffs and builds such an infectious groove around it by combining with Jones' cool clavichord, John Bonham's steady but incredible drumming. Lyrically, the song pays homage to a few traditional blues songs – "Drop Down Mama" by Sleepy John Estes and "Shake 'Em On Down" by Bukka White – with vocalist Robert Plant adding further authenticity with some fine harmonica playing over the otherwise straight-up rock music. "The Rover" was an outtake from a 1972 Houses of the Holy session and it is a wonder why it was ever cut (it would have fit perfectly between "D'Yer Ma'ker" and "No Quarter"). In any case, it remains one of Zeppelin's most forgotten gems as solid hard rock at its melodic finest. Even more impressive are Plant's vocals, which soar finely over the rock landscape which crosses both time and space;
"Traversed the planet when heaven sent me, I saw the kings who rule them all. Still by the firelight and purple moonlight I hear the rested rivers call…"
"In My Time of Dying" is a rare track with songwriting credits going to all four band members (although the song's roots date back to the 1920s) and is also distinct as the studio recording with the longest duration. As a slow and deliberate blues, it reverts back to Led Zeppelin's debut album with Page's impossibly slow slide guitar being complemented by Jones and Bonham, who are masterful at adding perfectly timed bottom end rhythm to give it all structure. At around four minutes in, a frenzied second part of the song commences, highlighted by Bonham's incredible drum patterns and Page's multi-textured multiple guitar solos. Then, after building the tensions as far as possible, the group returns with a heavy rock rendition of the opening part.
The album's second side starts with "Houses of the Holy", the title track which was left off the album of the same name. Unlike the aforementioned "The Rover", this song is actually more at home here as a very basic track with just repeated verses and riff interludes. It never really travels anywhere musically, just gains in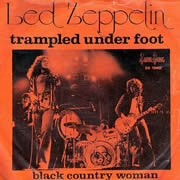 intensity in its vibe and sexually charged lyrics as it goes along. Sticking with the sex themes, "Trampled Under Foot" uses car parts as metaphors for female body parts and, much like the previous song, relies on repetition and building intensity. Musically, this track has a great funk groove throughout which never gets old, and features a funky clavichord lead by Jones with Page adding some whining guitar textures underneath.
"Kashmir" is a masterful and innovative track written by Page, Plant and Bonham over the course of three years. It is sonically pleasing and interesting throughout its eight and a half minute duration with several theatrical "scenes' slowly unfolding in time. The song's main progression is built on an ascending riff developed by Page with Jones conducting further orchestration performed by session string and horn sections and Bonham's drums fed through a phaser for effect. Plant actually found inspiration for the lyrics in Morocco but preferred Kashmir (where he had never been) as a mystical, imaginative place which transcends a physical location on Earth;
"To sit with elders of the gentle race, this world has seldom seen, they talk of days for which they sit and wait and all will be revealed. Talk and song from tongues of lilting grace, whose sounds caress my ear but not a word I heard could I relate, the story was quite clear…"
Side three of Physical Graffiti begins with "In the Light", one of the oddest but ultimately entertaining songs in the entire Led Zeppelin collection. A long synthesizer and bowed guitar intro by Jones and Page breaks into an enjoyable and upbeat rock section with Jones providing some inspired electric piano. The track was originally a piano-driven ballad called "Everybody Makes It Through" but the verse sections were rewritten with the improvised outro section retained as a canvas for the layers of Page's guitars. Next comes "Bron-Yr-Aur" the first instrumental since Led Zeppelin II as a pleasant solo acoustic bit by Page which turned out to be the group's shortest track on record. "Down By the Seaside" is another totally unique song in the Zeppelin catalog as a mellow country/folk track which possibly drew inspiration from Crosby, Stills, Nash and Young. Recorded during the sessions for Led Zeppelin IV in 1971, the song is pleasant and rewarding as a one-off foray into this musical territory and features Jones' electric piano interludes complemented by Page's ascending guitar textures.
"Ten Years Gone" is Led Zeppelin at their studio best, as an exquisite song with outstanding contributions by each group member. The opening arrangement is just a simple ringing guitar and bass before launching into a majestic heavy riff which divides the verse stanzas. Started as a pure instrumental piece by Page, the track includes two of his most inspiring leads, which sandwich the heavy middle bridge section and where Jones' bass and Bonham's drums are brought out with their best elements. Each subsequent section in this suite builds on the last, reaching for an ultimate emotional crescendo as Page layers guitar upon guitar with distinct voices so that nothing ever gets buried underneath. Finally, there are Plant's poetic lyrics of love, destination, regret and redemption sung in a very somber and reserved voice as he recalls the heartbreaking decision to abandon his teenage girlfriend in order to pursue his musical dreams. The outro is only real section where he raises his voice with great, desperate improvisation, almost as if he is trying to shout back through time.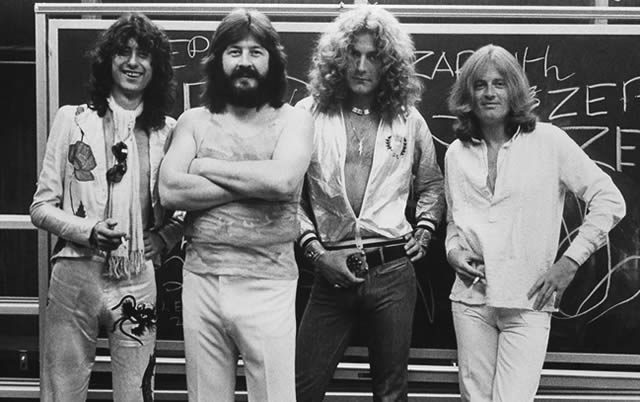 The fourth and final side begins with "Night Flight", which dates back to late 1970. After the emotional intensity of "Ten Years Gone", this bouncy rocker provides a lighter feel and owes much of its musical power to Jones' Hammond organ with Page just adding strong rhythmic licks on guitar, almost as if their roles are reversed. Plant's vocals are dynamic and strong throughout this track, almost to the point of straining. On "The Wanton Song" Zeppelin seems to step into the future musically with odd-timed but fierce riffs and Bonham's unambiguous drumming. Two interludes contain fantastic guitar textures, attained by Page feeding through a Leslie keyboard speaker, which give the start sound just enough flavor and diversity to make it classic.
If there is any weakness on Physical Graffiti it is in the way the album wraps. While interesting in their own way, the final three tracks are rather tame in comparison with the tremendous material which precede them. "Boogie with Stu" was an improvised jam during the Led Zeppelin IV sessions, featuring Ian Stewart on piano with Page on mandolin, leaving Plant with his one and only session on guitar. Page returns to guitar on "Black Country Woman" with Jones moving to mandolin in what would turn out to be the last Zeppelin acoustic song on their original studio records. Recorded in 1972, the song features a truly authentic setting, outside with a passing overhead airplane left on the tape at the beginning. The album wraps with "Sick Again" which, unlike the other three powerful side closers, is a rather common heavy blues rock song to complete the album as a whole. With lyrics about the LA groupie scene, this track musically features a nice overdubbed, whining guitar through the chorus sections and obviously contains some impressive performances but does not seem to be mixed too well, with vocals and bass getting lost behind the guitars and drums.
Physical Graffiti was a success commercially and critically, reaching the top of the album charts upon its release and eventually going 16x platinum in sales. With half the album being like a tour of the multiple phases that this group with incredible musical diversity had gone through during their first five years and five studio albums and the other half showing the band progressing forward with the fusion of funk, heavy pop, soul, and the modern sound that would become new wave, this remains the single best example of what made Led Zeppelin such a tremendous musical force.
~
Led Zeppelin online



Led Zeppelin official website
Buy Physical Graffiti

Part of Classic Rock Review's celebration of 1975 albums.