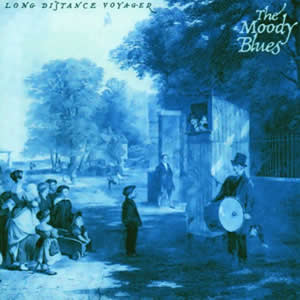 The Moody Blues scored some latter career commercial success with the chart-topping album Long Distance Voyager in 1981. While this was the ninth studio album by the group, it was only the second since the group went on an extended hiatus nearly a decade earlier. Musically, Long Distance Voyager balances itself by employing some of the dreamy, intelligent songs for which the group is best known, as well some modern beat-driven pop tracks.
In 1974, after seven albums in seven years and several world tours, the Moody Blues commenced an extended break. Some songs were composed for a near future group album, but these were instead to become Blue Jays, a duo album by guitarist/vocalist Justin Hayward and bassist/vocalist John Lodge. Other group members also released solo albums through the mid 1970s before the group finally reunited to record the 1978 album Octave. This would be the final album to involve keyboardist Mike Pinder.
Pinder was replaced by Patrick Moraz, previously with the group Yes, which prompted Pinder to file a lawsuit to prevent a new Moody Blues album from reaching the public without his contributions. Ultimately, the lawsuit was unsuccessful and the Pip Williams produced Long Distance Voyager was released in May 1981 and was the first release in a decade and a half not to be produced by Tony Clarke, who had worked on every Moody Blues album since 1967's Days of Future Passed. This album is also notable as the sole one recorded at the band's own Threshold Studios, which was custom-designed for the band by Decca Records but disbanded shortly after Decca's sale to Polygram.

Long Distance Voyager

by

The Moody Blues
Released: May 15, 1981 (Threshold)
Produced by: Pip Williams
Recorded: Threshold and RAK Studios, London, February 1980–April 1981
Side One
Side Two
The Voice
Talking Out of Turn
Gemini Dream
In My World
Meanwhile
22,000 Days
Nervous
Painted Smile
Reflective Smile
Veteran Cosmic Rocker
Band Musicians
Justin Hayward – Guitars, Vocals
Patrick Moraz – Keyboards
Ray Thomas – Flute, Harmonica, Vocals
John Lodge – Bass, Vocals
Graeme Edge – Drums, Percussion
The album begins with Hayward's "The Voice" with a dramatic, orchestral synth intro before the upbeat song proper kicks in. This modern rock song is led by synths with driving rhythms, acoustic guitar, and choral backing vocals to complement Hayward's melodic lead vocals, while lyrically the song is about finding your inner guide, your true north. The song was ahit, reaching the Top 20 on the opo charts.
"Talking Out of Turn" was written and sung by Lodge and, although laden by a consistent synth arpeggio, this track is really an acoustic love song at its core. The track unfolds slowly and methodically and maintains its rich arrangement throughout its seven-plus minute duration, with heavy orchestral elements in the coda. "Gemini Dream" was the biggest hit from the album, topping the charts in Canada and peaking at #12 in the USA. New wave and (nearly) dance-oriented, this track features duo lead vocals by Hayward and Lodge, which works best during the "make it work out" call-and-response section of the bridge.
The ballad "In My World" features Hayward's brightly strummed acoustic guitar complemented by a pedal steel by guest B.J. Cole to complete the album's original first side. Another Hayward song starts the second side, as "Meanwhile" is a sing-songy acoustic track, pleasant like an early seventies soft rock song with acoustic guitar and Moraz's electric piano. A good song overall, "Meanwhile" was also a minor hit, reaching #11 on the US Mainstream Rock chart. "Nervous" is a pure introspective folk song by Lodge, with picked acoustic, and a string section performed by William's "New World Philharmonic".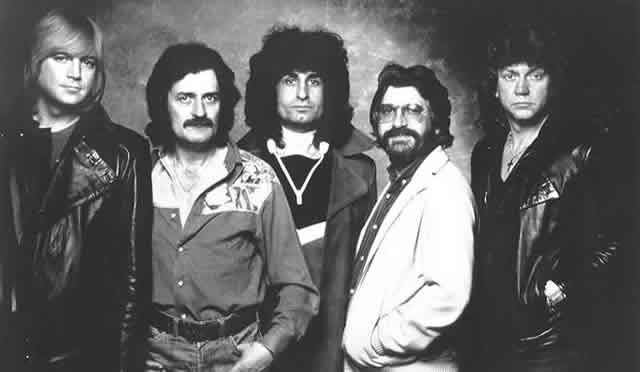 Much of the rest of the album's second side is dominated by tracks fronted by Ray Thomas. "22,000 Days" is beat driven with strong and steady drums by Graeme Edge, who composed this track which features theatrical musical flourishes. The final three tracks comprise a mini-suite, giving the album a thematic feel. "Painted Smile" has very English, "Top of the Pops" like crooning by Thomas above a slight waltz beat along with cool, carnival like effects. "Reflective Smile" acts as a bridge, narrated by Dave Symonds, leading to the closing climax, "Veteran Cosmic Rocker". This closing track features strong rock elements along with a middle section features a plethora of sounds from pure blues rock to psychedelic and Eastern soundscapes.
Long Distance Voyager topped the charts in the US and Canada and reached the Top 10 in the UK. Although the group continued with this formula to further success through the mid 1980s, they would not again record an album this complete in future years.
~

Part of Classic Rock Review's celebration of 1981 albums.