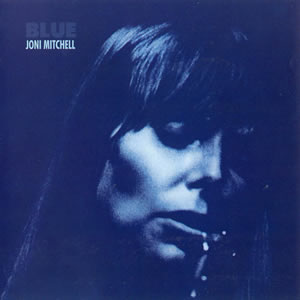 The fourth album by Joni Mitchell, the 1971 release Blue, saw the folk singer reach her highest critical acclaim. The album employs sparse musical arrangements leaning heavily towards the folk genre, with Mitchell playing acoustic guitar, piano, or dulcimer as the primary instrument to accompany her vocals. Lyrically, each of the songs on Blue hone in on a specific feeling, situation or, in many cases, a specific person.
A Canadian native, Mitchell first sang publicly at bonfires before finally pursuing a paid gig at a folk and jazz club in Saskatoon, Saskatchewan in 1962. She intended to pursue a career in art rather than music, but grew disillusioned by the priority given to technical skill over creativity in art school, so she migrated several times (to Toronto, Detroit, New York, and finally Los Angeles) in pursuit of a career as a folk singer. Before receiving widespread notoriety as a performer, Mitchell had success as a composer by writing several songs made popular by other artists, most notably Judy Collin's Top 10 hit "Both Sides Now" in 1967. The following year, Mitchell released her debut album, Song to a Seagull, followed by Clouds in 1969 and Ladies of the Canyon in 1970, with each release being more popular and critically acclaimed than its predecessor.
Mitchell decided to stop touring for a year and focus solely on writing and painting. During this time she also took an extended tour of Europe, which was fertile ground for some of the "travelogue" songs that would appear on Blue. After recording in early 1971, an original version of the album was set for release in March but Mitchell decided to replace two of the songs with last minute compositions, delaying the album's release until June.

Blue

by

Joni Mitchell
Released: June 22, 1971 (Reprise)
Produced by: Joni Mitchell
Recorded: A&M Studios, Los Angeles, 1971
Side One
Side Two
All I Want
My Old Man
Little Green
Carey
Blue
California
This Flight Tonight
River
A Case of You
The Last Time I Saw Richard
Primary Musicians
Joni Mitchell – Lead Vocals, Guitar, Piano, Dulcimer
James Taylor – Guitars
Russ Kunkel – Drums, Percussion
On of the last minute additions to the album, "All I Want" starts this off with a bright and heavy use of an Appalachian dulcimer and is presented as a pop/folk song with great melody. "My Old Man" follows as the first of several solo piano tune which was presumably written about Mitchell's former love interest Graham Nash. The sad but beautiful "Little Green" is the first true folk tune on the album, utilizing an Open G tuning to give each note a clean, ringing sound. The song was originally written in 1967 and cryptically spoke of Mitchell's daughter who she gave up for adoption in 1965 and did not reveal to the world until decades later.
"Carey" is an upbeat tune with a much richer arrangement than most of the tracks on the album. Mitchell's vocals and dulcimer are backed by bass from Stephen Stills and slight percussion by Russ Kunkel. In a way, the music on this track previews some of Mitchell's more complex material later in the seventies, while the lyrics straddle the line between idealism and material comfort. The slow and melancholy, piano-fused title track finishes the first side as a slightly anti-drug, "the party's over" type of lament.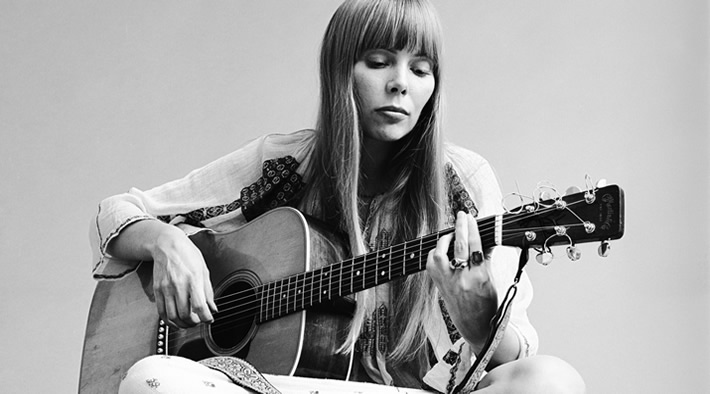 "California" features a cool acoustic by Mitchell and James Taylor, on top of which the singer employs plenty of lyrical and dynamic improvising. The song's lyrical theme is based on her longing for home while traveling in France. "This Flight Tonight" has a darker acoustic feel with a descending chord structure in the pre-chorus. The lyric tell of the singer's regrets as she departs on a flight and the song was later rearranged into a hard rock classic by the band Nazareth.
"River" is a Mitchell solo piano ballad, which borders on being a Christmas song. It is told from the perspective of a person in a warm climate, longing for the cold and frozen 'river" through poetic and inventive lyrics, with Mitchell slightly incorporating "Jingle Bells" on the ending piano. "A Case of You" is a methodical solo acoustic track with a subtle, second guitar by Taylor and features joyous, love-themed lyrics synonymous of "drinking in" a person like beer or whisky. The album concludes with "The Last Time I Saw Richard", a piano ballad with ethereal vocals and lyrics which document Joni's brief marriage to Chuck Mitchell while struggling to be a folk singer in the mid 1960s.
Beyond its many subsequent accolades, Blue was also a commercial success in its time, reaching #15 in the US and #3 in the UK. With the album's success, Mitchell decided to return to live touring and continued on to develop some of the most interesting music of her career.
~

Part of Classic Rock Review's celebration of 1971 albums.