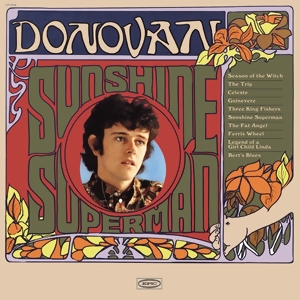 English folk singer Donovan found a new voice with his eclectic and slightly psychedelic third album, Sunshine Superman. Originally released in the US in September 1966, the album would not be released in Donovan's native country until much later due to a professional contractual dispute. This record is notable as one of the first pop albums to extensively use the sitar and other Eastern musical instrumentation while maintaining an overall radio-friendly sound.
Born Donovan Philips Leitch and of Scottish descent, Donovan's initial breakthrough came in London in early 1965 with the folk-inspired single "Catch the Wind" and the subsequent acoustic folk albums What's Bin Did and What's Bin Hid and Fairytale. However, Bob Dylan's famed trip to the UK that spring pigeonholed Donovan as a British "Dylan clone" in the press, a label he desperately wanted to shake and establish his own distinct musical identity.
In late 1965, Donovan was introduced to producer Mickie Most who, in turn, collaborated Donovan with top-notch London session players such as future Cream bassist Jack Bruce and future Led Zeppelin members John Paul Jones and Jimmy Page. Further, the early 1966 sessions for Sunshine Superman branched Donovan's music out into the realms of jazz, blues, Eastern music, and psychedelic pop. These sessions proved to be very prolific and included early recordings of several tracks which were omitted from this album but appeared on later studio albums and collections.

Sunshine Superman

by

Donovan
Released: August 26, 1966 (Epic)
Produced by: Mickie Most
Recorded: Columbia Studios, Hollywood & EMI Studios, London, January-May 1966
Side One
Side Two
Sunshine Superman
Legend of a Girl Child Linda
Three King Fishers
Ferris Wheel
Bert's Blues
Season of the Witch
The Trip
Guinevere
The Fat Angel
Celeste
Primary Musicians
Donovan – Lead Vocals, Guitars
Donovan – Lead Vocals, Guitars
Jimmy Page – Guitars
Eric Ford – Guitars
Spike Healy – Bass
Bobby Orr – Drums
Released a few months before the album of the same name, "Sunshine Superman" made an immediate impact which launched it to the top of the charts as Donovan's sole number one hit in the USA. The song is rhythm built with stand-up bass by Spike Healy along with a slight sitar by Shawn Phillips in a simple but clever arrangement with subtle psychedelic elements and a cool rock guitar lead. This first product of the artist's collaboration with Most is a vanguard of the fusion of psychedelia in pop music.
"Legend of a Girl Child Linda" is a finger picked, traditional folk track with elongated vocals and fairy-tale like images painted by the thick lyrics. "Three King Fishers" is pure, Eastern-flavored folk with heavy reverb on the vocals and a delivery which foreshadows Syd Barrett on Pink Floyd's debut a year later, while "Ferris Wheel" makes a slowly progressive entrance before (as its name suggests) it gives a sense of childhood adventure. "Bert's Blues" closes the first side as a smokey yet truly sixties flavored jazz track with a fine arrangement including harpsichord and string quartet.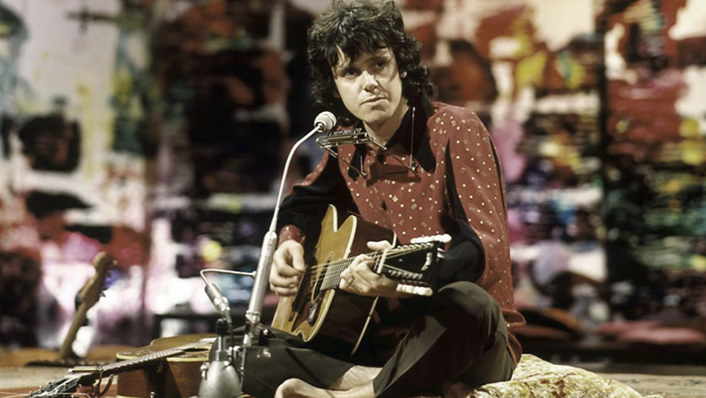 "Season of the Witch" features a funky electric arrangement with a unique and weird vibe that was entertaining enough to make the song a minor hit in November 1966. "The Trip" features a bluesy acoustic rhythm in the intro which is soon joined by the deeper rhythms of bass and drums and a slight stream-of-consciousness lyrical delivery by Donovan. This forthright, acid-themed song gradually builds into a nice groove through its four minute duration with the inquisitive hook "What goes on?" being repeated throughout. After the subtle, finger-picked English style ancient folk of "Guinevere" comes an overtly psychedelic and strongly Eastern-influenced gem called "The Fat Angel". The album closes strongly with "Celeste", featuring somber but melodic vocals which perfectly accent the gentle strumming and somewhat spastic overlays of tones, making it spacey and Earthy all at once.
After its release in September 1966, Sunshine Superman was a huge success in America. Due to contractual disputes between Pye Records and Epic Records, it wouldn't be released in the UK until mid 1967, after Donovan had already released a successful follow-up album, Mellow Yellow in the US.
~

Part of Classic Rock Review's celebration of 1966 albums.