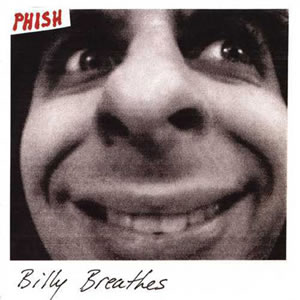 As their sixth official studio album, Billy Breathes is an early indication of Phish moving towards more mainstream rock music. Here, the four-piece group combined folk, rock and psychedelic into standard-length, accessible numbers with a good sense of melody and song craft. As a result, this 1996 release remains one of the most popular albums by a band better known for its jam-band fused live performances and moderately sized by avidly dedicated fan base.
After the release of their first two official studio album, Junta in 1989 and Lawn Boy in 1990, Phish began to design intricate and highly interactive concerts. Guitarist and front man Trey Anastasio led the band in giving musical cues for the audience to react in certain ways and band members would often switch instruments to make their live shows truly original. As a result of the band's growing popularity,they were signed to Elektra Records with 1992's A Picture of Nectar being Phish's first release on that label. This was followed by the studio albums Rift and Hoist in 1993 and 1994 respectively and the live album, A Live One, which became the group's first gold-selling album in 1995.
After rehearsing at their independent recording studio in Vermont, the group migrated to Bearsville Studios in the Catskill mountains of nearby New York state to record in early 1996. Produced by Steve Lillywhite, the album features an almost equal split of compositions co-written by Anastasio and lyricist Tom Marshall and songs credited to all members of the band.

Billy Breathes

by

Phish
Released: October 15, 1996 (Elektra)
Produced by: Steve Lillywhite
Recorded: Bearsville Studios, Bearsville, NY, February–June 1996
Track Listing
Group Musicians
Free
Character Zero
Waste
Taste
Cars Trucks Buses
Talk
Theme from the Bottom
Train Song
Bliss
Billy Breathes
Swept Away
Steep
Prince Caspian
Trey Anastasio – Lead Vocals, Guitar
Page McConnell – Keyboards, Vocals
Mike Gordon – Bass, Vocals
Jon Fishman – Drums, Vocals

The only song that can be considered a "hit' from Billy Breathes is the opening track "Free", which reached #11 on the Mainstream Rock charts. Starting with a straight and direct droning rock background, this inventive song crams a lot of differing musical phrases into its less-than-four-minute duration. The start of "Character Zero" is a sparse blues arrangement before breaking in with heavy rock elements, including a driving drum beat by Jon Fishman and a bouncy bass by Mike Gordan. "Waste" is mainly quiet acoustic ballad, with a kind of "slacker love story" theme. As the song progresses, there is a subtle building in arrangement and a good sense of melody by Anastasio. The bridge is the first real place where the song fully realizes its dynamics and is followed by an exquisite piano lead by Page McConnell.
Almost like a musical exercise in maintaining odd timing and rudiments, "Taste" gives the impression that all band members seem to be playing contrasting parts but somehow this all works at a certain tension-filled level. In contrast, McConnell's short instrumental, "Cars Trucks Buses", falls into a nice groove throughout and gives much space for his organ and piano leads. The same dreaming, descending acoustic riff is repeated through the entirety of "Talk", with differing musical accompaniment along with a sing-songy vocal melody. At just under six and a half minutes, "Theme from the Bottom" is the longest track on the album. It starts with a simple, dark and dissonant piano which is soon joined by upbeat rhythmic groove for a nice counter-effect. The second half of the song comes a mainly instrumental blistering rock section. The urban-folk sounding "Train Song" was co-written by guest Joe Linitz and Gordon, who provides whimsical lead vocals for the track.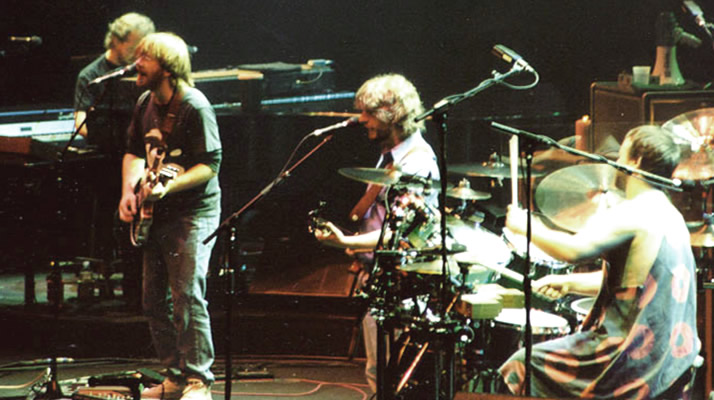 The latter part of the album features the products of many improvisations during the album's pre-production. "Bliss" features slow acoustic textures which gradually fade into an atmospheric instrumental. The title track, "Billy Breathes" hearkens back to seventies soft folk with modest, understated vocals along with rich harmonies in the chorus. Then comes the excellent and unique bridge section with banjo joined by slight and sharp brass songs before Anatasio's top level guitar lead ushers the song with interesting chord pattern behind to make it a high point on the album. The final three tsongs complement each other and sound like they could've been a single, cohesive suite. "Swept Away" is quiet and reserved acoustic folk in a very short moment of mood, like it could have been an intro to some television or theatrical performance. "Steep" is pure psychedelic driven by keyboard and pedal effects before a rich vocal section dominates the second half of short track. "Prince Caspian" meanders in before an electric riff acts as bedding for the song's main hook. The song proper of this closer is quite repetitive to get its lyrical point across before it again slowly dissolves into a fade with one final "shock" rock riff reprise to end the song and album.
When recording was wrapping for Billy Breathes, the band made a snap decision to use a a closeup shot of Mike Gordon's face as the album's cover, something Anastasio later said he regretted. Nonetheless, the album sold very well and remains, along with 2000's Farmhouse, as one of the commercial peaks of Phish's long career.
~

Part of Classic Rock Review's celebration of 1996 albums.