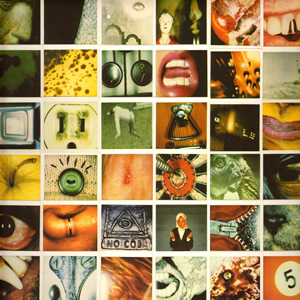 In 1996, Pearl Jam created a stoner rock classic with their fourth studio album, No Code. Here, the alternative grunge pioneers branched out with diverse music tracks which incorporated elements of blues, country, psychedelia and world music. The resulting record is not quite as forward and accessible as previous efforts by the band but does feature subtle, droning riffs, layered percussion, and philosophical lyrics all mixed with Pearl Jam's established signature, hard rock sound.
As Pearl jam gained fame in the early 1990s, they grew increasingly uncomfortable with their success and began to rebel against the industry by refusing make music videos, issuing CDs in non-standard jackets and boycotting the Ticketmaster agency, which resulted in limiting the venues where the band was able to play and eventually led to the cancellation of their 1994 summer tour. There was also some internal strife within the band. After Pearl Jam finished the recording their third album, Vitalogy, drummer Dave Abbruzzese was fired for "political differences" when he disagreed with the Ticketmaster boycott. Abbruzzese was replaced by former Red Hot Chili Peppers drummer Jack Irons, who joined the band in backing Neil Young on his 1995 album Mirror Ball, which in turn spawned two songs which landed on Pearl Jam's 1995 EP, Merkin Ball.
On No Code, the group worked with producer Brendan O'Brien, with whom they had worked on 1993's Vs. as well as Vitalogy. Work on the album began in Chicago during the summer of 1995 with other recording sessions taking place in New Orleans and their home studio in Seattle.

No Code

by

Pearl Jam
Released: August 27, 1996 (Epic)
Produced by: Brendan O'Brien & Pearl Jam
Recorded: Chicago Recording Company, Chicago, July 1995 – May 1996
Track Listing
Group Musicians
Sometimes
Hail, Hail
Who You Are
In My Tree
Smile
Off He Goes
Habit
Red Mosquito
Lukin
Present Tense
Mankind
I'm Open
Around the Bend
Eddie Vedder – Lead Vocals, Guitars, Sitar, Harmonica
Stone Gossard – Guitars, Piano, Vocals
Mike McCready – Guitars
Jeff Ament – Bass, Chapman, Vocals
Jack Irons – Drums
Written by vocalist Eddie Vedder, the opening track "Sometimes" is subtle and quiet, almost jazzy, as it feels like it is on the verge of exploding any moment but never does. In contrast, "Hail, Hail" is a strong rocker with a sound like the Pearl Jam of old in their full glory. Released as a single, this track reached the Top 10 on both the Mainstream Rock and Modern Rock charts. An odd but cool percussive intro by Irons ushers in "Who You Are" before Vedder's vocals and a guitar riff by Stone Gossard cut through in a simple song structure, which gradually progresses and builds as it goes along. This track has a very Eastern feel in its vibe and lyrical message.
"In My Tree" works as another rhythm-driven track with more animated and soulful vocals than anything presented thus far. While most of this song feels distant and slightly under baked, near the very end it builds into a driving and droning hard rocker. Bassist Jeff Ament wrote the music for "Smile", a Neil Young inspired driving rocker, complete with harmonica and a consistent, solid beat. "Off He Goes" is a pleasant acoustic ballad with reserved lead vocals and a fine mixture of lead guitars by Gossard and Mike McCready on top. This song unfolds in a very methodical way, making it a nice reliever of the tensions of some of the more potent, shorter tunes on the album. Speaking of tension, "Habit" is tight knit rocker where some heavy blues meets strong alternative vibes, while "Red Mosquito" was inspired by Vedder's bought of food poisoning and features a buzzy lead guitar played by McCready using a Zippo lighter.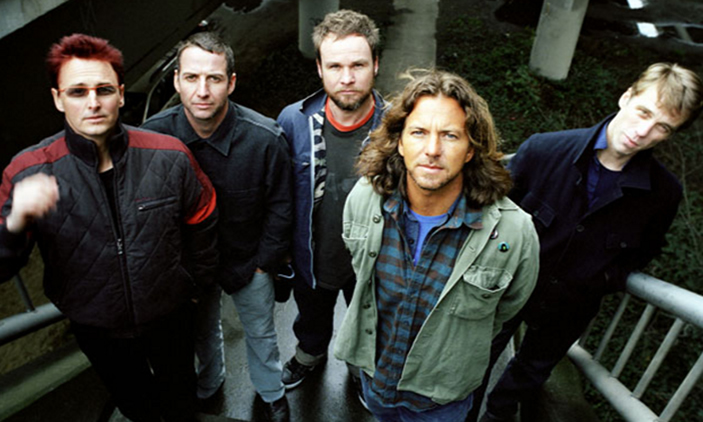 "Lukin" is a very short, two verse, one chorus punk rocker where Vedder strains his voice to the point of nearly being unrecognizable, followed by "Present Tense", a slow and moody, almost dark track featuring differing guitar textures by McCready. The most unique song on the album is "Mankind", written and sung by Gossard, with a sound approximating seventies glam rock. The artsy "I'm Open" has spoken vocal narration with wild guitar effects, synths and some piano for a New Age atmosphere, while "Around the Bend" wraps the album as an acoustic, almost country arrangement, save for the unique, tom-fused drum beat by Irons.
No Code debuted at number one in the US and topped the charts in several countries. In spite of this, much of the band's fan base were dissatisfied with the change in musical direction and this album ultimately became the first Pearl Jam album to not reach multi-platinum status.
~

Part of Classic Rock Review's celebration of 1996 albums.