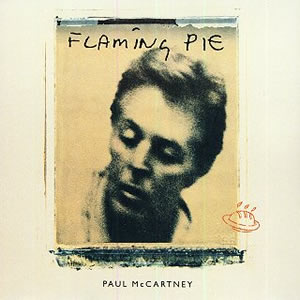 After spending a few years working on The Beatles Anthology project, it was clear that Paul McCartney wanted to continue revisiting the sounds and styles of the past when he resumed his solo career. Flaming Pie, McCartney's tenth solo album, was a success in achieving this goal as it features an array of styles which pinpoint musical moments with and without the Beatles. This was also an album where McCartney collaborated with Ringo Starr as well as a couple of his own immediate family members.
Coming into the decade of the 1990s, McCartney was one of the highest grossing rock acts. Still, he decided to branch out into orchestral and opera music with Liverpool Oratorio in 1991 and electronica music the final year with Strawberries Oceans Ships Forest. In 1993, McCartney released the pop/rock album Off the Ground, which would be his last studio album for the next four years.
Following the completion of the Anthology project, McCartney teamed up with co-producer and multi instrumentalist Jeff Lynne with the intention of producing something "pure and easy". The album was recorded over the course of two years and included new material as well as some songs initiated in previous years. These sessions also produced excess material, most notably the "Oobu Joobu" series of rare tracks.

Flaming Pie

by

Paul McCartney
Released: May 5, 1997 (Parlophone)
Produced by: George Martin, Jeff Lynne and Paul McCartney
Recorded: Sun Valley, Idaho and Abbey Road Studios, London, September 1992 – February 1997
Track Listing
Primary Musicians
The Song We Were Singing
The World Tonight
If You Wanna
Somedays
Young Boy
Calico Skies
Flaming Pie
Heaven On a Sunday
Used to Be Bad
Souvenir
Little Willow
Really Love You
Beautiful Night
Great Day
Paul McCartney – Lead Vocals, Bass, Guitars, Piano, Keyboards, Drums, Percussion
Jeff Lynne – Guitars, Keyboards, Vocals
Steve Miller – Bass, Chapman Stick
Ringo Starr – Drums, Percussion, Vocals



The album's opener, "The Song We Were Singing", is instantly rewarding and pleasant as it alternates between softly picked acoustic folk verses and the strong, Scottish-folk influenced choruses. Philosophically it centers around the core of McCartney's existence, the "song", and it appears to allude to his relationship with John Lennon. The pop radio hit "The World Tonight" features verses with interesting harmonies before McCartney breaks out vocally in the pre-chorus as well as a slight but excellent piano later.
As the album settles in, we have "If You Wanna", an acoustic rocker with some strong late seventies, early eighties pop elements along with some excellent lead guitars, followed in contrast by the picked acoustic ballad "Somedays", the first of two tracks produced and orchestrated by Sir George Martin. "Young Boy" is a standard, but pleasant, pop / rock track where McCartney teamed up with the legendary Steve Miller. Later on the album, the duo returns on the bluesy "Used to Be Bad" where Miller shares lead vocals and proves that he has the better blues pedigree as McCartney's lines sound more like a novelty.
The acoustic picked "Calico Skies" was written in 1991 during a hurricane blackout while the title track, "Flaming Pie" features a sound that is pure late-era Beatles, with boogie piano accented by crisp, distorted guitar riffs. "Heaven on a Sunday" takes a soft jazz approach with pleasant melodies, backing vocals by Linda McCartney and a great contrasting, whining rock lead guitar by son James McCartney.
The album's final stretch features some of the more interesting tracks. "Souvenir" is a sonic masterpiece from beginning to end, using some classic rock motifs and a melancholy ballad approach, while "Little Willow" is a sad ballad which McCartney wrote for the children of the late Maureen Starkey, wife of Ringo. Next comes a unique composition by Paul and Ringo,"Really Love You", with a kicking rhythm focused on the strong bass and drum beat and a classic blues / soul / R&B feel. "Beautiful Night" is a grandiose song with grandiose production by Martin and soaring vocals and lyrics by McCartney. His strained vocals through the later half of this power ballad makes it an instant classic. Wrapping up the album is "Great Day", acting almost as the reciprocal of "Beautiful Night" with simple finger-picked guitar and hand percussion. This closing track features Linda McCartney joining on backing vocals, which would sadly be her last collaboration with Paul as she passed away a year after the album's release.
Flaming Pie was a success on both sides of the Atlantic, peaking at number two in both the UK and US. It has grown to become one of McCartney's most critically acclaimed albums of his long solo career.
~

Part of Classic Rock Review's celebration of 1997 albums.