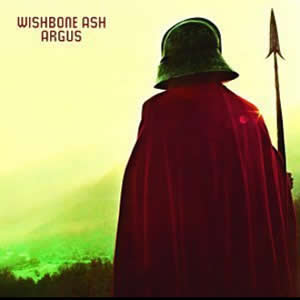 Argus is the most commercially successful album for Wishbone Ash and is considered by many to be their high-water mark musically. This third album by the British rock quartet features a medieval-themed lyrical concept which is complemented by a musical blend of heavy blues, folk, and progressive hard rock. Further, with dual lead guitarists Andy Powell and Ted Turner, this album was one of the first to employ the harmonized lead guitars method which would later become popular among hard rock groups.
Wishbone Ash was formed as a trio in 1969 in Torquay, England by bassist Martin Turner (no relation to Ted) and drummer Steve Upton. When the original guitarist departed the group, they had a hard time deciding between the final two competing candidates, and ultimately they hired both Powell and Ted Turner to become a four-piece rock band. In 1970, the band landed on a tour opening for Deep Purple, whose guitarist, Ritchie Blackmore was impressed with their sound and helped the band sign a record deal with Decca/MCA Records. Both the albums Wishbone Ash in late 1970 and Pilgrimage 1971 received favorable reviews but less than favorable sales.
For the recording of this third album, producer Derek Lawrence teamed with Deep Purple's engineer (and future big-time producer) Martin Birch at De Lane Lea studios in Wembley, which had just installed a state-of-the-art 16-track desk console. The album was recorded in less than a month in early 1972.

Argus

by

Wishbone Ash
Released: April 28, 1972 (Decca)
Produced by: Derek Lawrence
Recorded: De Lane Lea Studios, London, January 1972
Side One
Side Two
Time Wa
Sometime World
Blowin' Free
The King Will Come
Leaf and Stream
Warrior
Throw Down the Sword
Group Musicians
Martin Turner – Bass, Vocals
Andy Powell – Guitars, Vocals
Ted Turner – Guitars, Vocals
Steve Upton – Drums, Percussion
While the songs on Argus are solid throughout, the best material is positioned on the original first side of the record. "Time Was" is a nearly ten-minute epic which starts with a long picked, acoustic folk section, building the tension nicely before the full band arrangement finally kicks in at around the 3:00 mark. From here, the song rocks quite aptly with no fewer than three guitar lead section, weaving between solo and harmonized guitars in between the verses and bridge section.
"Sometime World" features bluesy lead guitars over a solid, rounded bass line through this quasi rock/ballad. Like the opener, this song also takes a turn towards harder rock part way through with an energetic jam and good leads built on Turner's prog-based bass riff. "Blowin' Free" begins with a couple of coordinated, choppy riffs which work to create a really cool sonic pattern in the intro. Next, the drum rolls in to a thumping rhythm for the song proper and, working in the opposite direction of the previous two tracks on side one, the song breaks down to a fine, mellow mid-section before returning for a blistering guitar lead and the final verse.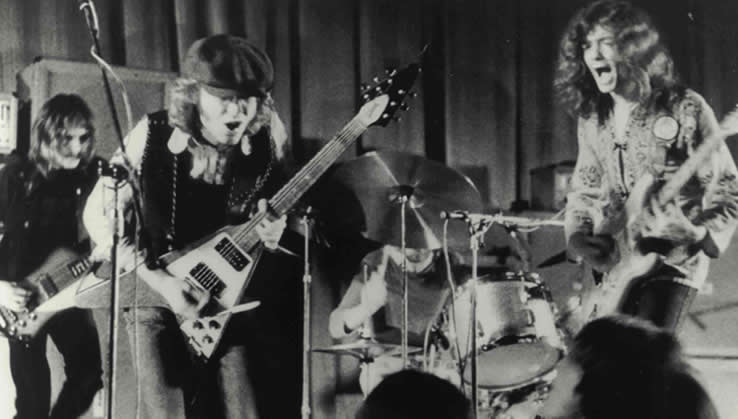 Side two is escorted in with the marching drum and regal-like tones of "The King Will Come". Unfortunately, the song proper here is much less interesting than the unique intro. "Leaf and Stream" follows as a pure folk song with the lead vocals accompanied by picked electric and a fine bass line. The album winds down with a mini-suite by Martin Turner and Andy Powell. "Warrior" has sparse vocals in between long stretches of atmospheric music before a full rock jam commences. "Throw Down the Sword" offers the perspective after the fight from "Warrior" is over. After a few brief verses, song and album complete with a duo guitar lead, leaving the listener on a high note.
The success of Argus propelled Wishbone Ash into the arena headliners and set the stage for further success through the mid seventies, before frequent lineup shifts chilled their momentum.
~

Part of Classic Rock review's Celebration of 1972 albums.