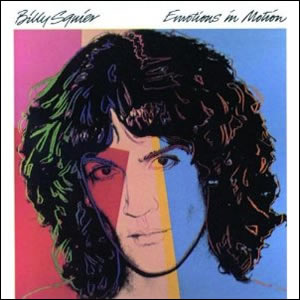 Billy Squier delivered a second straight solid hard rocker with 1982's Emotions in Motion, the third overall solo release by the Massachusettes native. While continuing much of the solid musical groundwork laid down by his 1981 breakthrough album Don't Say No (and with similar commercial success), this album also served to expand Squier's sound into the sub-genres of funk, new wave as well as other dance-oriented rock.
Like it's predecessor, Emotions in Motion was co-produced by Squier and Reinhold Mack and it reached the Top 5 of the pop albums charts while eventually gaining multi-platinum levels in sales. The sonic qualities of production tend to tilt towards the high-end of the EQ spectrum with the percussion being a little over-produced. However, the album's real saving grace is the compositions, all written solely by Squier, and strong enough to avoid sounding dated. The cover art for the album was created by Andy Warhol.

Emotions in Motion

by

Billy Squier
Released: July 23, 1982 (Capitol)
Produced by: Reinhold Mack & Billy Squier
Side One
Side Two
Everybody Wants You
Emotions In Motion
Learn How to Live
In Your Eyes
Keep Me Satisfied
It Keeps You Rockin'
One Good Woman
She's a Runner
Catch 22
Listen to the Heartbeat
Band Musicians
Billy Squier – Lead Vocals, Guitars
Jeff Golub – Guitars
Alan St. Jon – Keyboards, Vocals
Doug Lubahn – Bass, Vocals
Bobby Chouinard – Drums
The album commences with its biggest hit, "Everybody Wants You", which centers around a catchy, mechanical riff and a perfectly accessible hook. The bridge has a more dramatic feel before the song returns to its contagious, new wave grove. "Everybody Wants You" reached the top of Billboard's Top Rock Tracks chart, holding that spot for six consecutive weeks. The title song, "Emotions In Motion", takes a different approach with a bass-driven groove accented by a funky hard rock guitar by Jeff Golub and some of the backing vocal motifs by Queen's Freddie Mercury and Roger Taylor.
After a folksy opening riff which is accented by the saxophone of Dino Solera, "Learn How to Live" breaks into a dramatic hard rock verse and is soon realized as the first song which reaches the level of the better material from In the Dark. "In Your Eyes" continues the best sequence on the album as a pristine, acoustic power ballad with fantastic mood and melody as the song builds to a crescendo with synth counter melodies by Alan St. Jon as well as fine slide guitar licks. "Keep Me Satisfied" ends side one as a pure rock shuffle with almost a Southern feel, while "It Keeps You Rockin'" launches the second side with a slow and heavy musical thump contrasted by Squier's full-throated wails that give this track a real Zeppelin-esque feel. "One Good Woman" features a bass-driven funk with contrasting, whining guitars and a direct, driving drum beat by Bobby Chouinard. All this makes for a fine and unique rocker and one of the more undervalued gems on the album.
"She's a Runner" is the album's final high water mark, starting off with a deliberative electric riff solo accompanied by Squier's melodic and soulful vocals. When it fully kicks in, this track features a plethora of modern rock sonic treats, including a short but potent piano lead during the bridge. Next comes "Catch 22", a thumping, methodical rocker with some competing riffs and licks on the periphery, all held together by the glue of Doug Lubahn's bass. The album closes with a final attempt at hard rock and pop on "Listen to the Heartbeat", containing some great individual elements like a flanged guitar intro riff and decent hook. However, it seems a bit under-cooked as not everything works cohesively as a whole.
Following the release of Emotions in Motion, Squier hit the road with most of the players on this album and soon moved from a major opening act to an arena-level headliner before his career plateaued in 1984 and declined later in the decade.
~

Part of Classic Rock Review's celebration of 1982 albums.