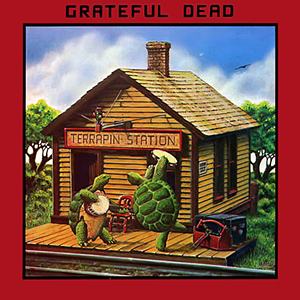 By the mid 1970s, the fiercely independent Grateful Dead decided to make a radical turn towards more conventional music business practices. Foremost in this new direction was the decision to abandon their own record label by signing with Clive Davis's then-new Arista Records as well as work with an outside producer for the first time in nearly a decade. The initial studio release following this new direction was 1977's Terrapin Station, which remains a highly regarded yet polarizing album four decades after its release.
In 1974, the Grateful Dead decided to take a hiatus from live touring and, for the next two years, the only band activity was the recording and release of the eccentric 1975 studio album Blues For Allah. In June 1976, the group resumed touring under new management and their Spring 1977 tour has been held in high regard as some of the best performances of their long career.
Terrapin Station was produced by Keith Olsen and recorded at Sound City Studios in Southern California. Olsen made a concerted effort to deliver a song cycle which could break through commercially. This included some post-production overdubs of strings, horns, saxophone and and choral vocals which caused some differing opinions among group members with the end results.

Terrapin Station

by

Grateful Dead
Released: July 27, 1977 (Arista)
Produced by: Keith Olsen
Recorded: Sound City Studios, Van Nuys, CA, November 1976 – May 1977
Side One
Side Two
Estimated Prophet
Dancin' in the Streets
Passenger
Samson And Delilah
Sunrise
Terrapin Station (Part 1)
Group Musicians
Bob Weir – Guitars, Vocals
Jerry Garcia – Guitars, Vocals
Bob Weir – Guitars, Vocals
Donna Jean Godchaux – Vocals
Keith Godchaux – Keyboards, Vocals
Phil Lesh – Bass
Bill Kreutzmann – Drums, Percussion
Mickey Hart – Percussion
The album begins with one of its most indelible tracks, "Estimated Prophet", written and sung by guitarist Bob Weir with lyrics by poet John Perry Barlow. This track is filled with great melodies, overt sonic riffs, jazzy leads and lyrics which seem to scorn the faithful optimist. Drummer Bill Kreutzmann forged a beat in the 14/8 time signature while session man Tom Scott added lyricon and saxophone to jazz up the song's arrangement.
The remainder of side one features eclectic song styles intended to be more radio-friendly material. "Dancin' in the Streets" is a full fledged, funk/disco cover of the Martha and the Vandellas hit but almost sounds like it belongs in some corny school play rendition in comparison. "Passenger" was written by bassist Phil Lesh and features harmonized lead vocals by Weir and Donna Jean Godchaux in an upbeat pop/funk song which was released as a single. "Samson & Delilah" is a traditional song arranged by Weir and it starts with some fine, oddly timed drums before settling into a signature Dead groove with guitars and bass. The first side concludes with "Sunrise", a folk ballad by Donna Godchaux with some added orchestrations behind.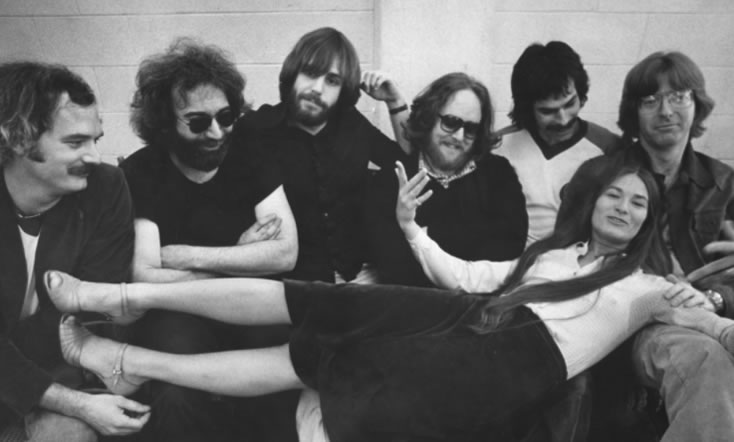 The entirety of side two is dedicated to the sixteen and a half minute, seven part "Terrapin Station" suite. It was written by Jerry Garcia and lyricist Robert Hunter and is a musical breath of fresh air in contrast to the somewhat disjointed first side of the album. The first part, "Lady with a Fan", was based on a traditional English folk song known as "The Lady of Carlisle", and features a theme of seduction and foolish bravery with a fantastic, harmonized guitar lead in between the Garcia-led verses. The next three "Terrapin" parts are more upbeat and climatic while remaining very pleasant and melodic. During "Terrapin Transit" the jam breaks into a slight psychedelic motif with synths, bass and much percussion by Mickey Hart, while "Terrapin Flyer" features richer production over the percussion motifs. "Refrain" includes an opera-like chorus as the final act of the adventure. This suite was actually Part 1 of a two part composition, the second of which was never recorded or performed by the Grateful Dead.
Terrapin Station was far from the hoped for commercial breakthrough for the group (that would not come for another decade with In the Dark), but it did reach the Top 30 on the Pop Albums charts and was eventually certified Gold. The Grateful Dead followed this album with a similar approach on Shakedown Street in 1978 before changing direction in the 1980s.
~

Part of Classic Rock Review's celebration of 1977 albums.