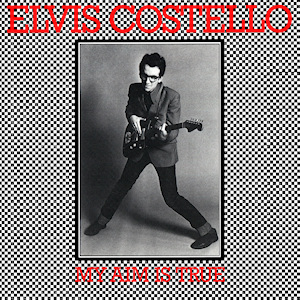 My Aim Is True is the debut album by Elvis Costello and it introduced the world to a hybrid sound that drew near equal influence from 1950s old time rock n' roll and 1970s cutting edge new wave and punk. The album and this artist also represented a (slightly controversial) changing of the guard in the rock world as this artist, with the adopted name "Elvis", put out his debut album within weeks of the death of the original Elvis (Presley) during the summer of 1977.
Born Declan Patrick MacManus, this English singer/songwriter began his career as part of London's pub rock scene in the early 1970s as well as performing in the Liverpool-based folk duo Rusty. Between 1974 and 1976, MacManus played in the rock band Flip City and adopted the stage name D.P. Costello, in tribute to his father who had performed under a similar stage name years earlier. During this time, Costello began to write original songs and a demo tape of this material led to a solo recording contract with Stiff Records and, at the suggestion of his manager, Elvis was added to his stage name for these new recordings.
My Aim Is True was recorded in multiple late-night, short studio sessions over the winter of 1976-1977. It was produced by Nick Lowe who would go on to produce each of Costello's first five studio albums. Backing Costello for this album were members of the country/rock band Clover (originally identified as"The Shamrocks"), who added an energy which gave the production a "live" feel. Left off the album, but later released as a single, was the reggae-fused track "Watching the Detectives", which would become Costello's first charting hit.

My Aim is True

by

Elvis Costello
Released: July 22, 1977 (Stiff)
Produced by: Nick Lowe
Recorded: Pathway Studios, London, 1976–1977
Side One
Side Two
Welcome to the Working Week
Miracle Man
No Dancing
Blame It on Cain
Alison
Sneaky Feelings
(The Angels Wanna Wear My) Red Shoes
Less Than Zero
Mystery Dance
Pay It Back
I'm Not Angry
Waiting for the End of the World
Primary Musicians
Elvis Costello – Lead Vocals, Guitars, Piano
John McFee – Guitars, Vocals
Sean Hopper – Piano, Keyboards, Vocals
Johnny Ciambotti – Bass, Vocals
Mickey Shine– Drums
A prolific composer, Costello wrote all the songs on My Aim is True and, although there is a wide range stylistically from song to song, they all seem to work cohesively as an album. The short but effective "Welcome to the Working Week" quickly morphs from doo-wop to new wave before it abruptly ends after about 80 seconds of running time leading to the more substantive "Miracle Man", a jam with rich instrumentation, an array of guitar textures and a bouncy bass by Johnny Ciambotti.
Next comes the heart of side one, starting with "No Dancing", featuring a Phil Spector-like beat and presented as almost a ballad but with thick and complex arrangement and multiple guitar styles by Costello and John McFee. "Blame It on Cain" features great pop / rock sensibilities with an upbeat blues, Jersey Shore rock shine, while the more mellow "Alison" combines slightly jazzy guitars and soulful vocals. This great melancholy pop song was written about a checkout girl at a local supermarket and features the line which gives this album its title. "Sneaky Feelings" returns to upbeat blues/pop to complete the first side.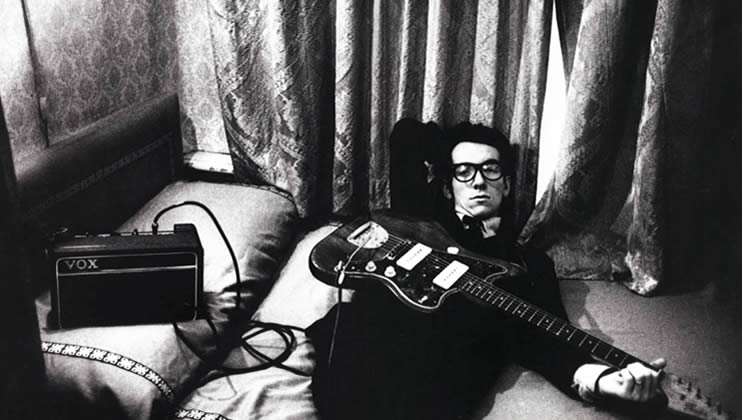 Side two begins with "(The Angels Wanna Wear My) Red Shoes", featuring fine melodies complemented by lazily picked guitar and a contrasting strong drum beat by Mickey Shine. "Less Than Zero" is a steady rocker with plenty of guitar and keyboard riffs under a lyric driven screed against a British fascist, while "Mystery Dance" is a pure fifties rocker throughout with an almost-punk tempo and time. "Pay It Back" returns to the standard Costello style, well established by this point in the album. "I'm Not Angry" sees a hard rock guitar over a quirky, choppy rhythm and an amplified whisper during the choruses, making for an interesting mix of sonic effects and an overall original song. The album ends strongly with one of its finest tunes, "Waiting for the End of the World". A nice use of dynamics between the laid back main riff and the strong chorus is combined with great percussion and a combo of rudiments throughout and a cool slide guitar in the choruses are featured in this song.
At the time of My Aim is True's release, Costello was still working at his "day job" and had already finished composing songs for his next album, This Year's Model, released in 1978. Further, Costello established his permanent backing band, the Attractions. A second version of My Aim is True was recorded with the new band with the intention of replacing the original tracks contained in My Aim Is True once the initial pressings had sold out. However, this never came to pass as the original recording gained critical momentum, a momentum which continues four decades later.
~

Part of Classic Rock Review's celebration of 1977 albums.