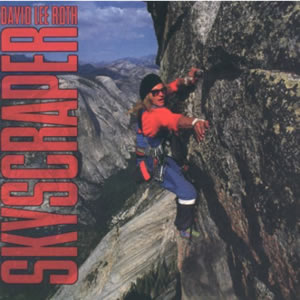 David Lee Roth's second full-length solo album, the commercially successful Skyscraper, has had mixed critical response since it was released in 1988. This album, while continuing much of the same good-time-hard-rock direction that Roth had personified throughout his career as a front man, also saw some subtle movement towards other sub-genres. Most of the compositions on Skyscraper were co-written by Roth and virtuoso lead guitarist Steve Vai.
Following the phenomenal success of Van Halen's 1984, Roth decided he would give a solo project a go. In early 1985 he released Crazy from the Heat, a four-song EP of cover tunes, which was popular due mainly to innovative music videos and creative character roles. From this latter pool, Roth planned to create of feature-length film and, although the project fell through, the move played a part in Roth officially parting ways from Van Halen in on April 1985. Later that year Roth assembled a backing group consisting of Vai, bassist Billy Sheehan and drummer Gregg Bissonette. This group along with long-time Van Halen producer Ted Templeman recorded and released the LP Eat 'Em and Smile in 1986 to widespread commercial and critical success.
For the production Skyscraper, Roth and Vai took the producer reigns. Recorded at various studios in Southern California in late 1987, this new arrangement gave the duo much creative freedom to try differing approaches. The original 1988 LP contained ten tracks while subsequent CD reissues incorporated the 1985 hits "California Girls" and "Just a Gigolo/I Ain't Got Nobody" from Crazy from the Heat.

Skyscraper

by

David Lee Roth
Released: January 26, 1988 (Warner Bros.)
Produced by: Steve Vai & David Lee Roth
Recorded: Capitol Records Studio, Smoketree, SNS, Stucco Blue & Sunset S, Los Angeles, Spring–Autumn 1987
Side One
Side Two
Knucklebones
Just Like Paradise
The Bottom Line
Skyscraper
Damn Good
Hot Dog and a Shake
Stand Up
Hina
Perfect Timing
Two Fools a Minute
Primary Musicians
David Lee Roth – Lead Vocals
Steve Vai – Guitars
Brett Tuggle – Keyboards
Billy Sheehan – Bass, Vocals
Gregg Bissonette – Drums, Percussion, Vocals
Co-written by Bissonette, the opener "Knucklebones" features a crisp, flanged guitar riff by Vai along with his later harmonized lead. Overall, the song is pretty catchy but standard hard rock with the apt hook for an opener "get the show on the road". The album's biggest hit song, "Just Like Paradise", follows. The composition, which was co-written by keyboardist Brett Tuggle, is accented by piano chords and features just enough catchy melodies and hook to propel it to the Top 10 on the US pop charts.
The rhythm-driven track "The Bottom Line" features a rapid double-kick drum and a rolling bass line by Sheehan, making it musically rewarding albeit a bit tacky lyrically. The title track "Skyscraper" features plenty of synth and vocal effects, rhythmic rudiments to add atmosphere and finely dissolves into a jazzy acoustic coda towards the end. The original first side finishes with the climatic ballad
"Damn Good", perhaps the highlight of the album. Led by the harmonized acoustic of Vai performed with a slightly Eastern bend, the song overall features just the right mix of melody and synth effects with a nostalgic lyrical nod by Roth back to the Van Halen years.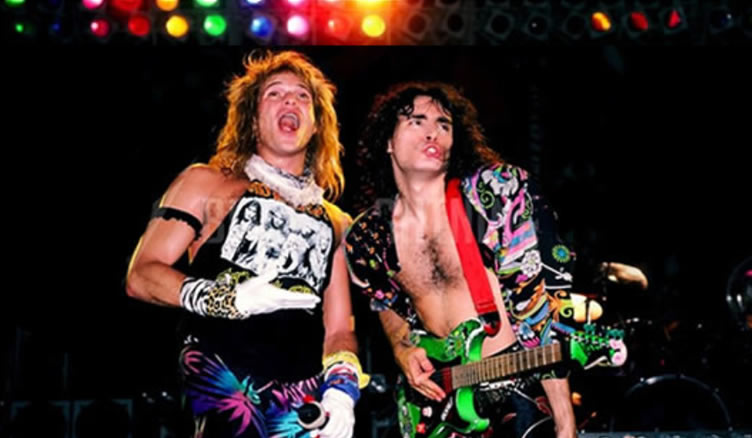 With "Hot Dog and a Shake", the album returns to straight-up, good-time hard rock along with some obvious sexual innuendo. "Stand Up" goes in another direction as a pure eighties electronic pop with plenty of synth bass and brass motifs by Tuggle, the kind of sound that, ironically, Roth had criticized former band mate Eddie Van Halen for just a few years earlier. Industrial guitar tones dominate the intro to "Hina", a unique track which results in one of the more interesting listens on this album. The album concludes with two more attempts at pop music, "Perfect Timing" and "Two Fools a Minute", the latter featuring a more interesting musical arrangement complete with fret-less bass and bluesy guitars.
Although Skyscraper sold over two million copies and reached Billboard's Top 10, the David Lee Roth band soon began to disintegrate with the departure of Sheehan soon after its release and Vai after its supporting tour. Roth's solo career never again gained much traction and he eventually reunited with Van Halen.
~

Part of Classic Rock Review's celebration of 1988 albums.