Buy The Notorious Byrd Brothers
Buy Sweetheart of the Rodeo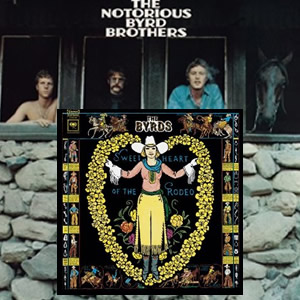 1968 was a transitional year for folk/rock group, The Byrds, in terms of both musical approach and lineup changes. During the year, the group released two albums, The Notorious Byrd Brothers and Sweetheart of the Rodeo. While each of these albums have their own distinct sound individually, they are extraordinarily disparate collectively, with The Notorious Byrd Brothers having a folk/rock/psychedelic sound and Sweetheart of the Rodeo moving radically towards traditional country and bluegrass.
The Byrds hit their commercial peak during the mid 1960s with the albums Mr. Tambourine Man, Turn! Turn! Turn!, Fifth Dimension and Younger Than Yesterday, as well as the multiple hit singles spawned from these first four albums. These were also encapsulated  on a Greatest Hits compilation released late in 1967. The group subtly evolved during the time span between their 1964 founding and the beginning of 1968, moving from melodic folk/rock/pop driven by multiple guitar textures towards a more underground psychedelic sound with sprawling instrumentation.
Producer Gary Usher, who had first worked with the group on Younger Than Yesterday, produced both of the 1968 albums and (especially on The Notorious Byrd Brothers) employed much innovative studio experimentation. The Notorious Byrd Brothers was recorded in the Autumn of 1967 and it musically reaches the apex of the Byrds' psychedelic endeavors. With a core folk rock skeleton, the succinct tracks on this album added subtle elements of baroque, jazz, country and the earliest elements of electronic music. While the album is lauded as one of the top albums by the Byrds, the recording sessions were plagued with tension, highlighted by the departure of drummer Michael Clarke and the firing of guitarist, vocalist and composer David Crosby due to his poor attendance at recording sessions and other controversial issues. Original band member Gene Clark, who had departed in early 1966, rejoined for a few weeks during production of The Notorious Byrd Brothers but swiftly left the group again.
For Sweetheart of the Rodeo, the group added Gram Parsons, a pioneer of country rock. As such, the the Byrds' overall sound evolved rapidly in that direction and they migrated to Nashville for much of the recording of the album and with many session musicians brought in to contribute. Like its predecessor, there were tensions during the production of Sweetheart of the Rodeo as well as some legal complications. Conceived by the initial concept by Roger McGuinn for the album that would become Sweetheart of the Rodeo was to expand upon the genre-spanning approach of the Byrds' previous LP, The Notorious Byrd Brothers, by recording a double album overview of the history of American popular music. The planned album would begin with bluegrass and Appalachian music, then move through country and western, jazz, rhythm and blues, and rock music, before culminating with futuristic proto-electronica featuring the Moog modular synthesizer.

The Notorious Byrd Brothers

by

The Byrds
Released: January 15, 1968 (Columbia)
Produced by: Gary Usher
Recorded: Columbia Studios, Hollywood, June–December, 1967
Side One
Side Two
Artificial Energy
Goin' Back
Natural Harmony
Draft Morning
Wasn't Born to Follow
Get to You
Change Is Now
Old John Robertson
Tribal Gathering
Dolphin's Smile
Space Odyssey
Sweetheart of the Rodeo

by

The Byrds
Released: August 30, 1968 (Columbia)
Produced by: Gary Usher
Recorded: Columbia Studios, Nashville & Hollywood, March-May 1968
Side One
Side Two
You Ain't Goin' Nowhere
I Am a Pilgrim
The Christian Life
You Don't Miss Your Water
You're Still on My Mind
Pretty Boy Floyd
Hickory Wind
One Hundred Years from Now
Blue Canadian Rockies
Life in Prison
Nothing Was Delivered
Primary Musicians (Both Albums)
Roger McGuinn -Guitars, Banjo, Vocals
Chris Hillman – Bass, Mandolin, Vocals
Gary Usher – Keyboards, Percussion, Vocals
The Notorious Byrd Brothers begins with the entertaining and inventive "Artificial Energy", co-written by Clarke, bassist Chris Hillman and guitarist/vocalist Roger McGuinn. The song features a choppy rock and rhythm with sharp, distant horns and lyrics that deal with the dark side of dependency on the drug "speed". "Goin' Back" is one of a few tunes co-written by Carole King and Gerry Goffin and it employs a more traditional Byrds' folk rock sound, complete with chiming 12-string guitar and polished harmonies. Hillman's "Natural Harmony" follows as a short atmospheric song with plenty of sonic effects, including the use of an early Moog synthesizer.

Crosby's "Draft Morning" is a bass-led protest tune with a soft psychedelic vibe and a clever use of military march and weapons sounds in contrast, culminating with a slight guitar lead playing "Taps" at the very end. King and Goffin's "Wasn't Born to Follow" is pure sixties folk with some Simon and Garfunkel lyrical and melodic style blended with country and psychedelic elements. The waltz-like "Get to You" was co-written by Clark and completes the original first side.
"Change Is Now" features fine guitar work on differing levels and good musical textures throughout, leading to the short country romp, "Old John Robertson", a tribute by a retired film director. This is followed by the final two Crosby songs, "Tribal Gathering", which offers a nice change in vibe with rapid vocal delivery, and the effect-laden "Dolphin's Smile". Closing out the album is "Space Odyssey", a droning and chanting tribute to Arthur C. Clarke's short story and Stanley Kubrick's contemporary film.
Overall, The Notorious Byrd Brothers is distinct and inventive but suffers from very quick turnarounds as certain moods are introduced and quickly abandoned. In contrast, Sweetheart of the Rodeo is a much more focused album but the group seems to overall be outside of their natural element and musical comfort zone.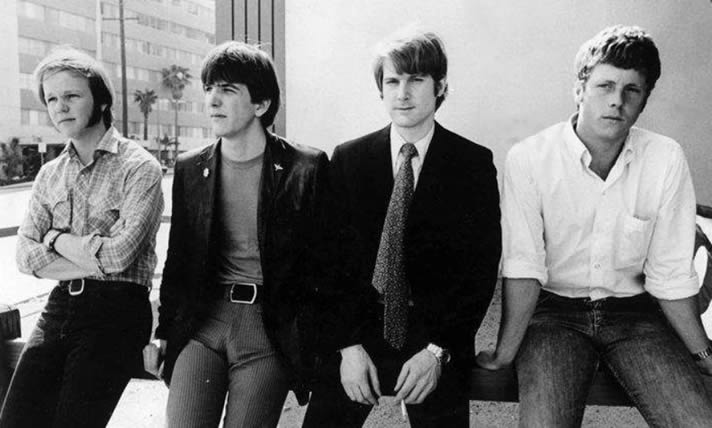 Sweetheart of the Rodeo is bookmarked by covers of a couple of unreleased Bob Dylan tunes. Right from the jump on the opener "You Ain't Goin' Nowhere", it is clear that the Byrds are moving in a different direction with the heavy use of steel guitar, and good country melody and harmonies. The closer "Nothing Was Delivered" is a bit more interesting in its rich harmonies and cool, thumping refrain which works counter to otherwise country/blues rhythm.

Much of the rest of this album is filled with contemporary covers and the occasional traditional song, such as "I Am a Pilgrim", which has a vibe of pure back-country, porch country-blues with fiddle and banjo really taking the forefront and smooth lead vocals by Hillman. Other highlights of Sweetheart of the Rodeo include William Bell's philosophical "You Don't Miss Your Water", Woody Guthrie's "Pretty Boy Floyd", and a couple of Parsons' compositions, "Hickory Wind" and "One Hundred Years from Now".
After the completion of Sweetheart of the Rodeo in Nashville, The Byrds appeared at the Grand Ole Opry but was greeted harshly by country music purists. Soon Parsons ended his short stint with the band and the Byrds finished out the 1960s as an altered and truncated rock band.
~

Part of Classic Rock Review's celebration of 1968 albums.