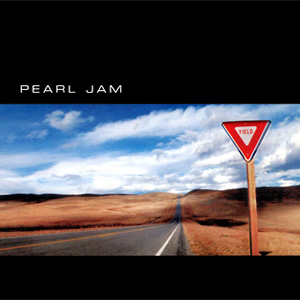 Pearl Jam's fifth studio album, Yield, has been viewed as a commercial rebound for the band after a slight drop in popularity during the mid 1990s. The album saw a return to the more straightforward grunge/rock of the group's early work with structured compositions and a deliberative recording process. The album's title and theme was influenced by Daniel Quinn's novel Ishmael which proposes the idea of yielding to the gods and nature to "save the world".
Pearl Jam found instant acclaim with their 1991 debut album Ten and continued this success with further hit albums Vs. (1993) and Vitalogy (1994). Through this period, the band members were never quite comfortable with their success and tried to temper their exposure by refusing to make videos for their single releases. When Ticketmaster refused to waive the service charges on concerts at major venues, Pearl Jam created from scratch outdoor venues in rural areas for several mid nineties tours.
Yied was recorded throughout the year 1997 at multiple studios in Atlanta, Georgia and their home city of Seattle, Washington. Producer Brendan O'Brien, who had worked with the band on their previous three records through 1996's No Code. This album also continued the band's revolving drummer situation as it was Pearl Jam's last release with their third drummer Jack Irons.

Yield

by

Pearl Jam
Released: February 3, 1998 (Epic)
Produced by: Brendan O'Brien & Pearl Jam
Recorded: Studio Litho & Studio X, Seattle, Southern Tracks Recording & Doppler Studios, Atlanta, February–September 1997
Track Listing
Group Musicians
Brain of J.
Faithfull
No Way
Given to Fly
Wishlist
Pilate
Do the Evolution
Untitled
MFC
Low Light
In Hiding
Push Me, Pull Me
All Those Yesterdays
Eddie Vedder – Lead Vocals, Guitar
Stone Gossard – Guitars, Bass Vocals
Mike McCready – Guitars
Jeff Ament – Bass, Vocals
Jack Irons – Drums, Percussion, Vocals
Kicking things off, "Brain of J." features a cool classic hard rock vibe led by the riffing of guitarist Mike McCready. "Faithfull" is another crisp rocker with a bit of a mid-seventies era Aerosmith feel through most of the track, although after a false ending comes a jazzy final verse coda with strummed guitar and bouncy bass by Jeff Ament. "No Way" follows, driven by a  steady drum beat and rotating guitar riff.
The song's most indelible track, "Given to Fly" is fueled by a simple but sweet flange-effected guitar riff with marching drums by Irons and somber, alternative style vocal delivery by Eddie Vedder. This instant classic gains some nice intensity as it heads for the climatic hard rock hook and then nicely marches away after just two verses. The song topped the Billboard Mainstream Rock Tracks charts as well as peaked in the Top 30 of the U.S. pop charts. Vedder's "Wishlist" was another minor hit as a simple and somber alternative pop song featuring an atmospheric, pedal drenched guitar lead. This is followed by "Pilate" with droning verses giving way to a Kinks-like rock chant in the chorus. The song is notable as founding member Ament's first lyrical contribution to a Pearl Jam track to date.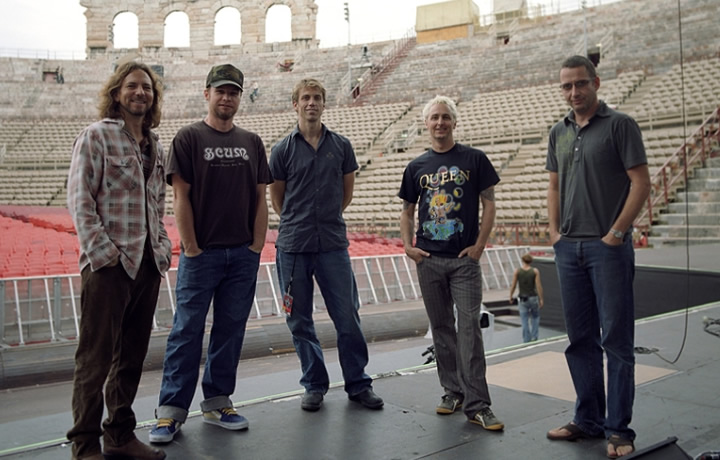 The punk-like barking over two power chords of "Do the Evolution" breaks only for the chorus with Stone Gossard providing both guitar and bass on the track. Next comes a couple of short filler tracks before the fine "Low Light", a song driven mainly by acoustic guitar with slight guitar effects and atmosphere, philosophical lyrics and a cool, odd waltz rhythm and timing. Gossard also provides music for "In Hiding", featuring another unique arrangement and change of timing along with a good melody throughout, and the closing quasi-ballad "All Those Yesterdays", which comes complete with an interesting arrangement and a showy guitar lead.
Yield reached the Top 10 on charts throughout the Western world, peaking at number two in the USA. Former Soundgarden and Temple of the Dog drummer Matt Cameron joined Pearl Jam for the 1998 Yield tour and remains with the group 20 years on.
~

Part of Classic Rock Review's celebration of 1998 albums.