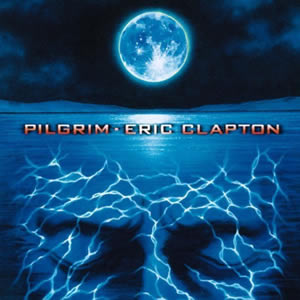 The thirteenth overall studio album of his then-decades long solo career, Pilgrim was the first record by Eric Clapton in nearly a decade to feature all new studio material. The songs on this album trend towards refined and stylish adult-oriented rock with heavy pop sensibilities and nods towards R&B, soul and the blues. This lengthy album features 14 tracks, totaling over 75 minutes of mostly original music which was composed and compiled by Clapton over several years through the mid 1990s.
The previous studio album by Clapton with all new material was Journeyman in 1989. The early 1990s brought much tragedy, first when fellow blues guitarist and then current tour member Stevie Ray Vaughan was killed in a helicopter crash in August 1990, then in March 1991 Clapton's four-year-old son Conor died after falling from the 53rd-floor window of a New York City apartment at 117 East 57th Street. Clapton expressed the grief of losing his son in the 1991 Grammy-winning song "Tears in Heaven", which also anchored his successful 1992 live Unplugged album. In 1994, Clapton released Cradle, an album of reinterpreted versions of blues standards, followed by highly successful singles in 1995 ("Love Can Build a Bridge") and 1996 ("Change the World").
Co-produced by Simon Climie, Pilgrim was recorded throughout 1996 and 1997 for release in early 1998, with the title track being the initial composition. Clapton's goal was reportedly to make "the saddest record of all time" with more personal songs about his son and others close to him.

Pilgrim

by

Eric Clapton
Released: March 10, 1998 (Reprise)
Produced by: Simon Climie & Eric Clapton
Recorded: Olympic Studios, London & Ocean Studios, Los Angeles,1996-1997
Track Listing
Primary Musicians
My Father's Eyes
River of Tears
Pilgrim
Broken Hearted
One Chance
Circus
Going Down Slow
Fall Like Rain
Born in Time
Sick and Tired
Needs His Woman
She's Gone
You Were There
Inside of Me
Eric Clapton – Guitars, Vocals
Dave Bronze – Bass
Steve Gadd – Drums
The album begins with the subdued reggae rhythms of "My Father's Eyes", a song which advances methodically with some blues slide guitar throughout and more overt blues lead later. The song, which reached the Top 40 as the album's lead single, features lyrics inspired by the fact that Clapton never met his father, who died in 1985. "River of Tears" is a pure, slow blues song with an electronic synth base, a fretless bass, and some machine-generated drumming, with an extended intro which contributes to its seven minute running time.
"Pilgrim" has a more distinct R&B feel due to Clapton's breathy, higher-register vocals and a heavy Curtis Mayfield inspiration, while "Broken Hearted" was co-written by keyboardist Greg Phillinganes and has the feel of a traditional Clapton pop song with very melodic vocals throughout. "One Chance" begins with a scratchy-record effect to set the intended context for this funky R&B track with distinctly blues vocals. "Circus" is a haunting and beautiful acoustic shuffle with slightly weepy vocals by Clapton. He wrote the song about the last night he spent with his son Conor (when the two attended a circus) and it was originally written and recorded for the 1992's Unplugged, but that version was ultimately left off that album.
Jimmy Oden's "Going Down Slow" is one of two covers on the album and features great heavy blues guitar. Bob Dylan's "Born in Time" is the other cover and returns to the predominant sound arrangement, which works well here behind Clapton's vocal interpretation. "Fall Like Rain" has an upbeat shuffle with pleasant sonic elements, such as layered acoustic and electric guitars, which provide a more organic feel in contrast to the electronic instrumentation.
Coming down the stretch of the album are songs which mainly cover familiar ground. "Sick and Tired" has a live feel with a traditional blues arrangement with some surprising strings added towards the end of the song. "Needs His Woman" starts off as a pure, quiet acoustic ballad before full, slick arrangement, which actually distracts from the underlying beauty, while the closing track "Inside of Me" returns to the electronic R&B sound. The best track of the latter part of the album is "You Were There", a pleasant, methodical ballad with consistent rhythms augmented by moody chords and melody. As this song progresses it has a strong uplifting effect, complemented by Clapton's fine closing guitar lead.
Although Pilgrim received mixed critical reviews, it sold over 4 million copies worldwide, reached the Top 10 in nearly two dozen countries and was nominated for several music awards, making it one of Clapton's most commercially successful albums.
~

Part of Classic Rock Review's celebration of 1998 albums.