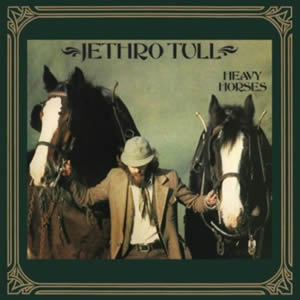 During a the late 1970s, Jethro Tull released a trio of albums with heavy folk influence. The second of this trio and the eleventh overall studio album by the band is 1978's Heavy Horses. This album features strong and consistent tunes which take a journey into a rural landscape of folklore and the underlying simple theme of an honest day's work. Further, in spite of going against the day's prevailing musical trends of punk and new wave, Heavy Horses was a commercial success on both sides of the Atlantic as the album reached the Top 20 on both the UK and US album charts following its release.
Following several successful forays into progressive rock through the early and mid seventies and accompanying large arena tours, Jethro Tull and their primary composer Ian Anderson decided to scale back and develop more simple folk rock songs. The critically acclaimed 1977 album, Songs from the Wood, reflected on English culture and history and was the first to include new member David Palmer, who brought many classical elements into the fold.
Produced by Anderson, Heavy Horses was recorded in London during a time when he was settling into a domestic life with his new wife and son. Just prior to this album's recording in 1977, Pink Floyd released their classic album Animals, which explored differing human personality types. Heavy Horses may more exactly fit that literal title as it lyrically sees things from the perspective and environment of several rural creatures.

Heavy Horses

by

Jethro Tull
Released: April 10, 1978 (Chrysalis)
Produced by: Ian Anderson
Recorded: Maison Rouge Studio, Fulham, England, May 1977-January 1978
Side One
Side Two
…And the Mouse Police Never Sleeps
Acres Wild
No Lullaby
Moths
Journeyman
Rover
One Brown Mouse
Heavy Horses
Weathercock
Group Musicians
Ian Anderson – Lead Vocals, Guitars, Flute, Mandolin
Martin Barre – Guitars
John Evan – Piano, Organ
David Palmer – Keyboards, Orchestral Arrangements
John Glascock – Bass, Vocals
Barriemore Barlow – Drums, Percussion
A tense rhythmic timing drives the acoustic-driven opener "…And the Mouse Police Never Sleeps", a song which is probably more prog rock than folk, complete with strategic stops and dueling flute and organ solos. The track lyrically describes the movement of a barn cat with creative adjectives, describing the process of the night guard and hunt. "Acres Wild" follows as a mandolin driven, pop-oriented rocker with heavy Celtic influence musically and lyrics which paint a picture of playing long while on a journey.
"No Lullaby" is the first of two extended songs and it starts with a heavy rock guitar intro by Martin Barre, followed by the showcasing of drummer/percussionist Barriemore Barlow as it eases into a slow, methodical rhythm, About two minutes in, this mini-suite takes a radical turn to a more upbeat, tense-filled shuffle before again returning to the methodical verse section and lead flourishes. The bright and pleasant folk tune "Moths" features harpsichord by John Evan along with other ethnic string instrumentation as it expertly alternates keys throughout its short duration. A philosophical creed on living for today, "Moths" displays the scene from different perspectives and with sincere emotion. "Journeyman" starts with a funky bass riff by John Glascock as the rest of the group builds around musically, each finding their own small space within the song.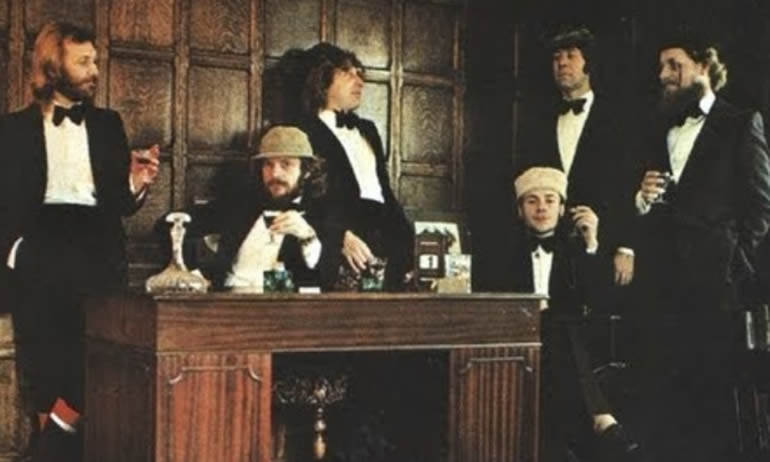 The album's original second side starts with "Rover", a tribute to Anderson's pet dog which features a more traditional Jethro Tull soundscape. With lyrics telling of story time with a young child, "One Brown Mouse" starts and ends as straight folk/rocker but nicely diverges into a mid-section of folk orchestration. The epic, nine-minute title track plays on differing intensities of the same musical theme, as the song is a literal tribute to the work-horse. It all wraps with "Weathercock", a theme on the rotational nature of life as album ends at the break of dawn and a simple musical arrangement, built with acoustic, mandolin, organ and other simple elements.
Jethro Tull recorded performances during the European leg of the Heavy Horses tour, and later in 1978 released a live double album called Bursting Out. In March 2018, the group released a five-disc, 40th anniversary version of Heavy Horses, which features several alternate and outtakes, 22 previously unreleased live tracks, and a 96-page booklet with track-by-track annotation by Anderson of the album and its associated recordings.
~

Part of Classic Rock Review's celebration of 1978 albums.