Buy Living in the Material World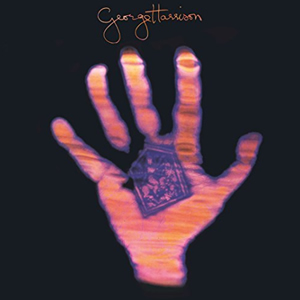 Living in the Material World was the fourth overall studio album (and second pop/rock release) by former Beatle George Harrison. This long-anticipated 1973 album is distinct in both Harrison's initial major role as a record producer as well as for its strongly spiritual and philosophical lyrics. The themes were driven by Harrison's strong devotion to Hindu spirituality in general and to Krishna consciousness in particular, with some songs contrasting the need for inner peace while being a musician with worldwide popularity.
Following the tremendous critical and commercial success of his 1970 triple album All Things Must Pass, Harrison embarked on a humanitarian aid project to raise money for the people of Bangladesh, culminating with two Concert for Bangladesh shows and a subsequent live album. During this same time period (1971-1972), Harrison also produced a few singles for fellow Beatle Ringo Starr and helped promote Raga, the documentary on Ravi Shankar. Finally, in late 1972 he was ready to start recording his next studio album.
In contrast with its predecessor, Living In the Material World featured scaled down production by Harrison. He had originally planned on bringing in Phil Spector to co-produce but once recording sessions got under way, Harrison had gathered a core backing group and was the project's sole producer. While Harrison performed all the guitar parts on the album, he employed pianist Nicky Hopkins, keyboardist Gary Wright, bassist Klaus Voormann and drummer Jim Keltner for most tracks. These recording sessions in London took a bit longer than expected, resulting in the intended release date being pushed back.

Living In the Material World

by

George Harrison
Released: May 30, 1973 (Apple)
Produced by: George Harrison
Recorded: Apple Studios & Abbey Road Studios, London, October 1972-March 1973
Side One
Side Two
Give Me Love (Give Me Peace on Earth)
Sue Me, Sue You Blues
The Light That Has Lighted the World
Don't Let Me Wait Too Long
Who Can See It
Living in the Material World
The Lord Loves the One
(That Loves the Lord)
Be Here Now
Try Some, Buy Some
The Day the World Gets 'Round
That Is All
Primary Musicians
George Harrison – Lead Vocals, Guitars, Dobro, Sitar
Nicky Hopkins – Piano
Gary Wright – Organ, Harmonium
Klaus Voormann – Bass
Jim Keltner – Drums, Percussion
The album commences with the pleasant hit "Give Me Love (Give Me Peace on Earth)", which features a simple, repeated verse that is expertly accented by Harrison's lead guitar and a gentle but potent piano by Hopkins. With lyrics he described as "a prayer and personal statement between me, the Lord, and whoever likes it" this track became Harrison's second #1 song in the US and also reached the Top 10 in several other countries. "Sue Me, Sue You Blues" is much in contrast with the opening track, built on loose piano honky-tonk backing lyrics inspired by Paul McCartney's lawsuit to dissolve the Beatles' joint partnership, Apple Corps.
"The Light That Has Lighted the World" is a melancholy piano ballad with weepy lead vocals, acoustic strumming and a fine lead over top, while "Don't Let Me Wait Too Long" is a bright, upbeat pop love song written for Harrison's wife, Pattie Boyd. "Who Can See It" returns to the melodramatic devotional featuring a subtle, Leslie guitar lead. The original first side concludes with the upbeat, happy-go-lucky title track with Hopkins' piano again holding things together along with the thumping bass/drum rhythm. "Living In the Material World" also features strategic stops for slower breaks with much instrumentation including a sitar section and an extended sax lead.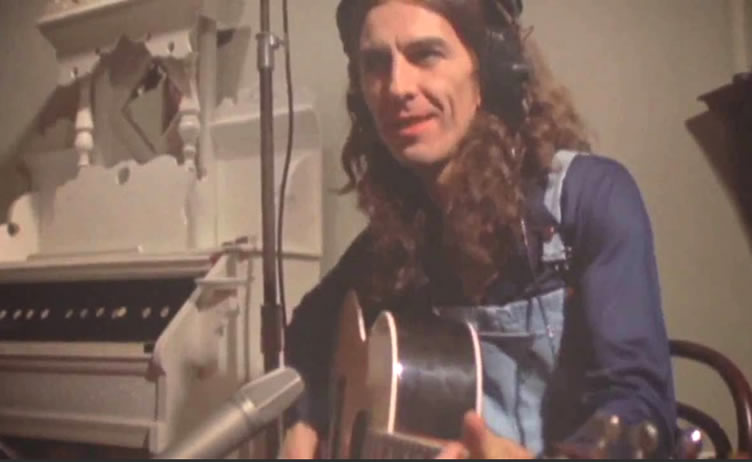 The second side opens with the excellent composition, "The Lord Loves the One (That Loves the Lord)" with melodic vocals and musical flourishes, leading to climatic slide lead to end the track. Lyrically, Harrison sought feedback about Krishna philosophy, which encouraged him to develop such themes that are unorthodox in popular music. "Be Here Now" is a quiet and surreal acoustic ballad with some earthy and ethereal sounds, as "Try Some, Buy Some" (a leftover from 1970 co-produced by Spector) is a musical waltz built on a descending riff and it reaches for grandiose heights with horns and other "wall of sound" production techniques. Next comes the Beatlesque acoustic ballad "The Day the World Gets 'Round", short and sweet but with rich production. The album concludes with the aptly titled "That Is All", a forotten classic filled with melancholy emotion and musical aptitude, where Harrison really stretches his vocal range with high-pitched sustained notes.
Living In the Material World topped the charts in the US and reached #2 in the UK while achieving Gold record certification. In a continuation of his charitable work, Harrison donated his copyright for most of the tracks to his Material World Charitable Foundation, which ultimately ensured a stream of income for the charities of his choice. Following the album's release, Harrison became the first ex-Beatle to tour North America when he toured with a large ensemble of musicians starting in 1974.
~

Part of Classic Rock Review's celebration of 1973 albums.