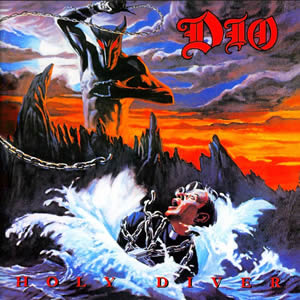 Holy Diver is the 1983 debut studio album by Dio, led by veteran rock vocalist Ronnie James Dio. Drawing on the influences of multiple contemporaries in pop and rock music, this platinum selling album has been historically viewed as a hallmark moment in the evolution of heavy metal, a genre which proliferated through the decade of the 1980s. Dio's lyrics center on the topics o good and evil and draw from subjects from classic heroic adventure elements to some of the dark realities of contemporary life.
Ronnie Jame Dio became the second lead vocalist for Black Sabbath in late 1979, as that group's original vocalist Ozzy Osbourne embarked on his own solo career. With Dio, the group found a commercial rebound as both 1980's Heaven and Hell and 1981's Mob Rules became Top 40, Gold selling albums. However, during the mixing of 1982's live album, disagreements ensued which resulted in both Dio and drummer Vinny Appice leaving the band. Both wanted to form a new band, so Dio recruited his former Rainbow band mate, bassist Jimmy Bain and (following the Ozzy Osbourne model) recruited a young, then unknown guitarist named Vivian Campbell to complete the rock quartet.
By the time Campbell joined, most of the material which would appear on Holy Diver had already been composed. Dio had long been courted by Warner Bros. records to work on a solo project, so production and recording arrangements swiftly fell into place.

Holy Diver

by

Dio
Released: May 25, 1983 (Warner Bros.)
Produced by: Ronnie James Dio
Recorded: Sound City Studios, Van Nuys, CA, 1983
Side One
Side Two
Stand Up and Shout
Holy Diver
Gypsy
Caught in the Middle
Don't Talk to Strangers
Straight Through the Heart
Invisible
Rainbow In the Dark
Shame on the Night
Group Musicians
Ronnie James Dio – Lead Vocals, Synthesizers
Vivian Campbell – Guitars
Jimmy Bain – Bass, Keyboards
Vinny Apice – Drums
Holy Diver kicks off with the straight up, hard rocking "Stand Up and Shout", a song of rebellion containing all the prime elements which would come define 80s metal – straight-forward message, flamboyant vocals, crunchy riffing under whining leads and plenty of animated drum fills. The title song is introduced by a long atmospheric intro before the marching riff-driven music enters. A unique anthem of the day which has grown to be one of Dio's most popular tracks, "Holy Diver" features the first of many excellent, deliberative guitar leads by Campbell. "Gypsy" is delivered in blistering fashion, while "Caught in the Middle" is a more melodic rocker and it displays the group at its tightest with fine delivery and great production. "Don't Talk to Strangers" features a quiet, melodramatic acoustic intro with Dio's vocals hitting an especially high register before the band launches into full gear for this side one closer.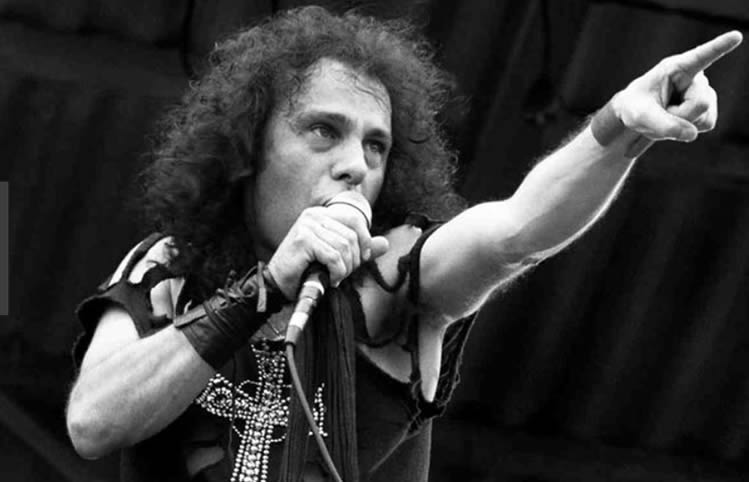 The original side two is the real heart of the album, where Dio the group really gels at their best. "Straight Through the Heart" was co-written by Bain and features some great musical rudiments with strategic stops and fills by Appice and a cool, melodic bridge. The most unique moment on album is the intro to "Invisible" with a heavily flanged guitar and dry vocals soon contrasted by the heavy jam and majestic vocals of the song proper. Later on, Campbell's lead patiently works its way in before he unleashes some fine fingerboard effects, while Dio's lyrical profiency is on full display;
"she was a photograph just ripped in half, a smile inside a frown…"
The most accessible rock song on the album is "Rainbow in the Dark", which features a prominent keyboard riff by Dio and a catchy hook and theme which seems to reference Dio's late seventies rock band. A radio favorite and charting rock track, "Rainbow in the Dark" is anchored by a doomy yet uplifting guitar riff which blends especially well with the later guitar lead. "Shame on the Night" seems to have borrowed the opening howl from Deep Purple's classic "Hush" (perhaps another veiled shot at ex-band mate Ritchie Blackmore?). This closing track has a slow and sloshy delivery which gives Dio's vocal full frontal expression and the differing sections in bridge and extended coda also give this a definitive prog rock feel.
Building on the commercial and critical success of Holy Diver, the group delivered a similarly effective follow up with 1984's The Last in Line and continued on as a successful group through most of the eighties decade.
~

Part of Classic Rock Review's celebration of 1983 albums.