Buy The Smoker You Drink, the Player You Get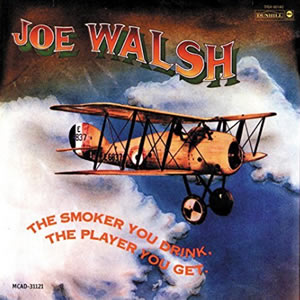 The second of two albums featuring singer-songwriter and multi-instrumentalist Joe Walsh with his backup group Barnstorm, The Smoker You Drink, the Player You Get features a fine selection of diverse rock, blues, folk and jazz. This diversity in style is parallel to the diversity of composers within Barnstorm as well as the multiple lead vocalists throughout the album. As a result, this 1973 album proved to be a commercial breakthrough for Walsh and the band, reaching the Top 10 in the United States.
After much success with James Gang, Walsh decided to leave that rock trio in late 1971. He relocated to Colorado, where he formed the band Barnstorm, with bassist Kenny Passarelli and drummer/multi-instrumentalist Joe Vitale. Very soon after forming, the group started recording their debut album, which was originally released as the eponymous Barnstorm (later listed as a Joe Walsh solo album) in October 1972. While a critical success, the album had only moderate commercial success.
The group immediately began work on a follow-up in late 1972 with producer Bill Szymczyk. Recorded throughout the winter of 1972-1973, this second album features a fourth Barnstorm member, keyboardist Rocke Grace, although the album is fully credited to Walsh as a solo artist.

The Smoker You Drink, the Player You Get

by

Joe walsh
Released: June 18, 1973 (ABC-Dunhill)
Produced by: Joe Walsh & Bill Szymczyk
Recorded: 1972-1973
Side One
Side Two
Rocky Mountain Way
Book Ends
Wolf
Midnight Moodies
Happy Ways
Meadows
Dreams
Days Gone By
Day Dream (Prayer)
Primary Musicians
Joe Walsh – Guitars, Bass, Keyboards. Vocals
Kenny Passarelli – Guitars, Bass, Vocals
Rocke Grace – Keyboards, Vocals
Joe Vitale – Drums, Percussion, Drums, Keyboards, Flute, Vocals
The album begins with its most popular and indelible track, "Rocky Mountain Way", compositionally credited to all four Barnstorm members. This entertaining, methodical rocker features a masterful coda section with an impressive talk box lead followed by Walsh's signature slide guitar as the song fades out. Lyrically, the song was inspired by Walsh reflecting on his decision to leave the James Gang and move to Colorado and it became Walsh's first Top 40 hit.
Vitale's "Book Ends" is a Bowie-esque glam ballad with piano and nicely treated guitars on top, while the drummer takes on lead vocals duties, followed by the dark folk, almost pyschedelic vibe of "Wolf", where the minimal arrangement lets the full sonic effect shine through as well as concentrate on Walsh's vocal delivery. "Midnight Moodies" is a jazzy, piano-led instrumental composed by Grace, with some good rhythms, slight rock guitar as well as plenty of flute flourishes by Vitale. "Happy Ways" features lead vocals by bassist Passarelli along with plenty of extra percussion added by Vitale and session percussionist Joe Lala.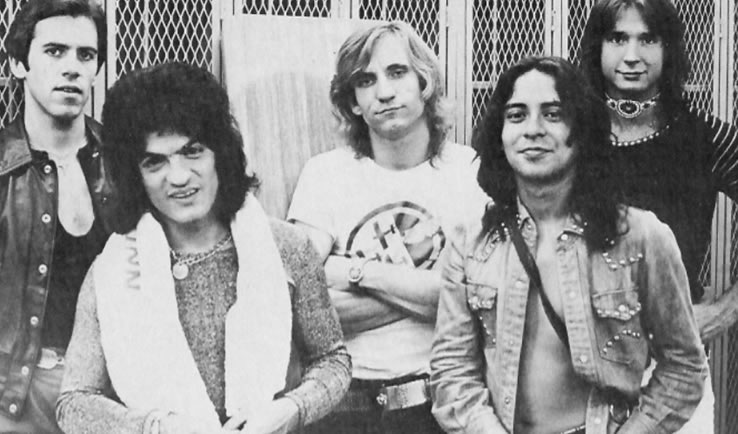 The album's original second side begins with "Meadows", a rocker with multiple dynamics throughout from the hard rocking chorus to the quiet acoustic mid section. "Dreams" may be the best overall song on the second side as a very unique track which highlights Barnstorm's musical talent and versatility. It alternates from quiet jazz ballad to upbeat Gospel sound with piano and organ playing a large musical role throughout. Vitale's "Days Gone By" is a pleasant enough jazz/pop/rocker but an odd one as the final proper song on the album, being a sort of fusion between the sounds of Moody Blues, Pink Floyd and a Broadway show tune. "Day Dream (Prayer)" was constructed as a stand-alone coda, featuring rich backing vocals by guests Venetta Fields and Clydie King and really only one proper verse before a long fade out ending the album.
In 1974, Walsh played slide guitar on Vitale's debut solo album, Roller Coaster Weekend, continuing a decades long musical relationship between the two despite the fact that Barnstorm would break up following The Smoker You Drink, the Player You Get. Later that same year, Walsh released his first totally solo record, So What, which was much more introspective and much less musically diverse than this final Barnstorm album.
~

Part of Classic Rock Review's celebration of 1973 albums.