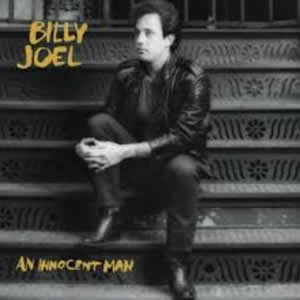 Billy Joel took a musical detour by forging an album of interpretive styles on An Innocent Man, his ninth studio album. Here, Joel pays homage to various musical styles which were popular during his formative years in the late 1950s and early 1960s, while finely showcasing his own music diversity and vocal skills. Despite being unique in his catalog, this album continued Joel's streak of Grammy-nominated albums and top commercial success, with An Innocent Man spaning six Top 40 hits.
The heavy material and rich production of Joel's 1982 release, The Nylon Curtain was an overall exhausting experience for this artist. Further, Joel was recently divorced and found himself single for the first time following his rise to international fame. Joel said he felt like a teenager again and thus reverted back to the various popular music styles of those years. In early 1983, he quickly wrote several compositions, each in a distinct style and/or as a tribute to a distinct artist.
Although this album was stylistically different than anything Joel had done before, for his backing group he maintained the same personnel he had performed with since the mid 1970s and once again brought in producer Phil Ramone, who had produced Joel's five previous albums.

An Innocent Man

by

Billy Joel
Released: August 8, 1983 (Columbia)
Produced by: Phil Ramone
Recorded: Chelsea Sound and A&R Recording, New York, Spring 1983
Side One
Side Two
Easy Money
An Innocent Man
The Longest Time
This Night
Tell Her About It
Uptown Girl
Careless Talk
Christie Lee
Leave a Tender Moment Alone
Keeping the Faith
Primary Musicians
Billy Joel – Lead Vocals, Piano, Keyboards
Russell Javors – Guitars
Mark Rivera – Saxophone, Percussion, Vocals
Doug Stegmeyer – Bass
Liberty DeVitto – Drums
An Innocent Man is bookmarked by two of its more upbeat tracks, starting with "Easy Money", a homage to Wilson Pickett and/or James Brown. Musically this song features guest Leon Pendarvis on Hammond B3 organ and a generous amount of soulful brass, and although not released as single, this album opener was immediately featured as the theme of a major motion picture of the same name, starring Rodney Dangerfield. The title song, "An Innocent Man", is an absolute masterpiece. In fact, this soulful and dynamic ballad may well be Joel's best overall song of the entire decade of the 1980s. It is a masterpiece of production and arrangement as it migrates from a simple bass and percussion arrangement into a majestic ensemble as the song climaxes. Vocally, Joel hits the absolute top of his range during the choruses and admits that he was not able to hit those notes again.
Another vocal milestone, "The Longest Time" is a doo-wop track with a plethora of harmonized vocals all done by Joel himself. Aside from the vocals, the song uses a very sparse musical arrangement made of just plucked bass, brushed snare, and finger snaps. "This Night" continues the 1950s doo-wop homage with an inventive adaption of Ludwig van Beethoven's "Pathetique" sonata during the chorus, making Beethoven the only artist to receive a co-writing credit with Joel on this album. Motown-influence "Tell Her About It" completes the original first side as brass takes lead over Joel's piano rhythms and the thumping bass of Doug Stegmeyer. The lead single from the album, this hit #1 on the American pop charts.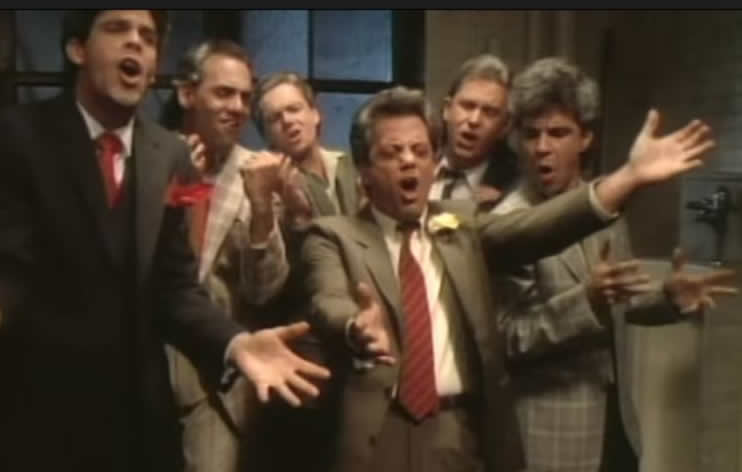 The consistent drum beat of Liberty DeVitto drives the Four Seasons-esque "Uptown Girl". Here, Joel introduces yet another "voice", straining his upper range throughout while staying melodic and catchy. This Top 10 song and its video also served as an allegory for Joel's new relationship with model Christie Brinkley, who appeared in the video and would ultimately become Joel's wife in 1985. "Careless Talk" features more great melodies and counter harmonies, choppy rhythms, and a bit of an unexpected diversion through the bridge, while the first wave rocker "Christie Lee" is highlighted by a couple of short sax solos by Mark Rivera. The pleasant and moderate ballad "Leave a Tender Moment Alone" lyrically explores awkward banter while featuring more exquisite melodies by Joel ethereal harmonica by Toots Thielemans. The album concludes with "Keeping the Faith" which, while lyrically anchored in the early sixties, is really modern sounding eighties pop song led by the sleek guitar riff of Russell Javors as well as a contemporary brass arrangement.
After the tremendous success of An Innocent Man, Joel worked with Columbia records to release the double-length compilation Greatest Hits Vol. 1 and 2, which ultimately became one of the best-selling albums to that date in American music history and marked the absolute apex of Joel's long and successful career.
~

Part of Classic Rock Review's celebration of 1983 albums.