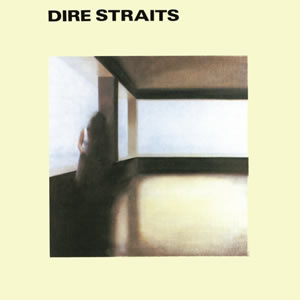 British quartet Dire Straits launched their fruitful career in 1978 with an impressive self-titled debut studio album. This album features nine tracks composed by guitarist/vocalist Mark Knopfler who blended elements of American roots music with a distinct guitar style and a reserved, husky vocal for an appealing overall style which found receptive audiences worldwide. The multi-platinum selling Dire Straits topped the album charts in several countries and reach the Top 5 in several more, including the US and the UK.
The group was formed in the mid 1970s by Mark and his younger brother, rhythm guitarist David Knopfler. Originally from Newcastle, England, the brothers migrated to London where Mark was working as a teacher while performing with pub bands at night. Bassist John Illsley and veteran drummer Pick Withers were eventually recruited and the band was formed with a name that referenced to their current financial situation. The band borrowed money to record a five-song demo tape, which was well received by a local disc jockey and the airing of "Sultans of Swing" led to a recording contract with the Vertigo Records division of Phonogram Inc.
The debut, Dire Straits, was recorded in early 1978 with producer Muff Winwood. Following its recording (but months prior to its release), the group began heavily promoting the songs with a European summer tour which created much anticipation for the album.

Dire Straits

by

Dire Straits
Released: October 7, 1978 (Vertigo)
Produced by: Muff Winwood
Recorded: Basing Street Studios, London, February-March 1978
Side One
Side Two
Down to the Waterline
Water of Love
Setting Me Up
Six Blade Knife
Southbound Again
Sultans of Swing
In the Gallery
Wild West End
Lions
Group Musicians
Mark Knopfler – Lead Vocals, Guitars
David Knopfler – Guitars, Vocals
John Illsley – Bass, Vocals
Pick Withers – Drums
"Down to the Waterline" features a methodical entry to the album before the full band arrangement kicks in with a bit of a western swing and direct, narrative vocals with ever-present guitar licks. Right from the jump, the rhythm and lead dynamics of the Knopfler brothers is established as a dynamic on this album. Withers introduces "Water of Love" with some methodical percussion. Soon the rootsy, acoustic song proper arrives with methodical vocals for an overall pleasant effect. "Six Blade Knife" is a rhythm-fronted textural song which seems to draw much influence from Fleetwood Mac rhythms on their then-recent Rumours album. Released as a single, this song actually charted on Country charts in both the US and Canada. The Southern rock influenced "Southbound Again" completes the original first side with a repeated riff motif played much during its short, less than three-minute duration.
"Sultans of Swing" is the best and most popular track on the album, a true masterpiece from beginning to end. Each group member is at top form in support of Knopfler's mastery on lead guitars and vocals with variety, movement and distinction between verse licks and solo leads. The song became the group's first international hit in 1979 with its descriptive lyrics inspired by Knopfler witnessing a jazz band playing in the corner of a deserted pub in South London, and is uniquely delivered as they describe a musical genre much unlike the excellent, rhythmic rock song, right up to the rather ironic lyrics;
"they don't give a damn about any trumpet playing band,
it ain't what they call rock n' roll…"
The duration of the album features three quasi-jam tracks of differing sub-genres. After a pleasant intro, "In the Gallery" morphs into a quasi-reggae beat for the verses with interesting drum fills and lyrics written as a tribute to Leeds sculptor/artist. "Wild West End" is a pleasant acoustic ballad with a repeated riff under the verse and chorus hooks, along with some sparse vocal harmonies. The closer "Lions" has a walking rhythm guitar and a bluesy lead guitar above a strong, rhythmic rock storyteller.
Dire Straits spent no time enjoying the success of their debut record. Soon after its release, they jumped on the circuit with Talking Heads on their first North American tour and before the end of 1978 they traveled to the Bahamas to begin work on their second album, Communiqué.
~

Part of Classic Rock Review's celebration of 1978 albums.