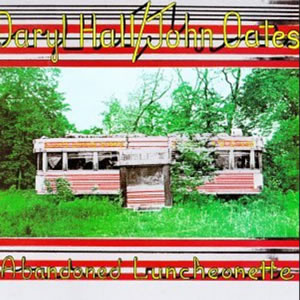 For all the success that this Philadelphia-based duo would experience later on in their career, Daryl Hall and John Oates struggled to find a commercial footing early on. That's not to say that they didn't produce interesting and creative music as demonstrated brilliantly on their second album, Abandoned Luncheonette, released in late 1973. Despite only reaching #33 on the album charts during its initial run, this album slowly grew in stature and would finally reach platinum-selling status about three decades after its release.
The duo first met in 1967 while each was leading a separate group during a band competition. They later discovered that they had common musical interests and that both attended Temple University. The Hall & Oates musical duo was officially formed in 1970, with a recording contract at Atlantic Records. Their debut album, Whole Oates, was produced by Arif Mardin and released in November 1972 but failed to have any commercial success.
For Abandoned Luncheonette, the group and production team moved from from Philadelphia to New York where their disparate influences of folk, rock and soul were refined with the help of expert session players to forge the album's musical tapestry as well as the group's signature sound for the next decade. Much like on their album, the compositions and to a lesser extent lead vocals are split between the two with Hall & Oates penning just a few co-written songs.

Abandoned Luncheonette

by

Hall and Oates
Released: November 3, 1973 (Atlantic)
Produced by: Arif Mardin
Recorded: Atlantic Studios and Advantage Sound Studios, New York City, 1973
Side One
Side Two
When The Morning Comes
Had I Known You Better Then
Las Vegas Turnaround (Stewardess Song)
She's Gone
I'm Just A Kid
Abandoned Luncheonette
Lady Rain
Laughing Boy
Everytime I Look At You
Primary Musicians
Daryl Hall – Piano, Keyboards, Vocals
John Oates – Guitars, Vocals
Chris Bond – Guitars, Keyboards, Vocals
Steve Gelfand – Bass
Bernard Purdie – Drums, Percussion
The album begins with Hall's "When the Morning Comes", a subtle acoustic reggae beat sprinkled with a cool mellotron by Chris Bond . It allows plenty of room for Hall's vocals to expand through his generous range. Rhythmically, the song is kept moving by the drums of the legendary Bernard Purdie. Oats provides his initial composition with "Had I Known You Better Then", a folk singer/songwriter type song with just a hint of the rock n' soul sound driven by a slight electric piano by Hall. "Las Vegas Turnaround (The Stewardess Song)" has a fine, unique musical groove, highlighted by the saxophone lead of Joe Farrell and the main lyrical subject appears to be Hall's girlfriend Sara Allen, the later subject of the 1976 hit song "Sara Smile".
Another future hit for the duo is the fantastic "She's Gone", the true classic song from album. With a building arrangement starting with Steve Gelfand's bass and the subtle soul piano. A true duet, the atmosphere continues building atmosphere through its duration with horns introducing the strong outro section. Although released in 1974 as a single, it wouldn't chart until it was re-released two years later, when it became a Top Ten hit in 1976. "I'm Just a Kid (Don't Make Me Feel Like a Man)" revisits the somewhat tacky acoustic folk/rock by Oates, albeit with good harmonies throughout and an interesting use of keyboards.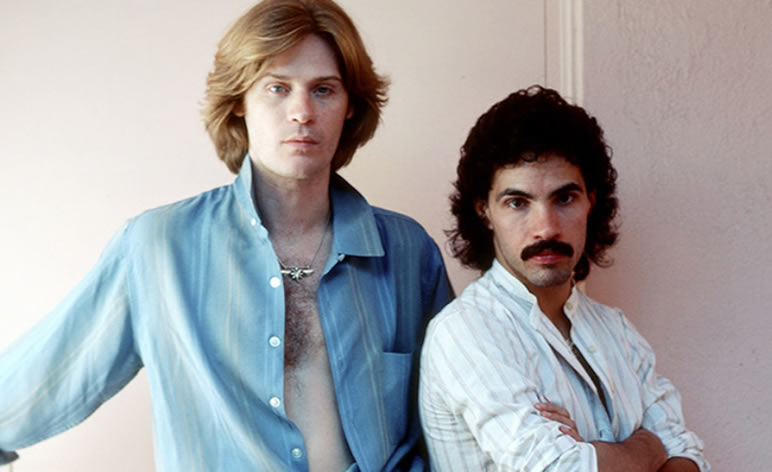 The album's title song commences the original side two, as a nostalgic storyteller suite interesting arrangement of piano, horns and further orchestration. "Abandoned Luncheonette" rapidly shifts a few times in style and shift, expressing the past moments of the now defunct location. "Lady Rain" is a funky folk tune with good combined vocals and an interesting dark string arrangement and bluesy guitar licks by Hugh McCracken, while the simple ballad "Laughing Boy" features Hall solo on piano and vocals and just some very subtle orchestration, providing a mood which sounds like it would fit better in a thematic or concept album. The extended closer, "Everytime I Look At You", starts as an upbeat funk/rocker with a heavy guitar and bass presence that make this heavier than anything else on this album. Hall provides an excellent guitar lead before Hall's climatic vocal part followed by and unexpected outro of banjo and fiddle to an escalating tempo to finish the album.
Both Hall & Oates have allegedly cited Abandoned Luncheonette as their favorite album in their catalog. The duo released their third album, War Babies, in 1974 before moving on to RCA Records and much success in subsequent years.
~

Part of Classic Rock Review's celebration of 1973 albums.